NEAR ecosystem monthly report – June 2023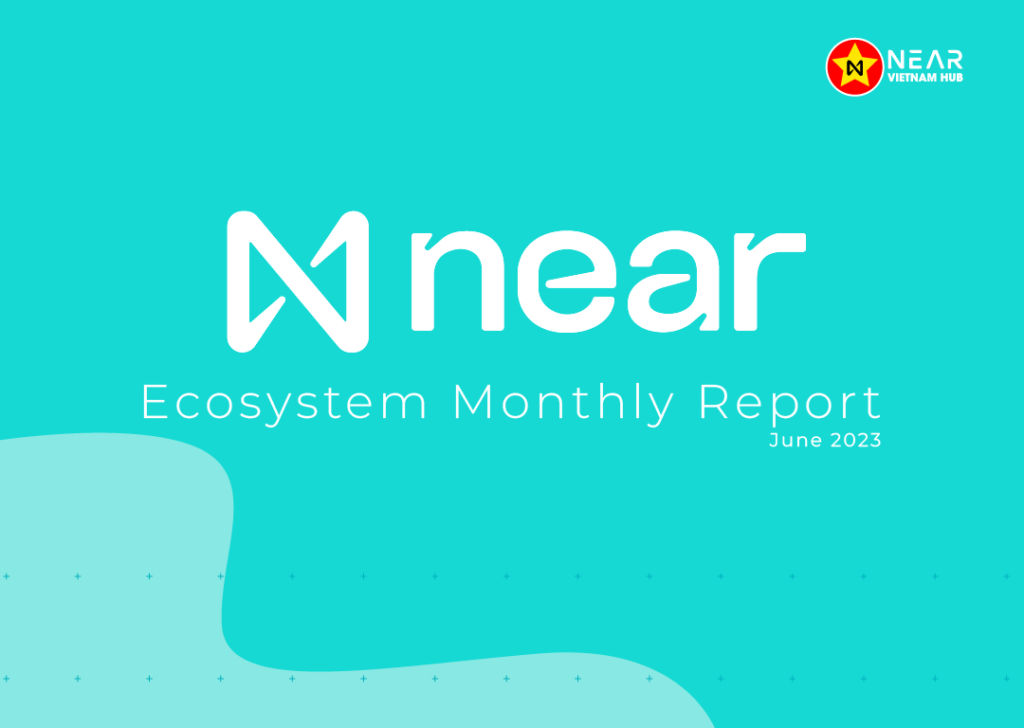 Hi community, do you want to know:
What happened in NEAR ecosystem in June 2023?
Who are NEAR's new partners?
How has NEAR DeFi changed?
How cool NEAR bOS is?
New updates from Dapps?
What are developers doing?
How to join NEAR ecosystem?
What are opening jobs?
And especially, how did NEAR Foundation respond to the SEC's Coinbase complaint?
You will find all the essential free fire pc download news about them in NEARMONTH June Report. Let's rock the summer with NEAR!
P/S: The largest Blockchain event in APAC region, NEAR Apac 2023: Unlimited Future, is now opening for registration ➡️ Register now. This is a short summary for you what will be held in the event:
NEARMONTH collects and organizes information from the NEAR weekly newsletter. This edition summarizes highlights from newsletter issue #112 to newsletter issue #116 (week 22 to week 26), which compiled a total of 1328 contributions by the community to NEWS DAO.
HIGHLIGHTS
MUST – READ
NEARCON 2023: What to expect [Link]
The ecosystem's flagship event is convening in Lisbon and will have four paths for participants to explore; developers, entrepreneurs, creators and regulators.
NEAR Foundation's Response to the SEC's Recent Coinbase Complaint [Link]
Fastauth: Revolutionizing Web3 onboarding via the bOS [Link]
The NEAR Blockchain Operating System (bOS) introduces FastAuth, a powerful feature providing users with an intuitive, Web2-style onboarding experience. FastAuth completely eliminates the need for new passwords, significantly lowering barriers to adoption into Web3.
Blockchain scaling approaches: NEAR Sharding vs. Ethereum Layer 2s [Link]
Delving into the strategic choice of scaling through sharding, NEARWEEK highlights the technology behind NEAR and explores its departure from a Layer 2-focused scaling approach. Discover the rationale and gain a deeper understanding of NEAR's underlying architecture.
ANNOUNCEMENTS
NEAR releases important core update (1.34.0) for validators [Link]
Aurora Labs: Introducing the Aurora ecosystem [Link]
A comprehensive guide has been published to the Aurora ecosystem, showcasing its capabilities as an EVM built on NEAR. Unique offerings like Aurora Cloud, Borealis Business, Aurora Pass, and Aurora Silos are also introduced, each aiming to completely revolutionize Web3 UX.
Aurora Labs: Fast rainbow bridge is live [Link]
Aurora Labs is pleased to announce the Fast Rainbow Bridge, a massive improvement of the classic Rainbow Bridge. Users can now transfer tokens from the NEAR blockchain to Ethereum in a matter of minutes.
Aurora community transitions to the working group within NDC [Link]
The community will now exist as the Aurora Community Working Group within the NDC. The migration marks a giant step toward the wider vision for a more decentralized, community-powered, and inclusive governance structure for the NEAR ecosystem.
MARKETING DAO publishes draft charter [Link]
One of three grassroots verticals in the NEAR ecosystem, the Marketing DAO has submitted its proposed charter to the community for critique and feedback.
Women in Web3 changemaker awards kicks off [Link]
The annual award organized by the NEAR Foundation celebrates impactful women in Web3. Vote for your changemakers in a variety of ways, including on bOS.
HEROES: Open Beta launch [Link]
The non-custodial bounty marketplace incubated by NEARWEEK has launched its open beta on mainnet, and released a quick primer to get you started on the basics of the platform.
WOOFi DEX unleashes on-chain perps [Link]
Today marks a significant milestone as WOOFi DEX officially launches its beta release, introducing three perpetual contracts (NEAR, ETH, and BTC) with features like 10x leverage, customizable workspaces, and deep liquidity.
NDC: 1000 verified humans on near via i-am-human campaign [Link]
The proof-of-humanity initiative by the NDC reaches a significant milestone in the ecosystem's quest for fair and equitable digital governance. Each verified community member received a SoulBound Token.
NEAR at Ethcc Paris (July 16-17th, 2023) [Link]
Experience a range of activities including technical workshops hosted by Pagoda, the Horizon Pitch Competition, speaker sessions, and networking opportunities. Immerse yourself in the power and versatility of the bOS while connecting with NEAR experts. Don't miss out on this opportunity to learn, ask questions, and make valuable connections.
NDC launches OG soulbound token, regional DAO elections [Link]
OPINIONS
Illia Polosukhin: Speaker at Collision 2023 [Link]
NEAR will see strong representation at this year's Collision conference, including tailored Masterclass sessions from Illia Polosukhin and Proximity founder Kendall Cole.
NEAR Foundation X Galxe: Supercharging Space Id's referral program with bOS [Link]
PARTNERSHIP
Mirae Asset, part of Asia's largest financial group, is partnering with NEAR. The partnership will explore ways to integrate the bOS into traditional finance systems.
ETH Global Waterloo X NEAR Hackathon [Link]
ETH Waterloo welcomes NEAR as a partner June 23-25, 2023. With the aim to interact with up to 800 attendees, NEAR plans to host a bOS workshop, offer a bOS bounty at the hackathon, and provide technical mentorship. The event is a promising opportunity for networking, learning, and showcasing NEAR to a new audience.
NEAR x Alibaba Cloud: Growing the open web [Link]
This collaboration will bring Remote Procedure  Jazz Weekly Mega Calls (RPC) as a service and multi-chain data indexing to the NEAR ecosystem. Additionally, developers building on the bOS will now have access to Alibaba Cloud's infrastructure, empowering them to create exciting applications.
NEAR Horizon x Decasonic: Enhancing core support layer [Link]
Decasonic, a venture and digital assets fund, is partnering with NEAR Horizon to provide more support for founders and projects looking to build cornhole distance on NEAR and Web3. Support will include marketing, technical and funding solutions.
NETWORK STATUS
NEERWEEK #112 (05/29 – 06/05)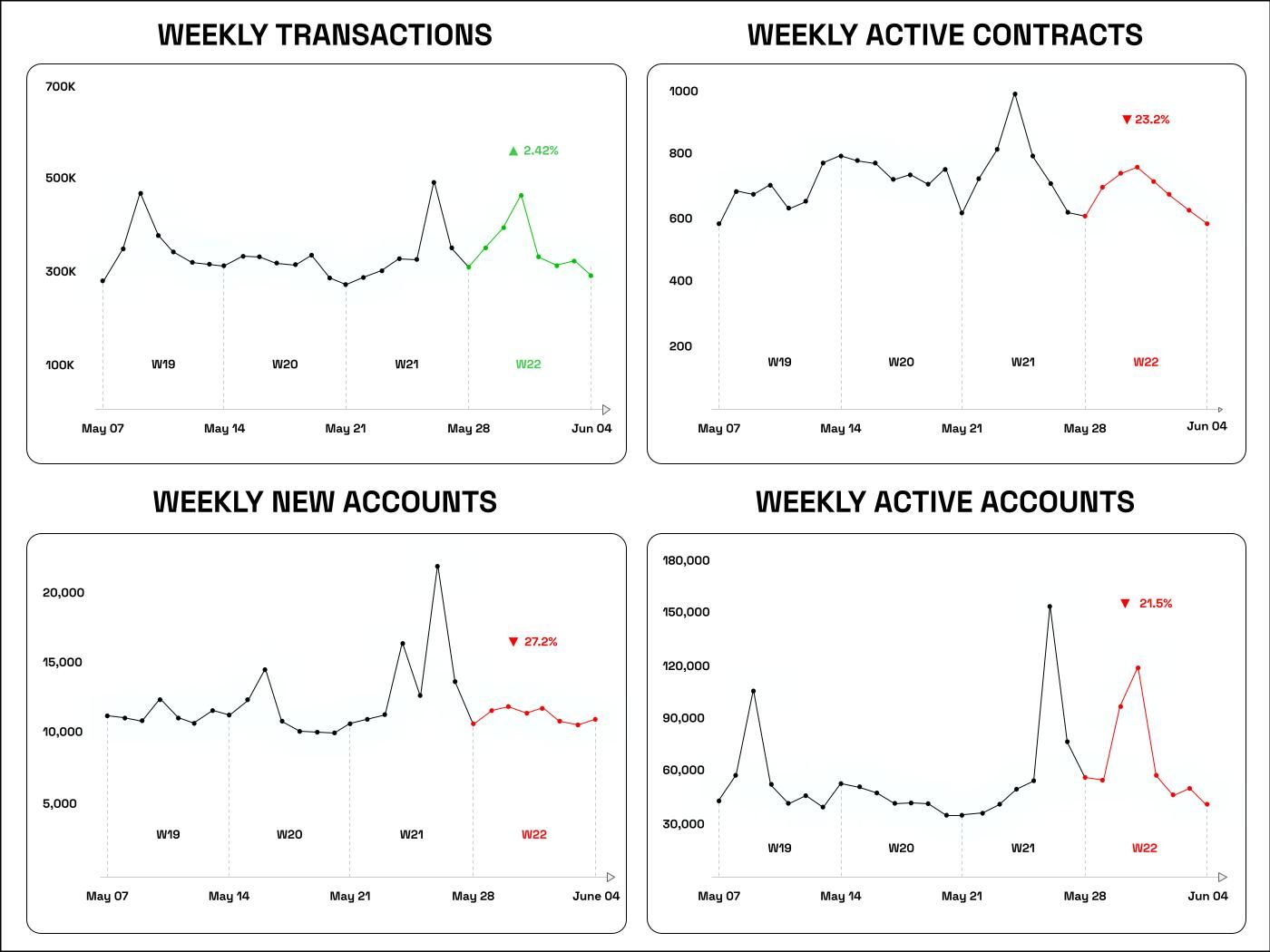 NEERWEEK #113 (06/05 – 06/12)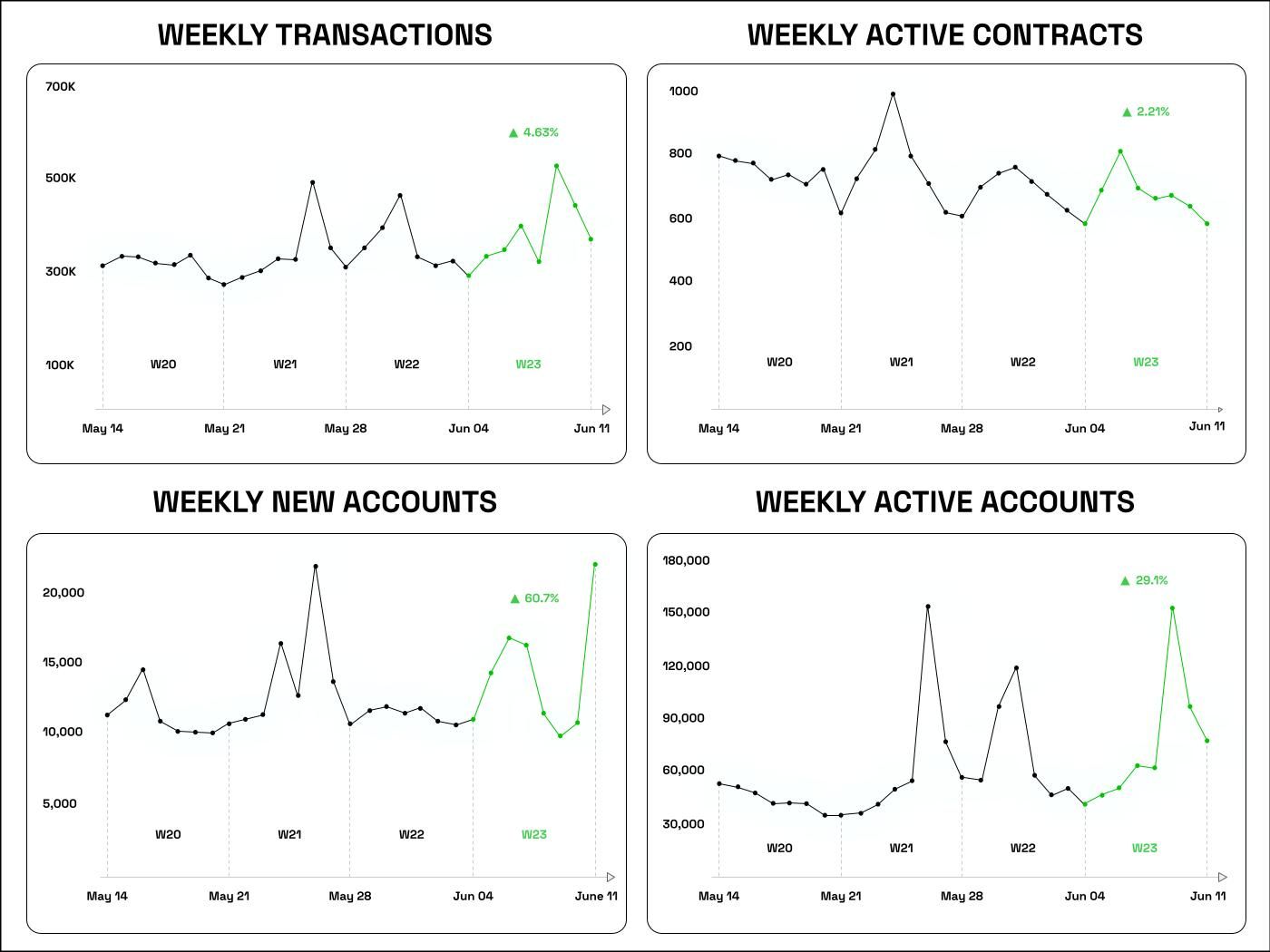 NEERWEEK #114 (06/12 – 06/19)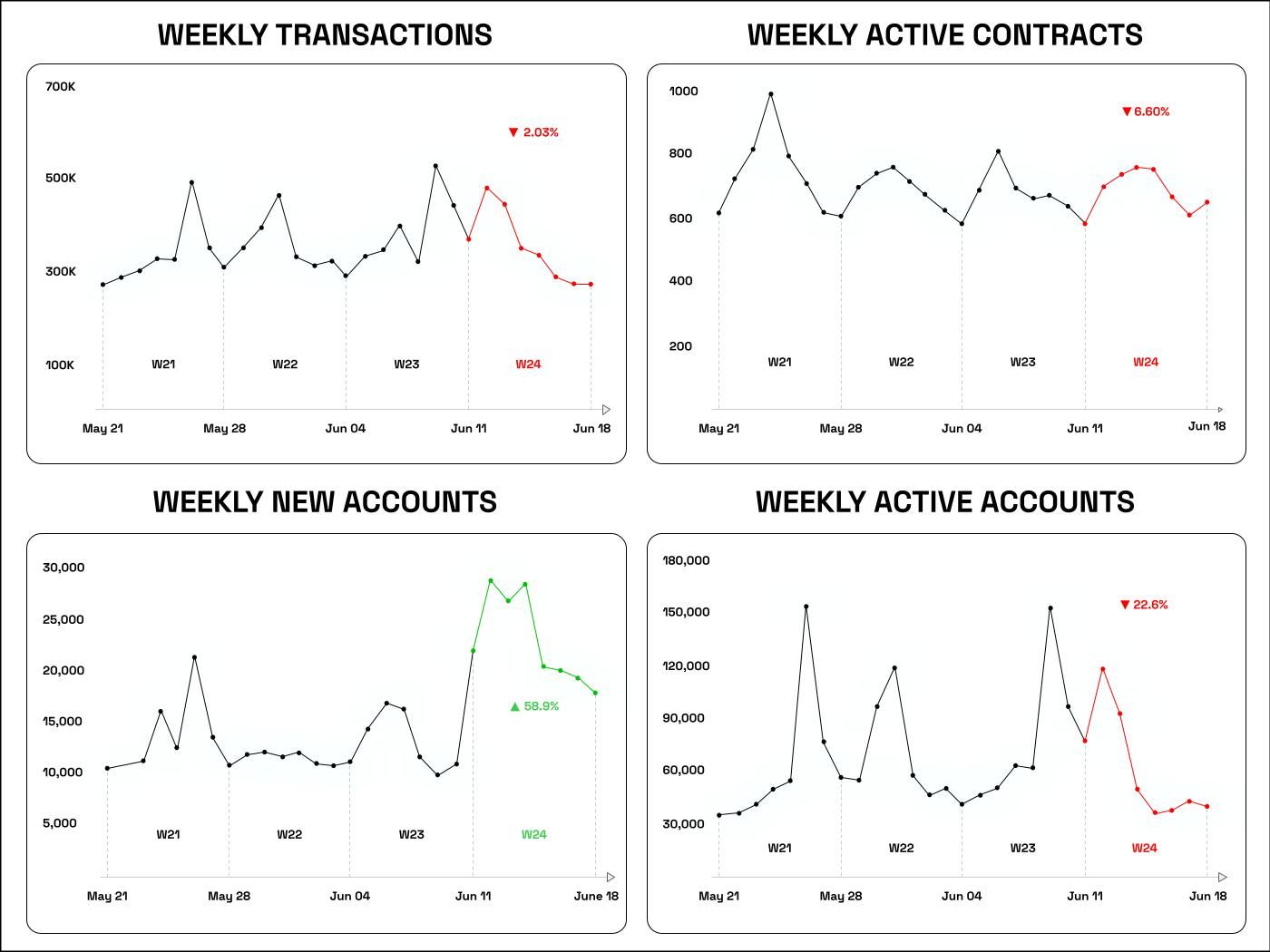 NEERWEEK #115 (06/19 – 06/26)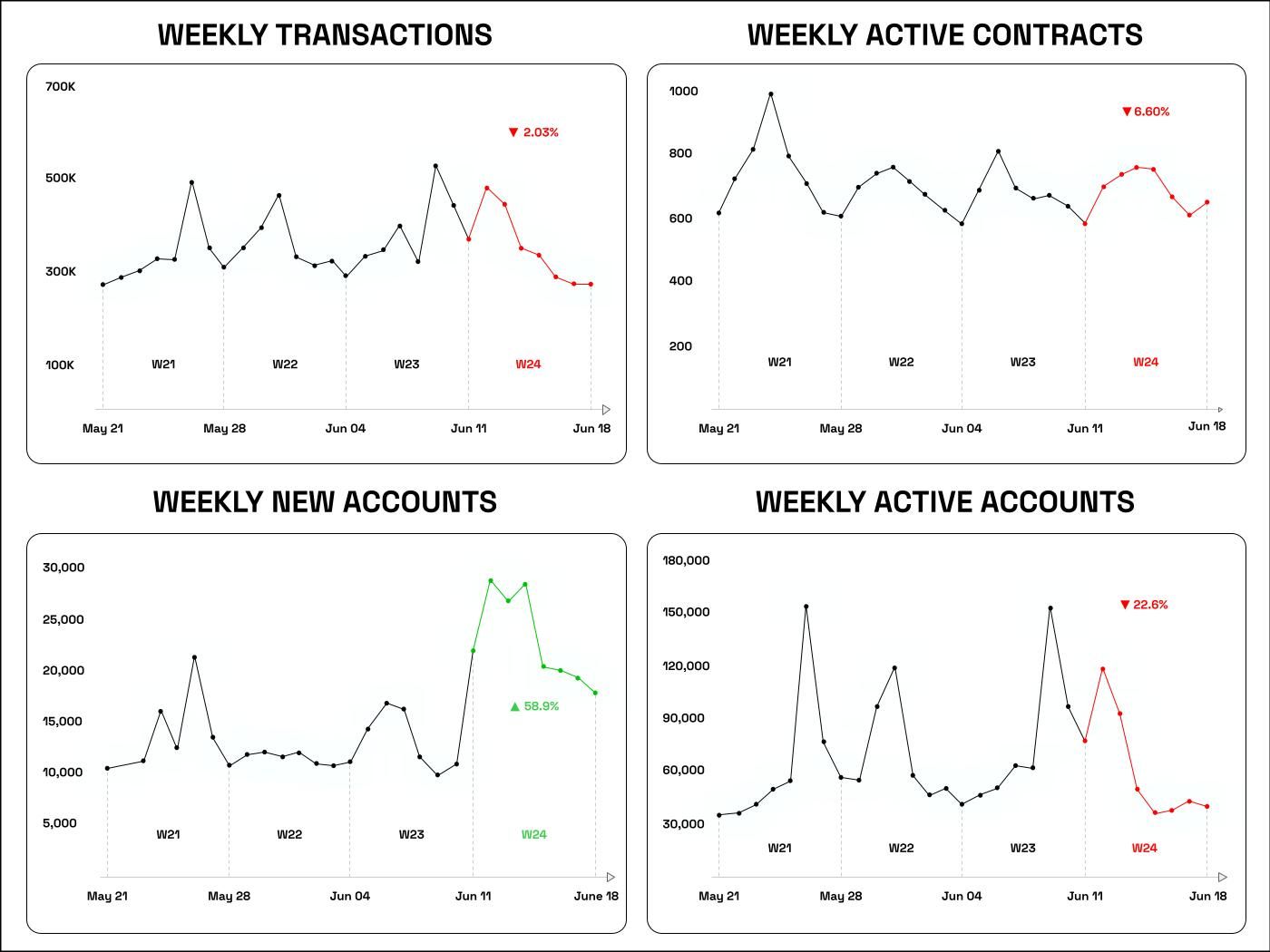 NEERWEEK #116 (06/26 – 07/03)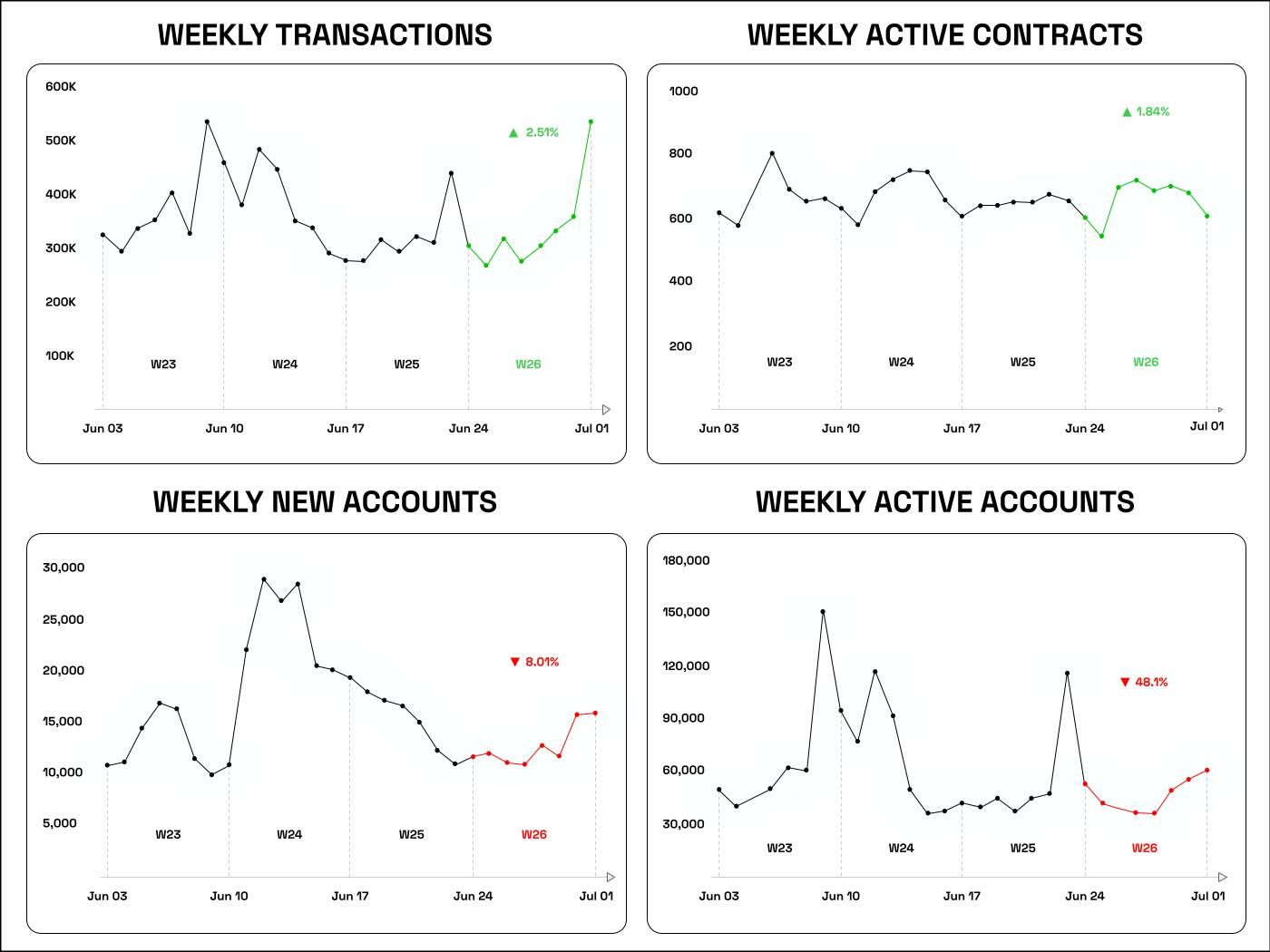 DEFI & WALLET
ASSET STATUS
NEERWEEK #112 (05/29 – 06/05)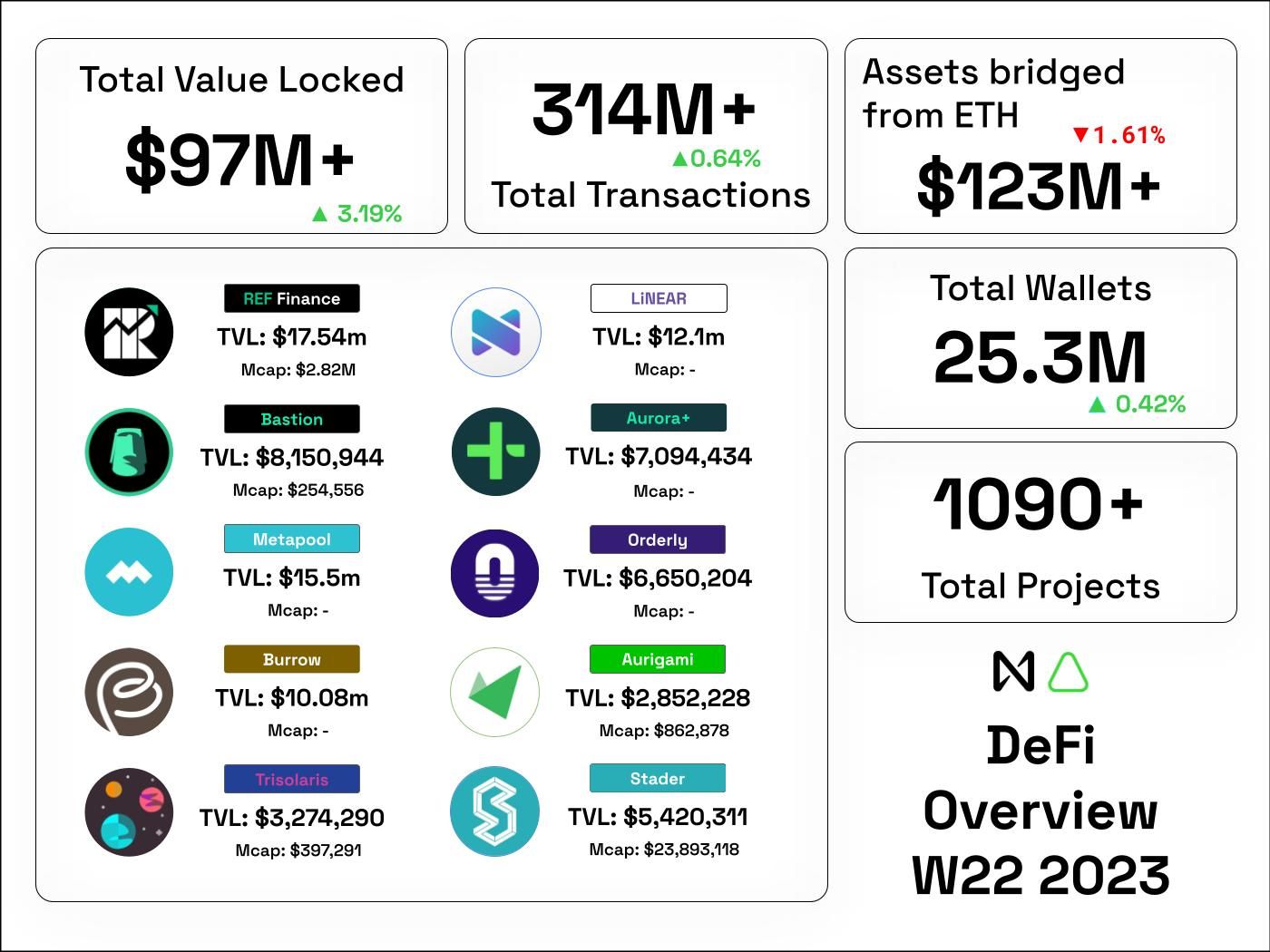 NEERWEEK #113 (06/05 – 06/12)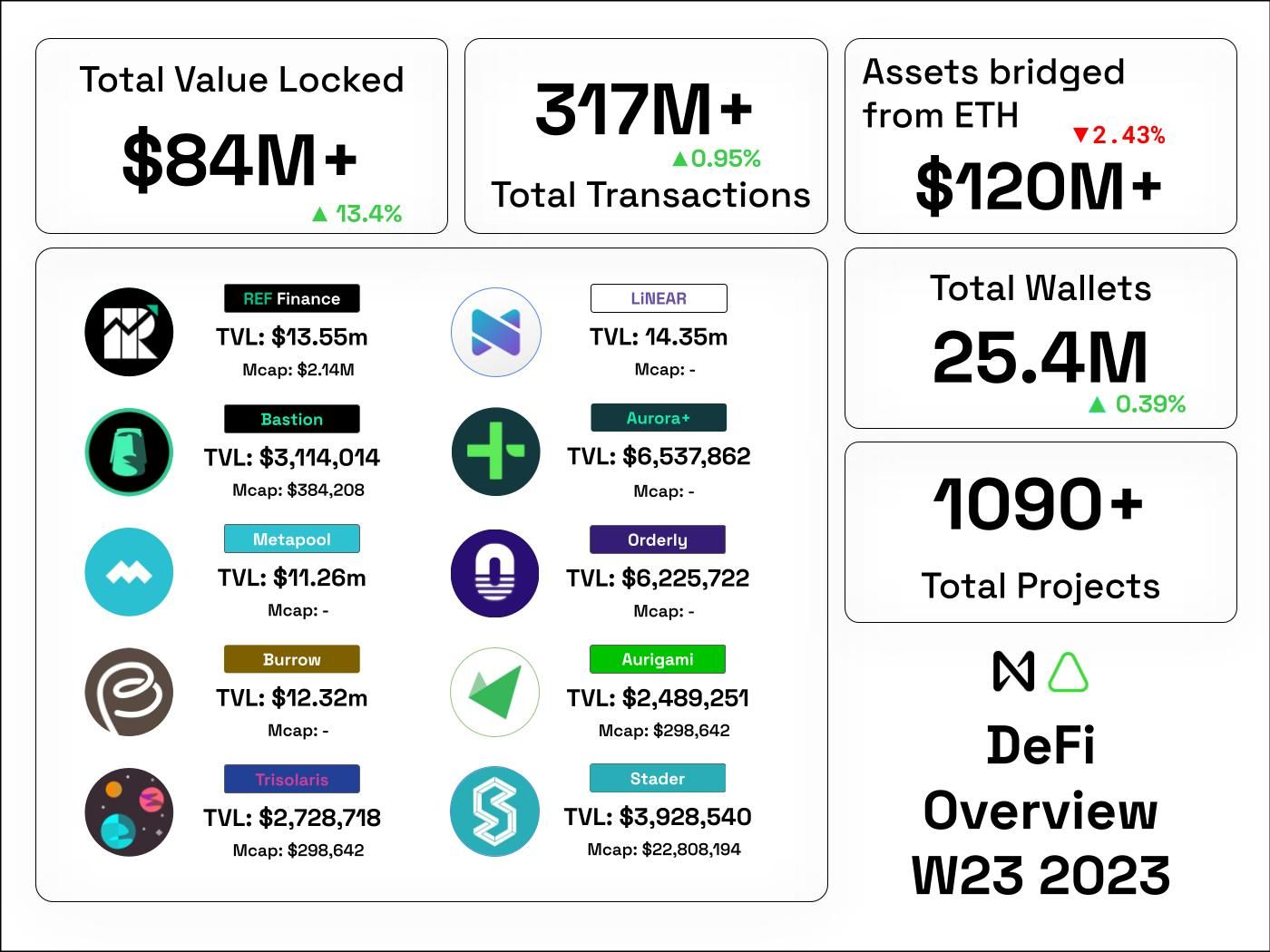 NEERWEEK #114 (06/12 – 06/19)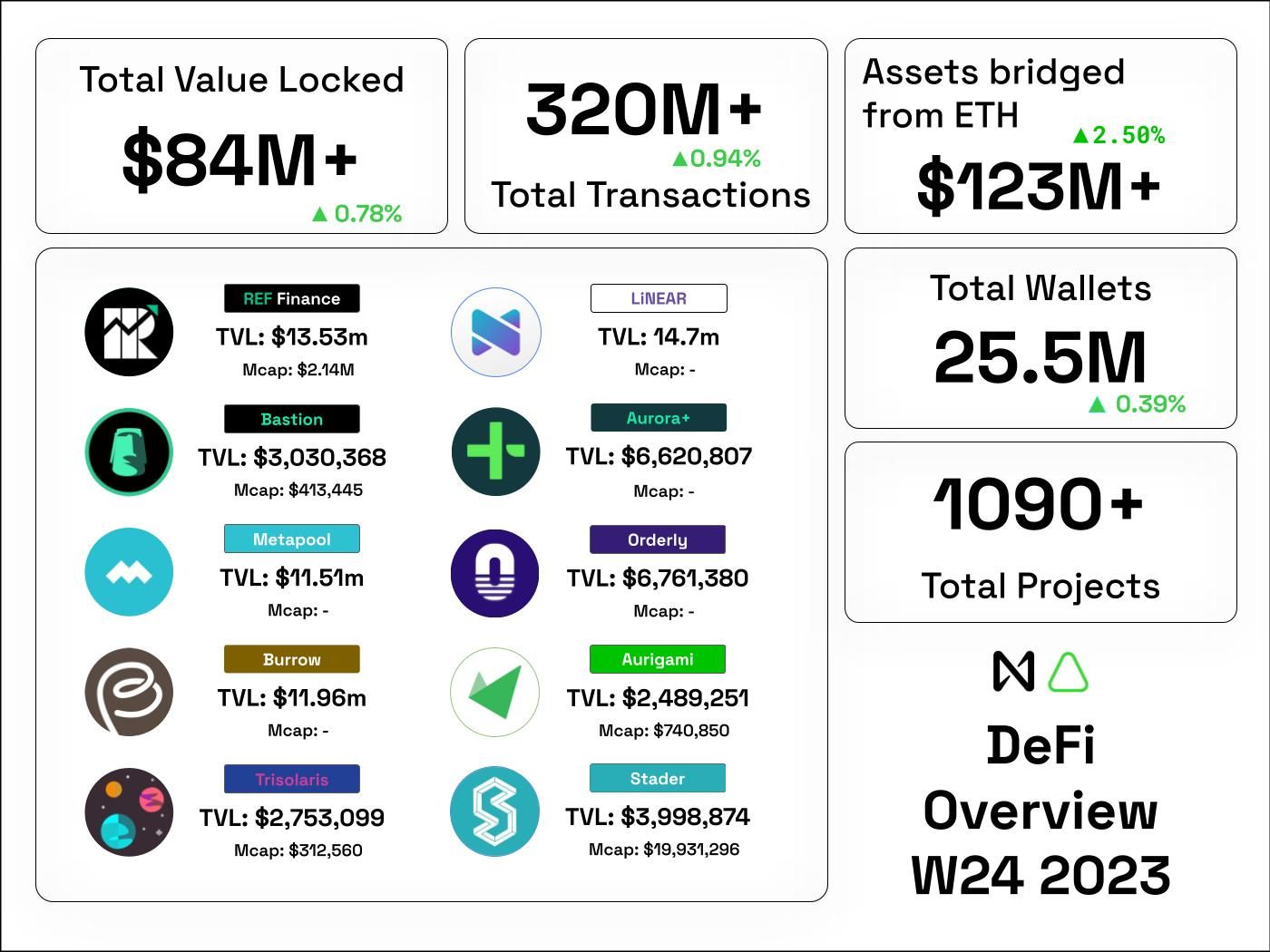 NEERWEEK #115 (06/19 – 06/26)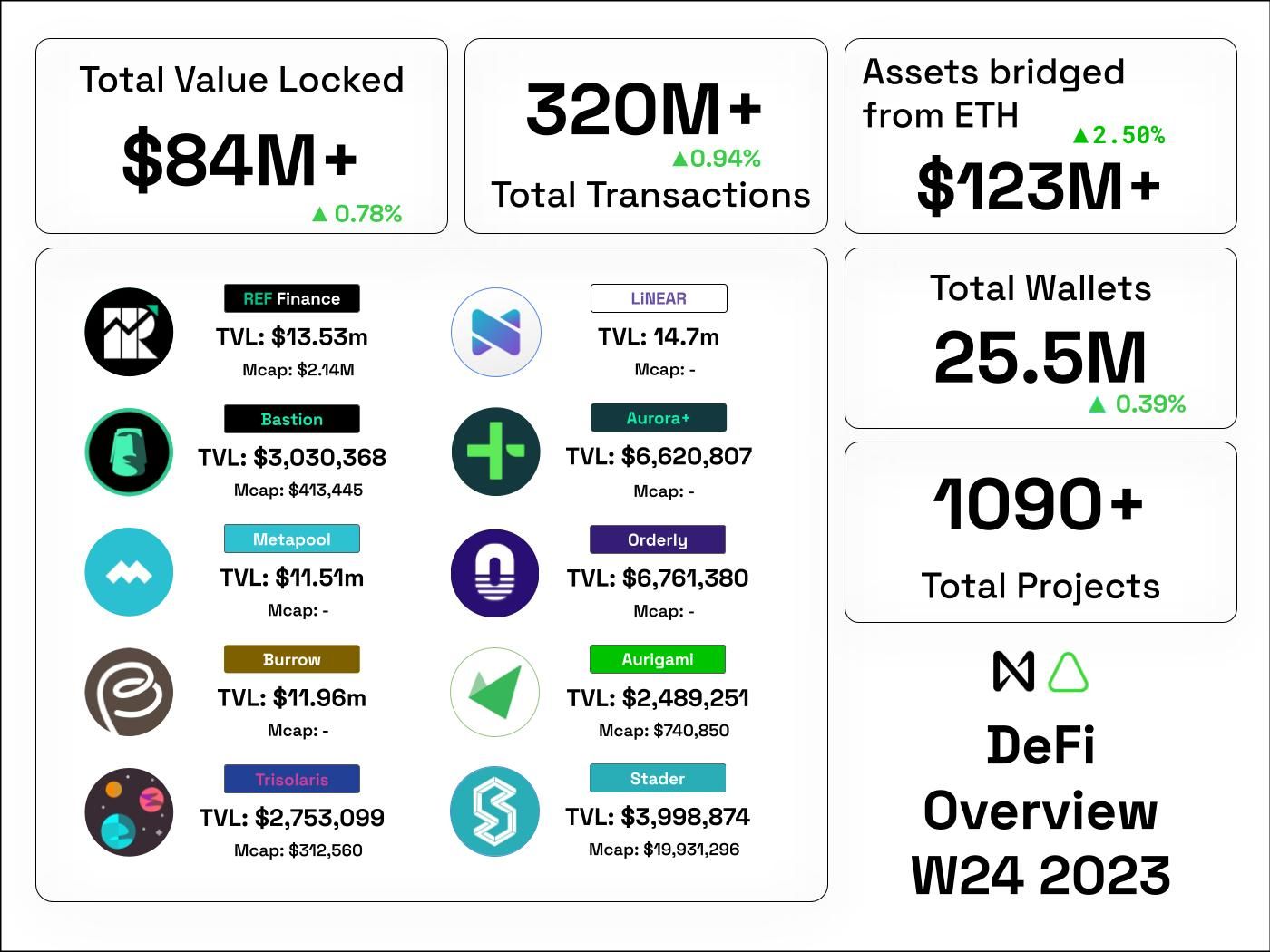 NEERWEEK #116 (06/26 – 07/03)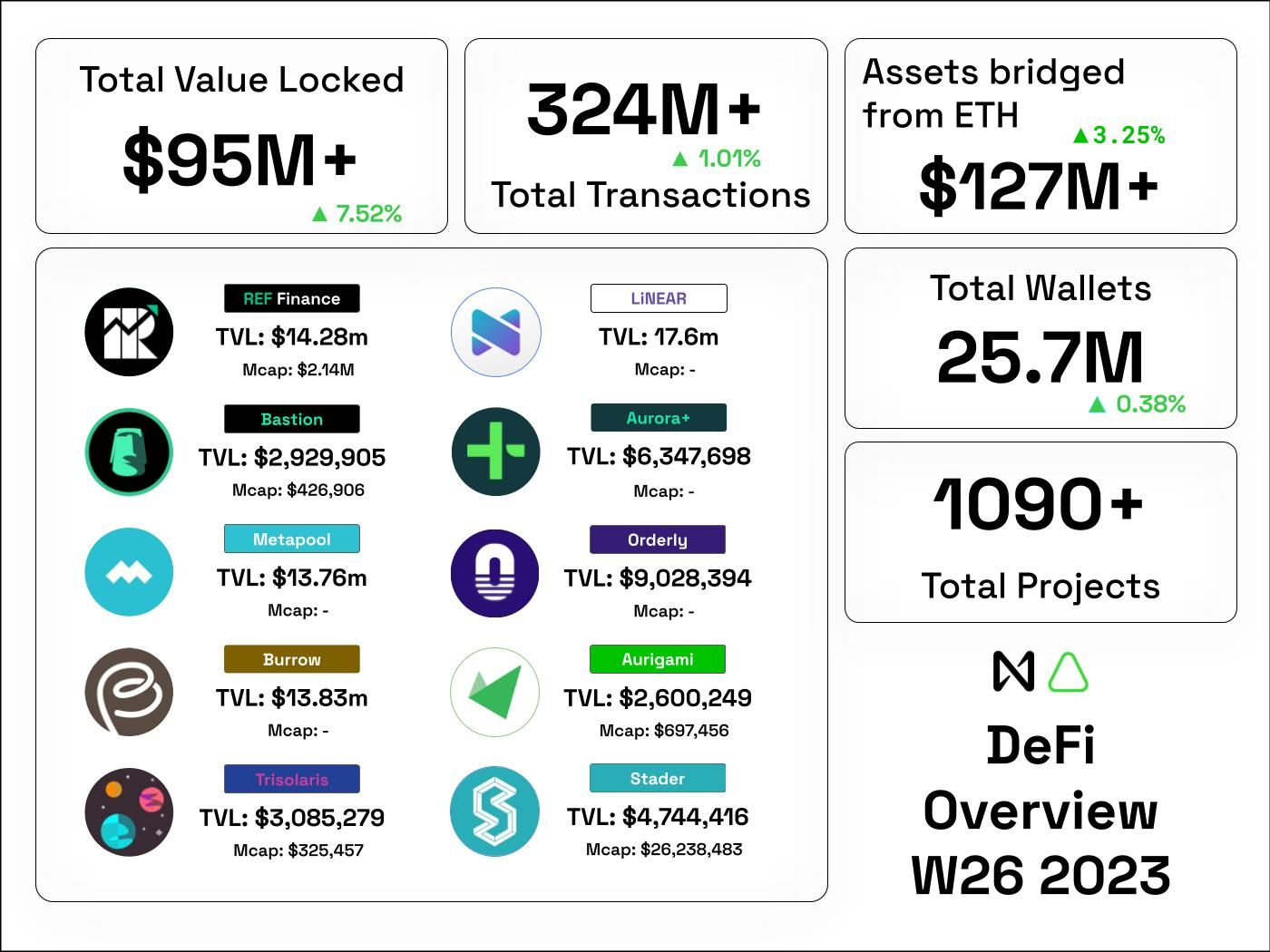 MUST-READ
Orderly Network: Perpetuals crash course [Link]
Following the launch of perps trading on their platform and supported DEXes, the Orderly team has put together a handy guide on the basics of the derivative product.
Aurora Labs: Deep dive into the fast Rainbow Bridge [Link]
ANNOUNCEMENTS
Bastion launches decentralized frontend component on bOS [Link]
Users of the lending platform built on Aurora, can now seamlessly access its powerful features via the Blockchain Operating System.
Sender Wallet goes multichain with Arbitrum integration [Link]
Dangel Fund DEX goes live on mainnet [Link]
dAngel Fund has launched its DEX with a simple and quick swap feature, on mainnet.
Zexe testnet is now live [Link]
Zexe is an Orderbook DEX, powered by Orderly Network, leveraging NEAR's powerful features like gasless transactions and FastAuth to deliver powerful spot and derivatives market trading.
Users on NEAR can now leverage the portfolio tracker and management platform to manage their assets, alongside over 300 other wallet integrations.
Moving forward, Ref Finance, the leading DeFi protocol on NEAR, will steward the management and development of Burrow, the leading money market on NEAR. This integration aims to further strengthen DeFi on NEAR and make Ref the one-stop shop for DeFi on the Protocol.
Metapool: Aurora liquid staking Fully Audited [Link]
The Meta Pool contract has been fully audited by Halborn and is now live for all users.
OPINIONS
Linear Protocol: automating validator selection on NEAR [Link]
LiNEAR Protocol has published an article detailing the proposal for an algorithm that employs metrics like stake size, fees, uptime, and performance to automatically select validators for staking. LiNEAR believes this will significantly improve decentralization and security for NEAR.
PARTNERSHIP
NEAR users can now seamlessly bridge to Fantom via Polaris on Aurora.
Sender X NFT Scan: A unified experience [Link]
The multi-chain data platform will become the official NFT data and API provider for Sender wallet.
ECOSYSTEM & COMMUNITY
Aurora weekly update (2023-06-02) [Link]
Aurora weekly update (2023-06-09) [Link]
Aurora weekly update (2023-06-16) [Link]
Aurora weekly update (2023-06-23) [Link]
Aurora weekly update (2023-06-30) [Link]
NEAR Foundation: 10 winners of Women In Web3 Changemaker award [Link]
NEAR Toronto: New NEAR hub launching in Toronto [Link]
NEAR Town Hall: Highlighting the best of June [Link]
The latest town hall featured presentations and updates from projects around the ecosystem, including a special highlight from the NEARWEEK team on how bOS is powering media on NEAR.
Namesky X Learn Near Club: A guide on trading NEAR accounts [Link]
Learn Near Club's step-by-step guide takes users through buying, selling, and trading NEAR accounts as NFTs on NameSky's unique marketplace.
Web3mon launches Web3mon championship [Link]
Any NFT holder on NEAR can now register to participate in the first-ever Web3Mon championship, with prizes allocated for top participants.
Aurora X Opolis: Facilitating payments for independent workers [Link]
Opolis, a member-owned cooperative has partnered with Aurora to enable independent workers on its platform to get paid with crypto via Aurora.
NDC launches I-Am-Human campaign [Link]
Following a brief pause to address security concerns, the NDC has re-launched its community-wide onboarding and verification campaign for the I-AM-HUMAN platform.
Open Forest Protocol updates ecosystem explorer interface [Link]
The Ecosystem Explorer lets users see forest data for projects using the Protocol's platform. With a month of activity now logged, the Open Forest team is updating the interface to make it even more performant.
NEAR Town Hall reviews KPIs, OKRs, partnerships and more as Q2 winds down [Link]
SailGP launches The Dock, a fan loyalty program on NEAR [Link]
Fans can now create a NEAR wallet or use their existing ones to by a season pass and engage with exclusive content, earn collectibles and unlock exclusive rewards.
Tokenproof X NEAR: Token-gated experiences for brands coming to NEAR [Link]
Siki X Near: Bringing social music streaming, music NFTs to NEAR [Link]
Octopus Network X Encode X NEAR Horizon [Link]
On June 29, Octopus Network Co-Founder Louis Liu will be presenting Octopus 2.0 and powerful features like NEAR IBC and Restaking as part of the Educate Series.
Mario.near: bOS component for 'Chess on chain' [Link]
The dApp, fully powered by the bOS, allows players to enjoy chess games on the NEAR blockchain. Discover the game's upcoming features and dive into the world of chess.
Open Forest Protocol: Green Fintech network [Link]
The announcement presents Open Forest Protocol as a founding member of the collective mandated with motoring the growth of green fintech in Switzerland.
DEVELOPERS
VALIDATORS STATISTICS
NEERWEEK #112 (05/29 – 06/05)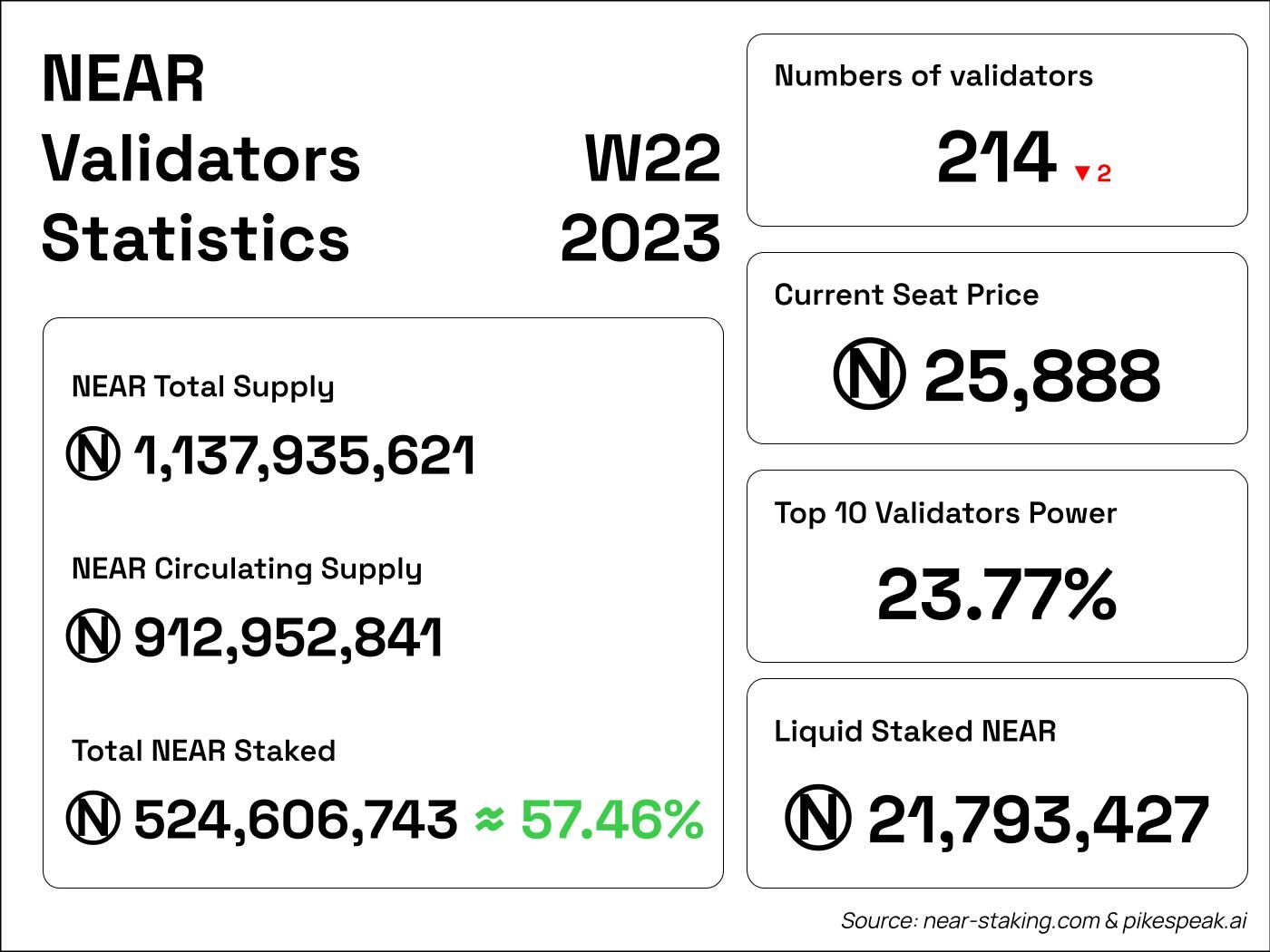 NEERWEEK #113 (06/05 – 06/12)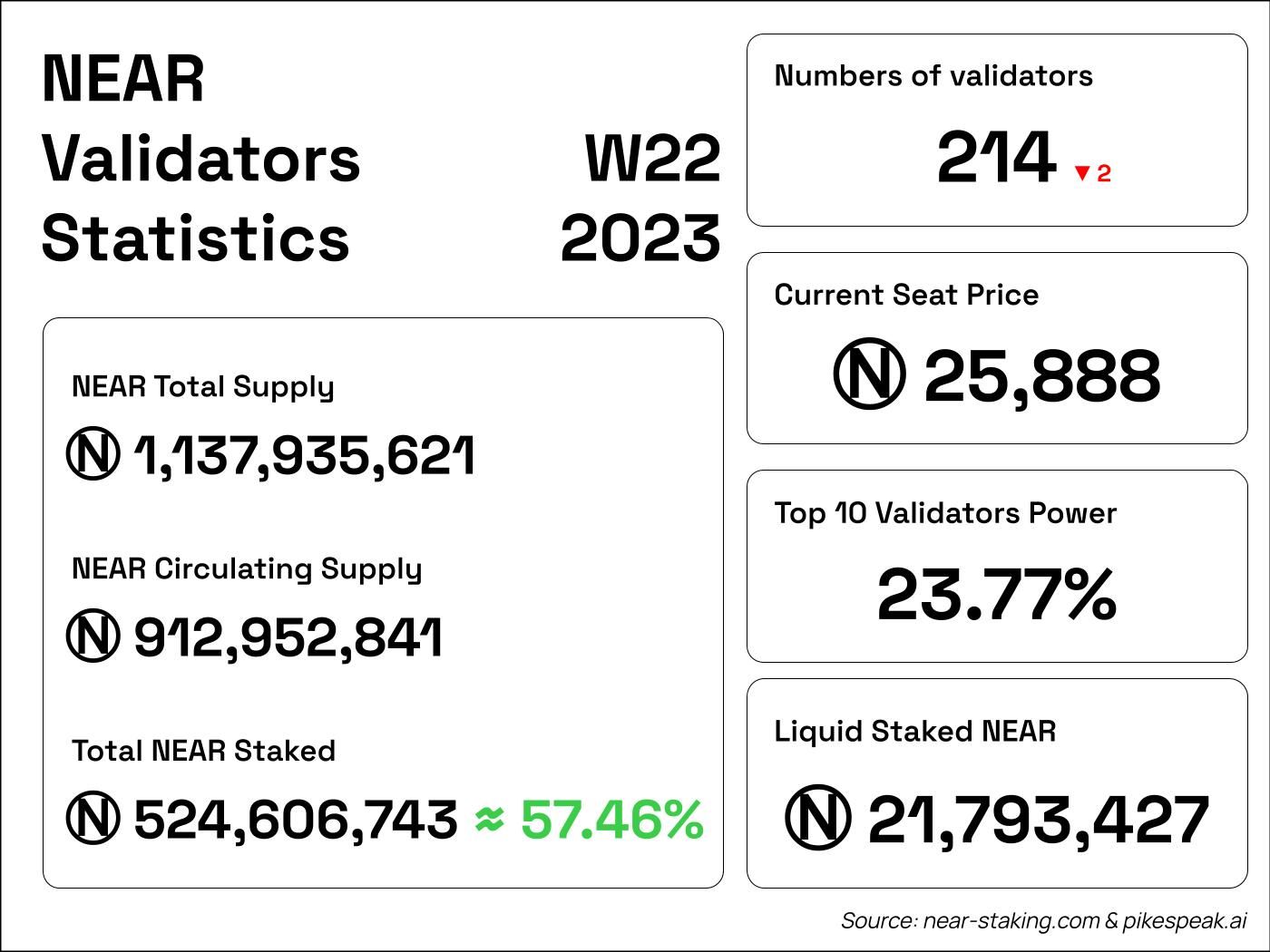 NEERWEEK #114 (06/12 – 06/19)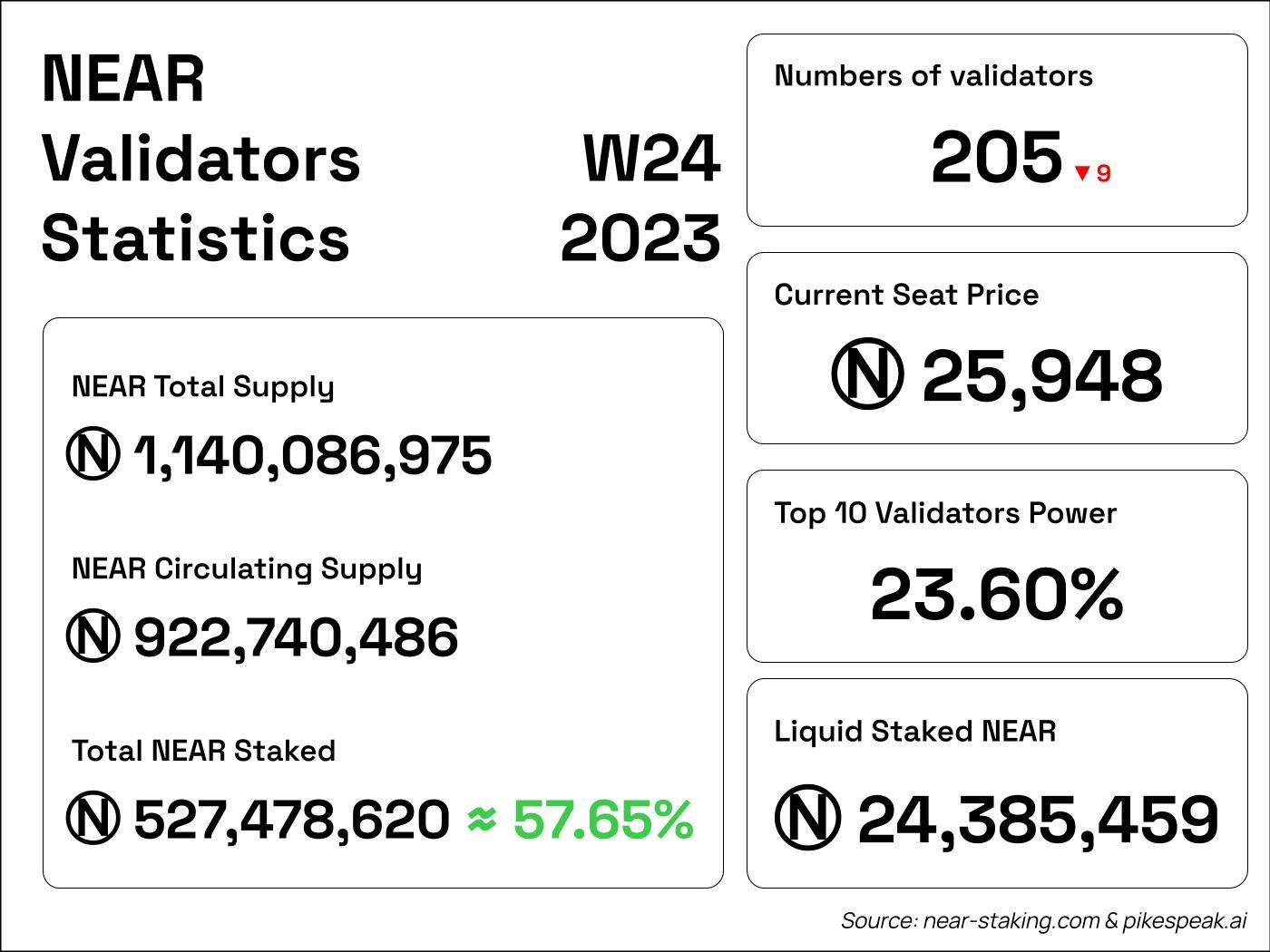 NEERWEEK #115 (06/19 – 06/26)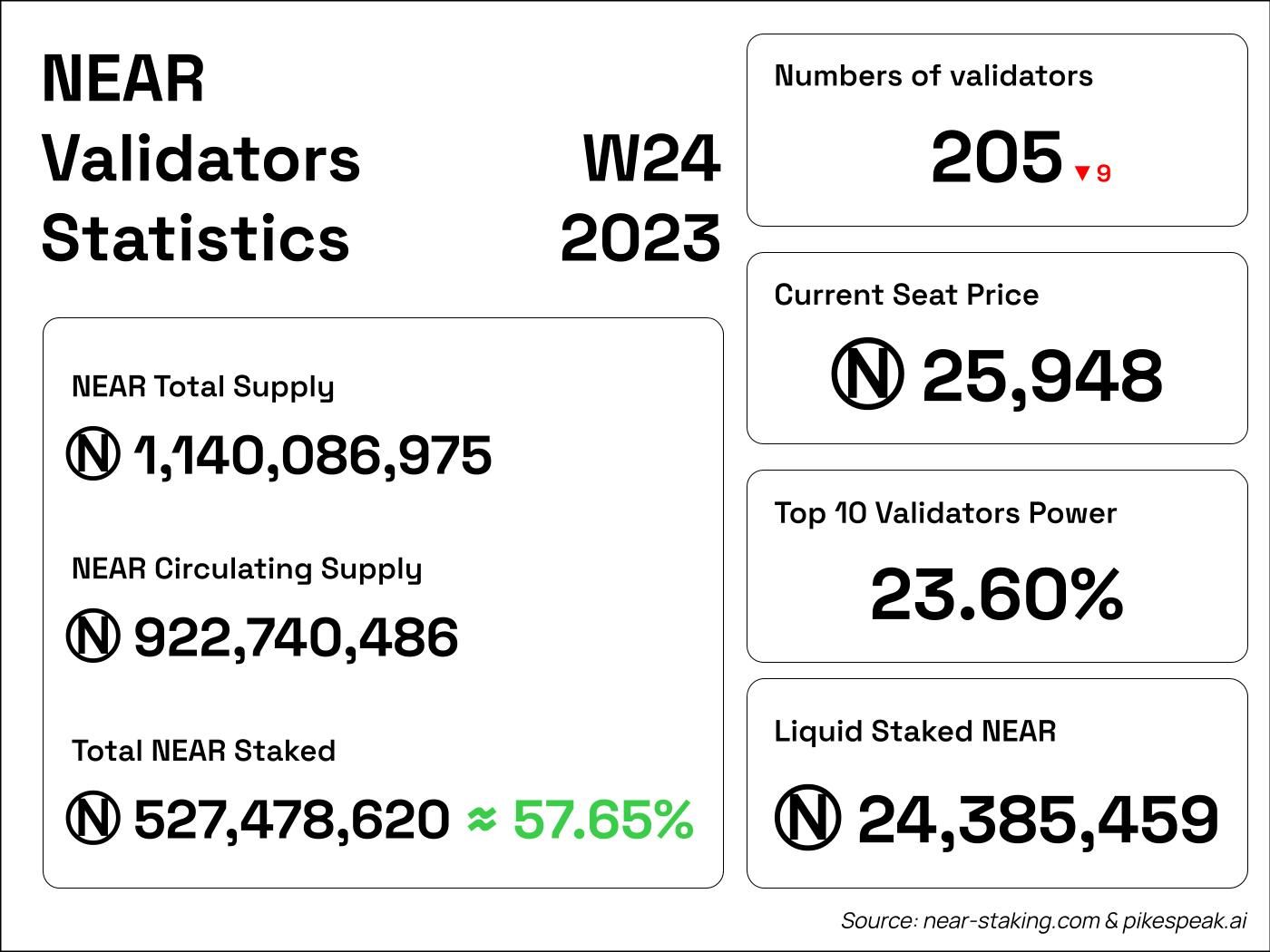 NEERWEEK #116 (06/26 – 07/03)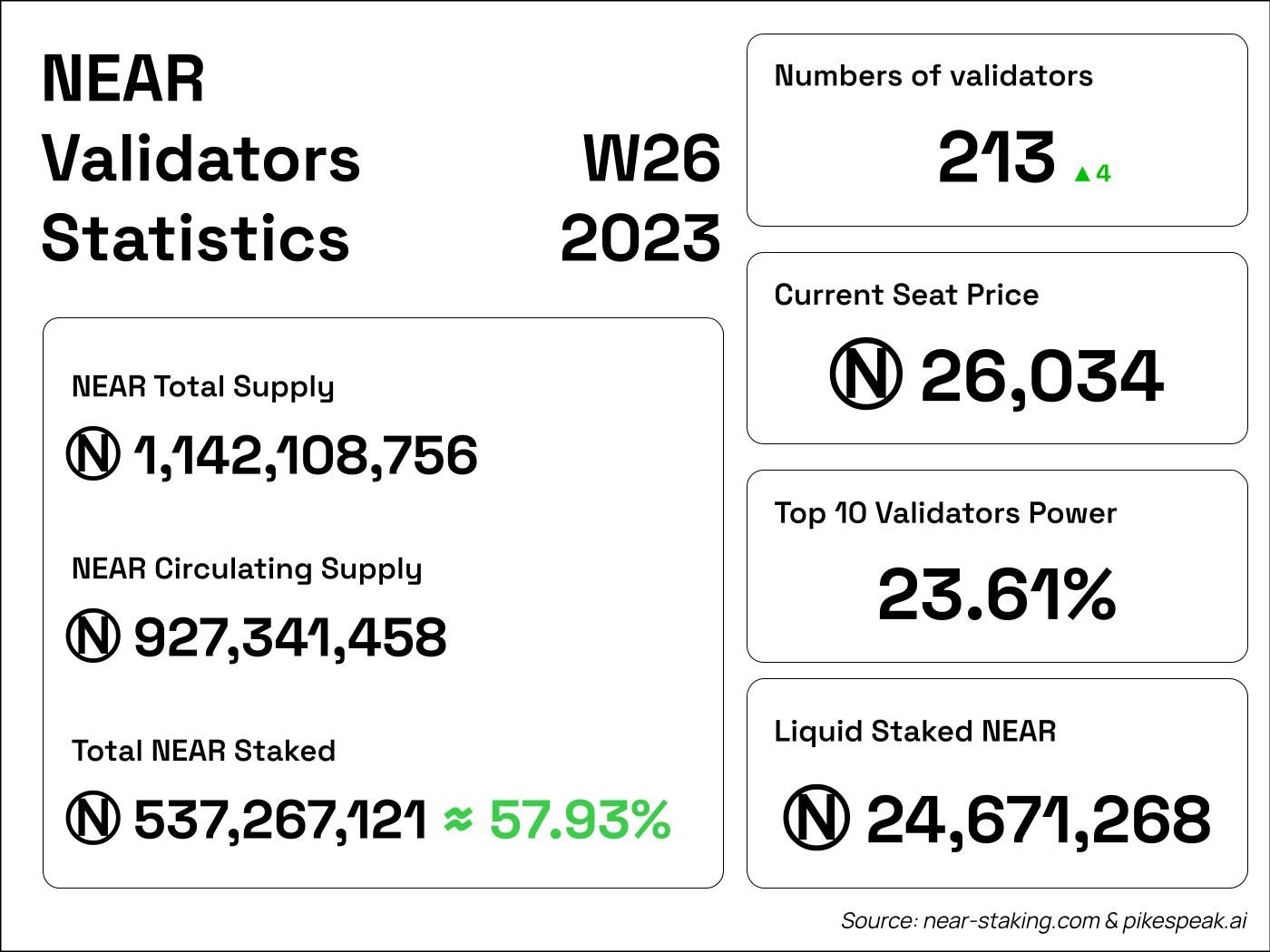 ANNOUNCEMENT
NEAR Devhub to support Apac Conference with prizes for Hackfest competition [Link]
DevHub will fund prizes rewarding winners of the HackFest event at NEAR APAC. Hosted by the Korea Regional Hub, NEAR APAC is one of the biggest Web3 blockchain conferences in the APAC region.
NEAR Foundation X GFI Blockchain: Vietnam summer school [Link]
In collaboration with the Ton Duc Thang University and GFI Blockchain, NEAR Foundation will sponsor a bootcamp and hackathon as part of the NEAR Vietnam Hub's upcoming Web3 Hackfest event; more than 300 students are expected to attend.
Electron Labs announces permissionless NEAR <> Ethereum zkbridge [Link]
Banyan Collective: bOS academy workshop kicks off [Link]
The bOS Academy workshop is underway, and everyone can access the courses in full.
Creatives DAO: Funding round open [Link]
Submit your proposals now until July 7th for a chance to secure funding for your creative projects.
Encode x NEAR Horizon: A masterclass for Rust developers [Link]
The 8-week bootcamp welcomes both individual developers and founders, and will be followed up with job placement assistance by Encode Club.
NEAR Devdao to reward contributions on NEAR via fellowship program [Link]
A new initiative, DevDao's fellowship program is open to experienced and new developers actively collaborating and contributing to strategic developer-focused areas within the ecosystem.
NEAR Devhub improves user experience on platform via significant tweaks [Link]
DevHub has made user navigation and interaction smoother with more seamless ways to create posts, replies, and search its platform.
Revamped features to enhance Devhub UX [Link]
DevHub is close to rolling out new-look communities pages that will allow users discover, connect and contribute to communities seamlessly.
Hapi Foundation: Exploring Web3 cybersecurity [Link]
With a mission to make security solutions easily accessible to businesses and users, the HAPI foundation presents a decentralised arbitration court system for managing funds. The Foundation is also launching Scamfari 2.0, a multi-level system for data search, analysis, addition, and validation.
Lens Social Graph launches on bOS [Link]
Lens SDK offers a simple API for seamless interaction with Lens Protocol on NEAR, while Lens Profile creates an easy way for loading profile information.
NEAR Devhub to sponsor typescript light client for NEAR [Link]
The proposed Light Client will be a major step towards browser-run NEAR nodes and wider developer adoption of NEAR. It will enable the execution of view calls directly in a browser.
NEAR Foundation X Devhub: NPS survey for developer community [Link]
NEAR Foundation and DevHub are calling on the developer community to participate actively in the NPS Survey to help shape decisions that build the ecosystem that'll be home to a billion users.
NEAR x Seracle: Bringing quality, cost-efficient Devops to Web3 [Link]
Rust China Conference 2023: Sponsorship and workshop [Link]
NEAR was one of the sponsors and mainstays of this year's Rust China conference, with Daniel Wang delivering a talk on Borsh, a Rust serializer on NEAR, and Bo Yao talking about DevHub's paid contributor program. NEAR also hosted a Rust developer workshop during the event.
HACKATHONS
NEAR Apac's aHckfest gains momentum [Link]
DevHub is proud to sponsor a $50k bounty and is actively collaborating with NEAR APAC to ensure shared goals are met and mentorship is provided.
Proximity Labs announces bOS workshops + bounties for upcoming events [Link]
Proximity Labs will be sponsoring a series of bOS bounties at ETHGlobal events in Paris, New York City, Istanbul, and other major events like NEARCON and NEAR APAC.
NEAR Devhub at ETH Prague: Decentralized frontends workshop and $5k bOS bounty [Link]
NEAR DevHub is heading to ETH Prague, loaded with a $5k bOS bounty. Vlad Frolov will be presenting a workshop titled 'Decentralised Frontends'. Be prepared to build and deploy your first bOS app from scratch to mainnet.
NEARCON in-person hackathon: $140k in bounties announced [Link]
ETH Waterloo bounty winners recap [Link]
An unprecedented 14 projects hacked during the bOS hackathon at ETHWaterloo. DevHub presided over the jury that selected three winners.
Devhub launches new community, Devhub hacks [Link]
The community will be a channel for hackathon events proposals. Developers can request support to host hackathon events or for DevHub to sponsor an event.
OPINIONS
Robert Yan: best engineering practices for building on bOS [Link]
Zero-Knowledge Twitter spaces with Illia Polosukhin [Link]
In celebration of its zkBridge launch, Electron Labs hosted a Twitter space with Illia Polosukhin to talk everything zero-knowledge on NEAR.
NEP-393: Contract standards work group approves soulbound tokens [Link]
The Contract Standards Work Group has reached a major milestone by voting to introduce Soulbound tokens on NEAR. After a long journey of collaborative efforts, discussions, and addressing concerns, this implementation marks a significant step towards community governance and decentralization.
OPEN JOBS IN THE NEARVERSE
PROXIMITY – HIRING HEAD OF BUSINESS DEVELOPMENT
BEEXPERIENCE – WEB3 RECRUITMENT
NEAR ECOSYSTEM COMMUNITY IN VIETNAM