Unlimited Future – Explore the limitless future with NEAR APAC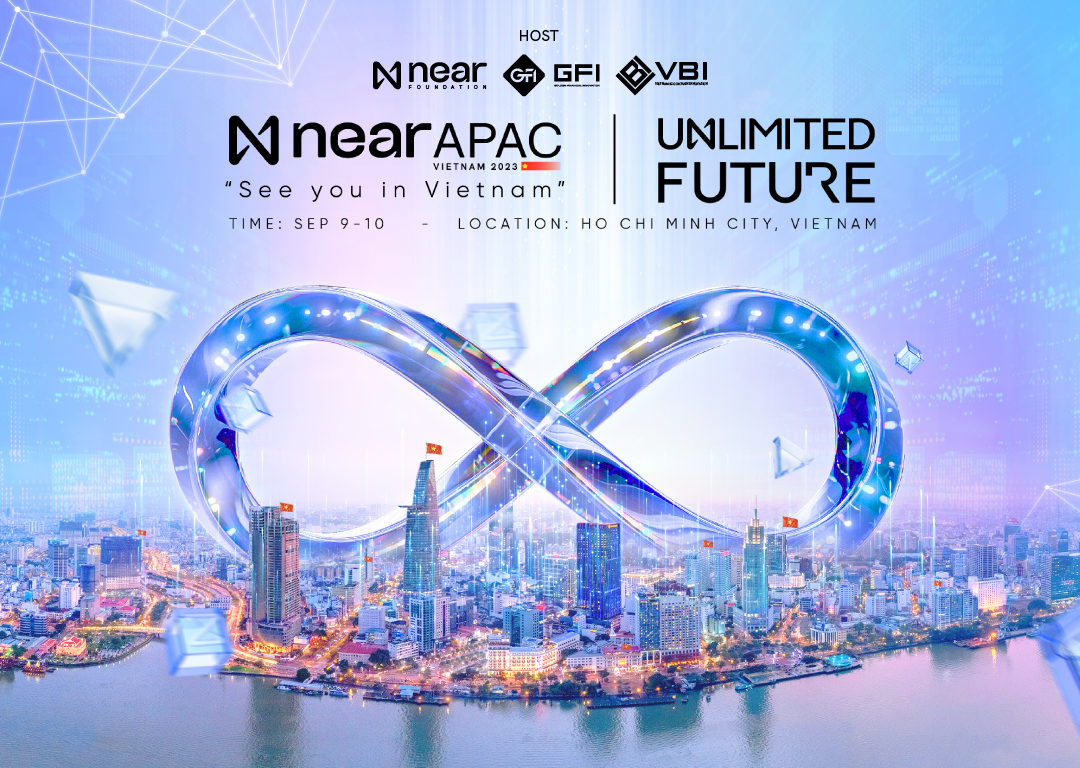 NEAR APAC is the NEAR Ecosystem's first and largest conference in the APAC region. NEAR APAC will feature a continuous event series from June to September 2023. The Conference delivers a world-class lineup of speakers to share latest APAC developments, unlimited potential of the blockchain industry, regional market insights, Web3 hacker festival, and insightful events for networking opportunities with local communities and partners.
What's there in NEAR APAC?
100+ speakers

who are influential leaders in the world of blockchain, from NEAR Foundation, Google, Microsoft, Animoca Brands, Chainlink, Circle, and more.

50+ top investment funds

in the world for Web 2 and Web 3.

300+ web3 startup

projects.

1000+

web2 and web3 developers.

100+ leading technology companies

and conglomerates in APAC.

10+ top technology universities

in Vietnam.

20+ game studios

in the APAC region.

100+ media

in Vietnam and internationally.

5+ blockchain associations

in the APAC region.

The conference will also feature a series of bootcamps in various programming languages,

Uni tours at top universities

The largest hackathon in APAC – the Web3 Hackathon festival – for programmers and creators in both Web2 and Web3.
And there will be many other activities.
Who is this conference for?
NEAR APAC offers the opportunity to connect blockchain ecosystems, builders, exchanges, investors, Web2 and Web3 businesses, investment funds, universities and global media to promote steady development of Web 3.
The conference promises to bring a lot of valuable information and opportunities for:
Investors who want to know more about market trends and portfolios of the world's top investment funds
Builders who are looking for opportunities to learn, connect and collaborate with leading experts and business leaders who have been pioneering the global Blockchain industry.
Businesses who want to learn and update new Blockchain technology applications to transform themselves and catch up with global trends.
Start-ups in any field with Blockchain applications who want to connect with investors, investment funds to find opportunities or promote brands.
Students majoring in IT or interested in Blockchain industry who want to find for themselves the opportunity to work at a technology company or get involved in the global international environment.
The media units who wish to follow up the field of Blockchain technology and approach experts and big wheels in the international Blockchain market.
Investment funds who wish to connect with the world's top funds and share investment opportunities with quality Blockchain projects at the

conference

.
Why NEAR APAC?
Stay updated on investment trends and portfolio allocation experiences from successful top international investment funds.

Stay informed about the latest technology advancements and effective development directions for builders in the web3 field.

Participate in free bootcamp training in various programming languages.

Have the chance to win hackathon awards worth billions of VND.

Learn about career development trends in the web3 field and have the opportunity to be recruited at the conference.

Stay updated on the transition trends from Web2 to Web3 globally for traditional businesses.

Connect with top investment funds worldwide and have the opportunity to call for direct funding at the conference.

Connect with leading media in the field to bring your products to the international market.

Experience the cutting-edge technologies in the web2 and web3 fields at the conference.

Connect and expand partnership relationships with many influential individuals and organizations in the field.

Participate in special art performances with the most popular idols today.

Participate in many lucky draws and games with a total prize pool of 300,000,000 VND for attendees during the 2-day conference.
Conference information
Time:

9:30 – 17:00 on September 9-10, 2023.

Location:

5th Floor – Thiskyhall Convention – HCMC.

Organizers:

Near Foundation, GFI, VBI.
How to Register
Registering early provides an exclusive opportunity to upgrade to FREE VIP ticket class, complete with added benefits. THE QUANTITIES ARE LIMITED! Grab your VIP tickets before they are gone! https://www.ticket-nearapac.app/
=> You can easily get the ticket for the NEAR APAC conference in Vietnam 2023 by following the instructions here!
Please follow Near APAC on social media and the Fanpage to stay updated with the latest information!