Web3 Hackfest – Unlimited Hacker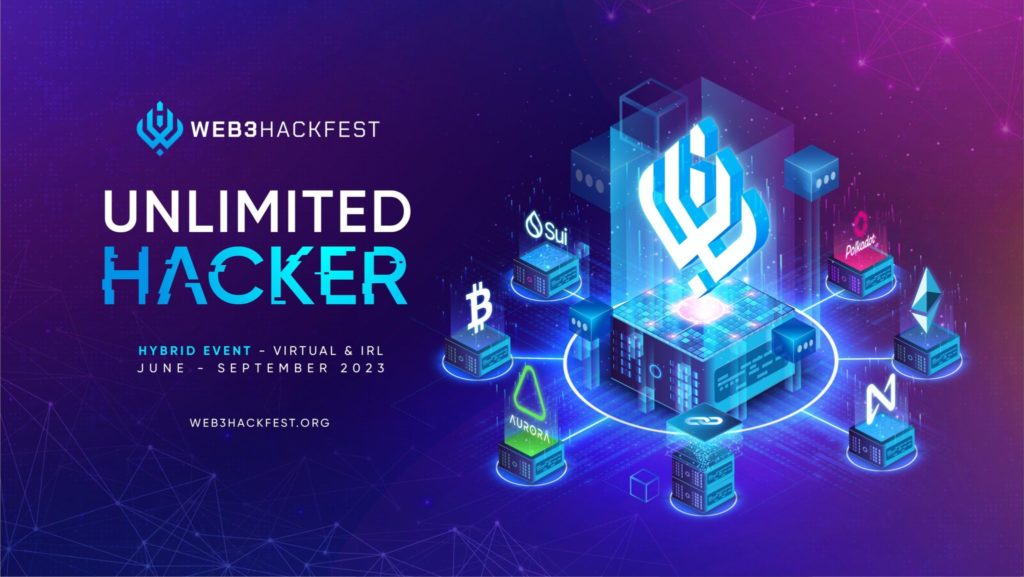 Web3 Event Hackfest 
Web3 Event Hackfest is a large and creative hackathon organized to create a challenging space and opportunity for builders and developers who are building and developing projects on Web2 & Web3. With the theme "UNLIMITED HACKER", this event will spark creativity and pioneer the exploration of the limitless potential of Blockchain technology. 
Web3 Hackfest is a series of major events in the Web3 community, starting from June to September 2023, with many diverse and engaging activities, includes: 
A series of

Bootcamps

that train programmers in many different languages, giving developers the opportunity to learn and improve their skills. 

 

Unitour

is a campus tour into the top universities in Vietnam with the purpose of meeting, engaging and interacting with talented and passionate students. 

 

Hackathon

is the most important part in the series of events with a total prize up to

2.5 billion VND

 

 

And many other interesting activities such as workshops, mentoring, 1:1 pitching with leading investment funds. 

 
The Hackfest event aims to encourage collaboration among developers in the multichain ecosystem to generate innovative ideas and products for Web3 space, with a focus on solving common challenges and creating multichain dApps and interoperable solutions.  
Objectives
By participating in this event, each blockchain platform can attract a larger pool of builders from both the multichain and Web2 developer communities. This event is open to builders of all types, providing a global platform for Web3 developers to come together, share their energy and creativity, and create exciting new solutions, includes: 
Remove barriers between Web3 builders, push the limits of what can be done, connect Web3 builders with external communities, and accelerate Web3 development around the world.

 

Attract more builders for Layer1 and Layer2 Blockchain platforms, encourage shared ideas and products for the Web3 space to solve common problems, and create off-chain and multi-chain applications. 

 
Facilitate and encourage cooperation between builders in the Blockchain ecosystem. 

 
*Web3 Hackfest is deemed to be an event that builder and developer community cannot miss. 
The event will reach out to more than 100,000 participants and will have: 
1000+ developers participated

in the festival

Over 50 world leading investment funds

in Web2 & Web3. 

More than 10 top technology universities

in Vietnam. 

More than 40 leading experts

in Blockchain and Web3 technology. 

More than 50 judges

with in-depth knowledge of Blockchain technology and Web3. 

More than 6 bootcamps

in many different programming languages. 

A series of Uni Tour activities

from top universities. 
Web3 Hackfest is promised to be the largest-scale Web3 Hackathon festival in NearAPAC for developers and creators in both Web2 and Web3. 
Vietnam was selected as the Largest Hackathon Host – Web3 Hackfest
The data from the Vietnam Crypto adoption trend report released in November 2022 shows that: 
Vietnam has 16.6 million people owing cryptocurrency.

 
Bitcoin is the largest owned asset, accounting for 31% of all cryptocurrency holders.

 

Vietnam ranks first in the number of active cryptocurrency users according to Chainalysis 2022 report.

 

Vietnam ranked second in DeFi adoption rate in the Chainalisis 2022 report.

 

Vietnam ranked third in terms of monthly user of Metamask according to Consensys's 2021 report.

 

Vietnam ranked second in blockchain development in Southeast Asia.

 
Vietnam ranked sixth among global outsource programmers.

 

Vietnam has a very active start-up community.

 
This is the first time that Vietnam has been selected as the venue of the world's largest hackathon, with a prize of up to 2.5 billion VND. This marks an important milestone in the development of Vietnam's blockchain community and sets the foundation for our country to become the leading Blockchain innovation and cryptocurrency center in the SEA region. 
Who is the Web3 Hackfest for?
The Web3 Hackfest is for investors, students, and especially builders and developers who build and develop products on Web2 and Web3. 
Are you a

builder

or

developer

of web3 and web2 who is looking for opportunities to connect and collaborate with leading scholars, experts, and business leaders in the global blockchain industry?

 

Are you an

investor

who wants to understand the development trends of blockchain and seize the upcoming major investment opportunities?

 

Are you a

student

who is passionate about blockchain technology and hopes to work in a technology company, or participate in the global international environment?

 

Are you a

community member

who is interested in the policies and milestones of the blockchain industry?

 

Are you an

investment fund

that hopes to establish connections with world-class funds and share investment opportunities with high-quality blockchain projects at the conference?

 
Hesitate no longer, because this event is definitely for you! 
Event Information
Time

: The series of activities will be held from July to September 2023.




Schedule

: The Web3 Hackfest will be held according to the following schedule

 

Conference venue

: Web3 Hackfest (Pitching and Award Ceremony) will be held on September 9-10, 2023 at 5

th

floor – Thiskyhall Convention – HCMC 

 

Organizers

: Near Foundation, GFI, VBI. 

 
Bootcamp series: Free training for various programming languages, providing opportunities for developers to learn and improve their skills, and eliminating obstacles to complex programming languages. There are more than 6 Bootcamps including: 
Rusty Training Camp

 

Solidity Bootcamp

 

Mobile Training Camp

 

ZK Training Camp

 
BOS Training Camp

 

Basic Training Camp

 
Follow the VBI fanpage to get the latest information about training camps here! 
Unitour: A series of engaging programs with top universities in Vietnam, including: 
Hoa Sen University

 

Saigon University

 

HCMC University of Technology

 

University of Information Technology

 

University of Technology and Education

 
The Hackathon is the most important part of the Web3 Hackfest's series of events, with a prize of up to 2.5 billion VND. This is a great opportunity for Web3 developers, professionals and investors to showcase their abilities and share their knowledge. It also creates opportunities for networking and collaboration among players in the Web3 community in Vietnam and around the world.  
The registration portal of the contest will be open in August, follow the official website of Web3 Hackfest to be up-to-date!  
Conclusion 
Web3 is still in its infancy and the goal of Web3 Hackfest is to bring Web3 builders together to explore the limits of the field. The goal is to connect builders, and march towards wide adoption of Web3 in Vietnam and around the world. It is also an opportunity for developers, experts and investors to connect and cooperate with each other in a potential and promising community.