Web3 Meet-up Event: Success Strategies For New Cycle | June 18, 2023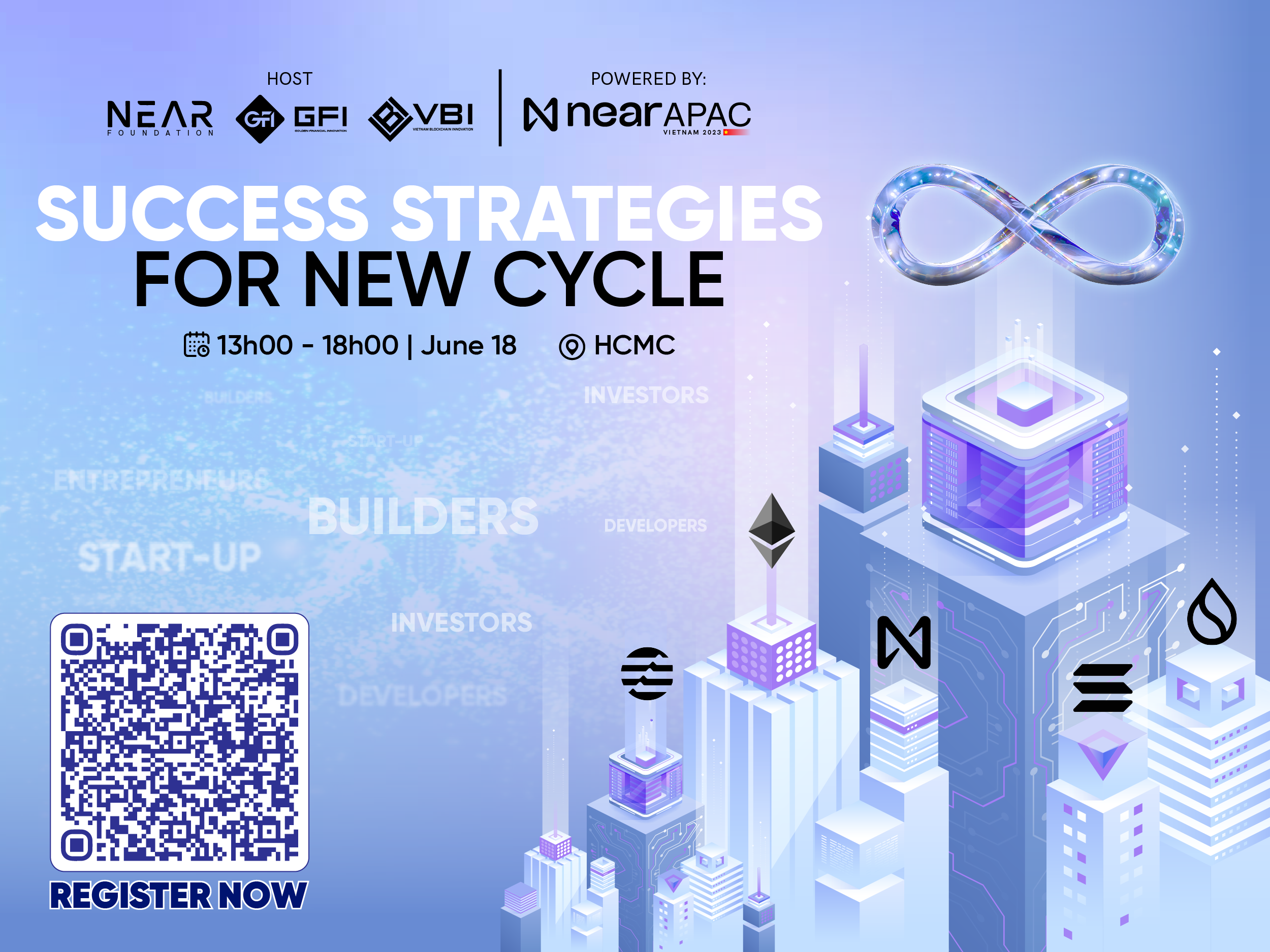 The secret to success for BUILDers & Investors in the new cycle is a special event that provides investors, developers, start-ups, and Blockchain enthusiasts with the opportunity to meet, connect, and listen to the latest market trends, experiences, and knowledge. For the first time in Vietnam, the event features speakers who are Founders of top-ranked global ecosystems, as well as experienced technology and investment experts in the market.
Registering easily through the Eventbrite platform with this link: here!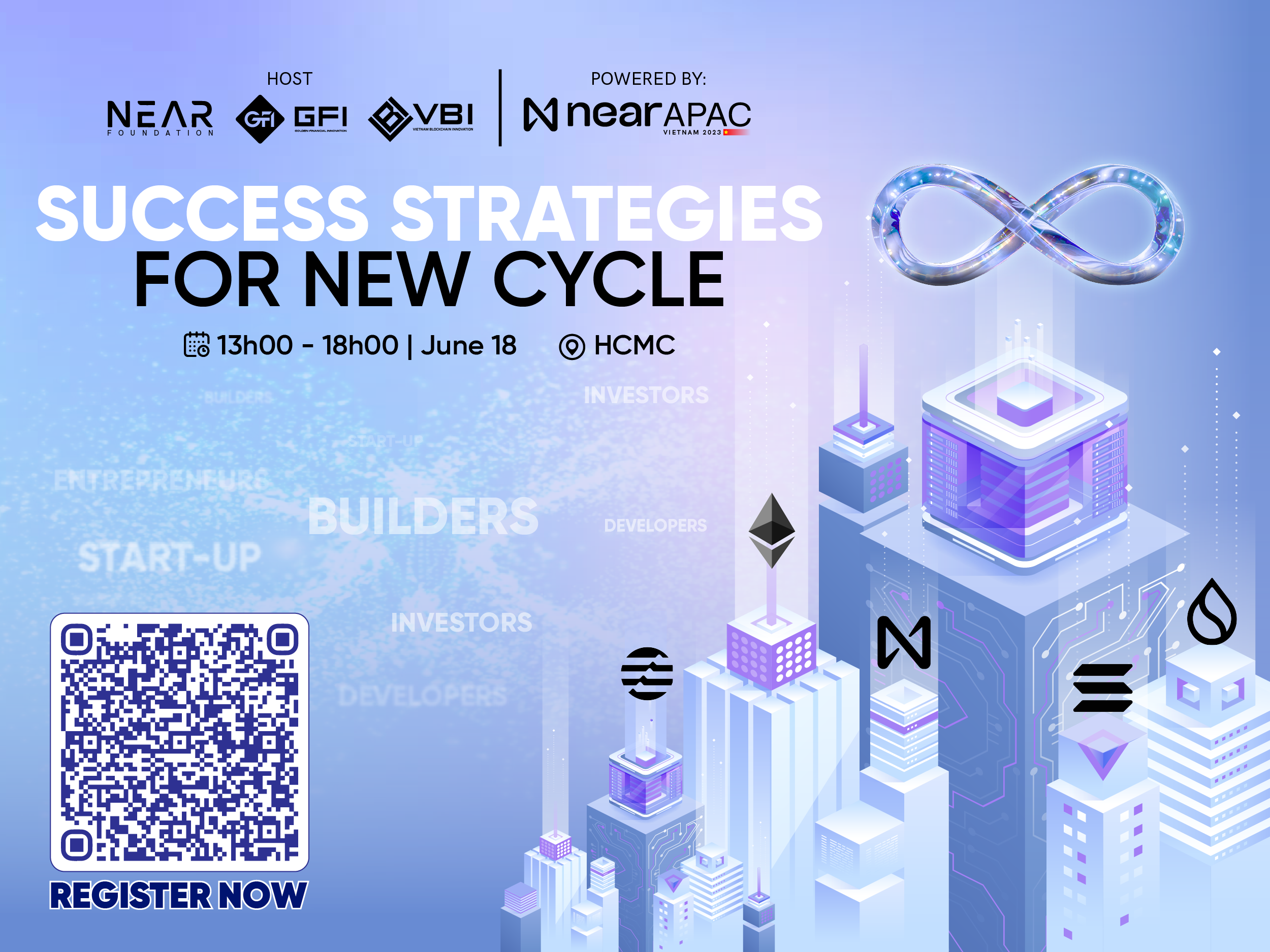 This event is intended for 
Developers seeking opportunities to connect and collaborate with leading experts, learn about the latest technology trends, and be ready to build high-quality projects and stay ahead of the curve.
Investors looking to understand about market trends and effective investment strategies for the upcoming uptrend season.
Students who want to learn about new technology trends and seek career development opportunities in the Blockchain field.
Start-ups seeking to network and learn from the Founder of a top-ranked global ecosystem.
Event content 
The event will commence with a discussion on the current state of Blockchain development and its potential for future growth. The primary objective of this segment is to offer a comprehensive overview of the field that can assist investors, start-ups, and students in shaping their investment strategies for the new cycle.
Subsequently, the speaker will present solutions aimed at attracting billions of users to Web3 by highlighting possible applications of Blockchain technology in various fields and proposing ways to lure traditional users to Web3.
Following this, the event will feature a discussion on identifying the technology that can facilitate Web3's widespread adoption. The goal of this discussion is to help investors, start-ups, and students understand investment opportunities and development in this phase.
Finally, the latest technology trends in the new Blockchain cycle will be discussed to enable investors and start-ups to capitalize on the latest investment opportunities. Experts will introduce potential fields and investment opportunities in the Blockchain industry, and provide insights into the current market situation to develop the most effective strategy for the new cycle. The aim is to empower attendees to make informed decisions about their investments in the Blockchain industry.
Speakers 
Mr. Illia Polosukhin: NEAR Co-Founder, has over 10 years of experience in technology industry, including three years of working at Google. He has also authored several significant research papers.
Prof. Dinh Ngoc Thanh: VBI Co-Founder
Ph.D. Dang Khanh Hung: Research Director at FPT Blockchain Lab
Ph.D. Nguyen Hong Tri: Researcher at Center for Ubiquitous Computing, Oulu University Finland
Mr. Pham Huong: GFI Founder & CEO
Ms. Riley: Near Vietnam Director
Mr. Hoang Minh Thien: TCVN Founder
Mr. Dong Pham: Saigontradecoin Founder
Mr. Tuan Pham: BTA Founder
Event information 
Time: 13:00 – 18:00, Sunday, June 18, 2023 (GMT+7)
Venue: Hong Bang International University, 215 Dien Bien Phu, Ward 15, Binh Thanh District, Ho Chi Minh City
Organizers: NEAR, GFI, VBI
**Note: Only 300 tickets are available for those who register the earliest. Register for the event today to not miss the opportunity to find the secret to success for the new cycle!
Please register through the Eventbrite platform with this link: here!