NEAR ecosystem monthly report – May 2023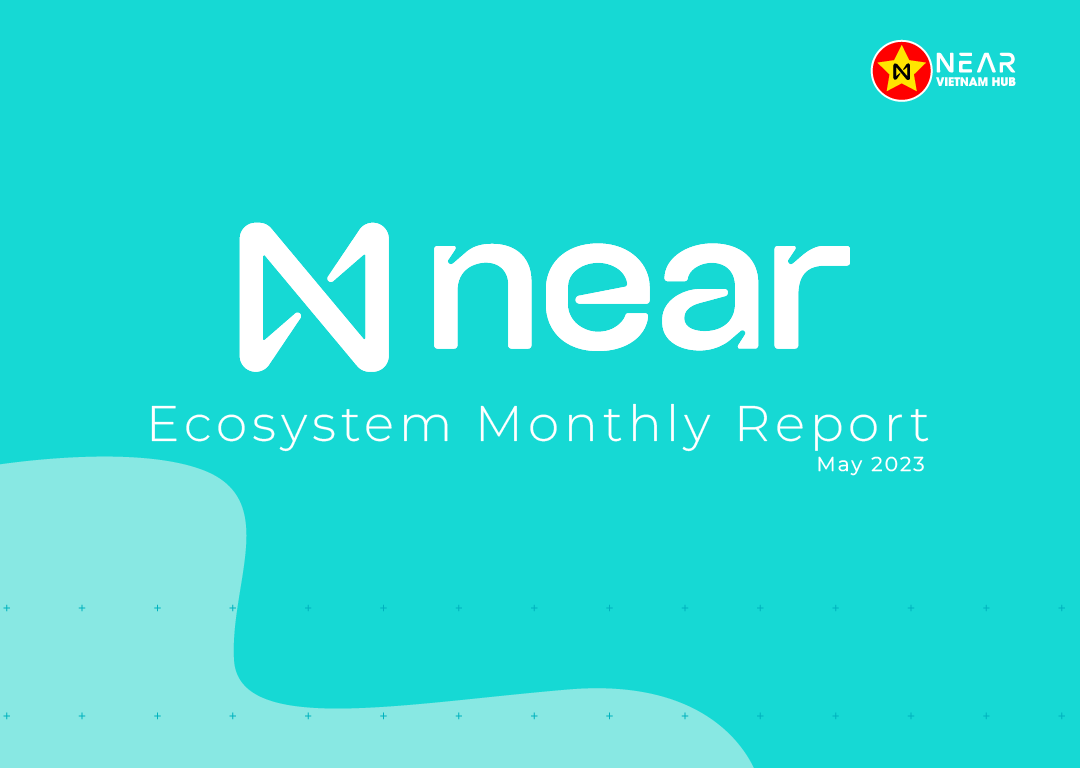 Hi community, do you want to know:
What happened in NEAR ecosystem in May 2023?
Who are NEAR's new partners?
How has NEAR DeFi changed?
How cool NEAR bOS is?
New updates from Dapps?
What are developers doing?
How to join NEAR ecosystem?
What are opening jobs?
You will find all the essential news about them in NEARMONTH May Report. Despite the adage "sell in May and go away", NEAR is moving forward with its believers.
P/S: The largest Blockchain event in Vietnam 2023 Near Apac 2023: Unlimited Future is now officially open for registration ➡️ Register now.
NEARMONTH collects and organizes information from the NEAR weekly newsletter. This edition summarizes highlights from newsletter issue #107 to newsletter issue #111 (week 17 to week 21), which compiled a total of 1151 contributions by the community to NEWS DAO.
HIGHLIGHTS
MUST – READ
Awesomenear : Near Ecosystem Leaders [Link]
Collections of Near ecosystem leaders' thoughts about Near Protocol and projects built on it.
NEAR AT CONSENSUS highlights [Link] 
Come take a look at everything NEAR at Consensus, including the bOS, NEAR Horizon, submissions call for the latest edition of Women in Web3, and more.
Aurora Cloud: Transform your business with customizable tools suiting all your needs [Link]
With Aurora Borealis, Aurora Pass, and Aurora Silos, businesses can achieve frictionless onboarding, infrastructure service, and customizable blockchain instances. Built on NEAR Protocol, Aurora Cloud handles up to 10,000 transactions per second, making it perfect for large-scale adoption.
Meet the winners of the NEAR Devhub-sponsored track at the ZKP/Web3 hackathon [Link]
The Near DevHub sponsored a hackathon track at the ZKP/WEB3 Hackathon organized by UC Berkeley, as the Near Protocol explores the addition of a zero-knowledge layer. The track was designed by O(1) Labs. Two projects made the winners' circle
ANNOUNCEMENTS
NEAR APAC is now opening for registration! [Link]
NEAR Foundation releases NPS survey results [Link]
NEAR Foundation has released the results of its Q1 NPS survey that broadly measures user experience (UX) and satisfaction across the ecosystem.
NEAR Blockchain Operating System (Bos) is now live on Near.Org [Link]
Whether you're a developer, founder, end user, or someone just looking to get into Web3, the NEAR Blockchain Operating System (bOS) now marks your easy entry point into the Open Web.
Integration of multichain wallet with BOS in progress [Link]
Welldone Studio is integrating its multichain Wallet with the bOS to enable access to a wide variety of networks and dApps through a single wallet.
NEAR Foundation launches NEAR Horizon [Link]
NEAR Foundation announced NEAR Horizon, an accelerator that will enable founding teams to scale their projects with a wide range of support. This support will, in turn, enable the rapid growth of great products with a real-world value in the NEAR ecosystem.
Base Camp accelerator is now receiving applications [Link]
Base Camp is now accepting applications from startups looking to build on the bOS. Check out their eligibility criteria and apply today. The deadline is the 14th of June.
AWESOMENEAR is moving to a new home on near social [Link]
NEARFans, the team behind the AwesomeNEAR website, is shutting awesomenear.com and hauling their activities to the NEAR Horizon portal on bOS. The page is likely to stay and so will the website, although future updates or edits will no longer be actioned after the end of May.
Town Hall delivers major ecosystem updates [Link]
The latest NEAR Town Hall unveils new components being built on the BOS by projects around the ecosystem, including the official NDC dashboard by Pikespeak.
Marieke Flament: Keynote speaker at CVC 2023 [Link]
NEAR Foundation's CEO, Marieke Flament, will be one of the keynote speakers at this year's annual Crypto Valley Conference.
OPINIONS
NEAR Foundation responds to the UK crypto-asset consultation [Link]
The NEAR Foundation submits its response to the UK Crypto Asset Consultation, emphasizing the importance of a clear and proportionate regulatory framework for Web3 technology. Read more about the Foundation's stance and the opportunities for the UK in the evolving DeFi landscape.
PARTNERSHIP
NEAR NYC x NEAR HORIZON: NYC demo day 2023 [Link]
Join the NEAR NYC community on June 16, to discover NEAR Horizon's accelerator, next-gen technology, and engage with NEAR's builders, founders, and investors.
SHEMAROO x NEAR: Accelerating web3 adoption in Indian media and entertainment [Link]
Shemaroo Entertainment, an Indian content powerhouse, collaborates with NEAR Foundation to drive Web3 innovation in the Indian media and entertainment industry. The alliance holds significant promise for both ecosystems, unlocking new possibilities for content distribution, audience engagement, and revenue streams.
NEAR integrates Wormhole, launches zk-enabled cross-chain communication [Link]
NEAR Foundation partners with Wormhole, an industry-standard cross-chain Zero-Knowledge messaging protocol. The integration will establish a NEAR-ETH corridor and bolster multi-chain interoperability.
NEAR HORIZON x OUTLIER VENTURES create Base Camp Accelerator to propel Web3 startups [Link]
NEAR Foundation's newly formed Web3 startup, NEAR Horizon, is partnering with Outlier Ventures to launch Base Camp, an accelerator program. The program will support early-stage startups building on the NEAR blockchain Operating System (bOS).
NETWORK STATUS
NEERWEEK #107 (4/24 – 5/1)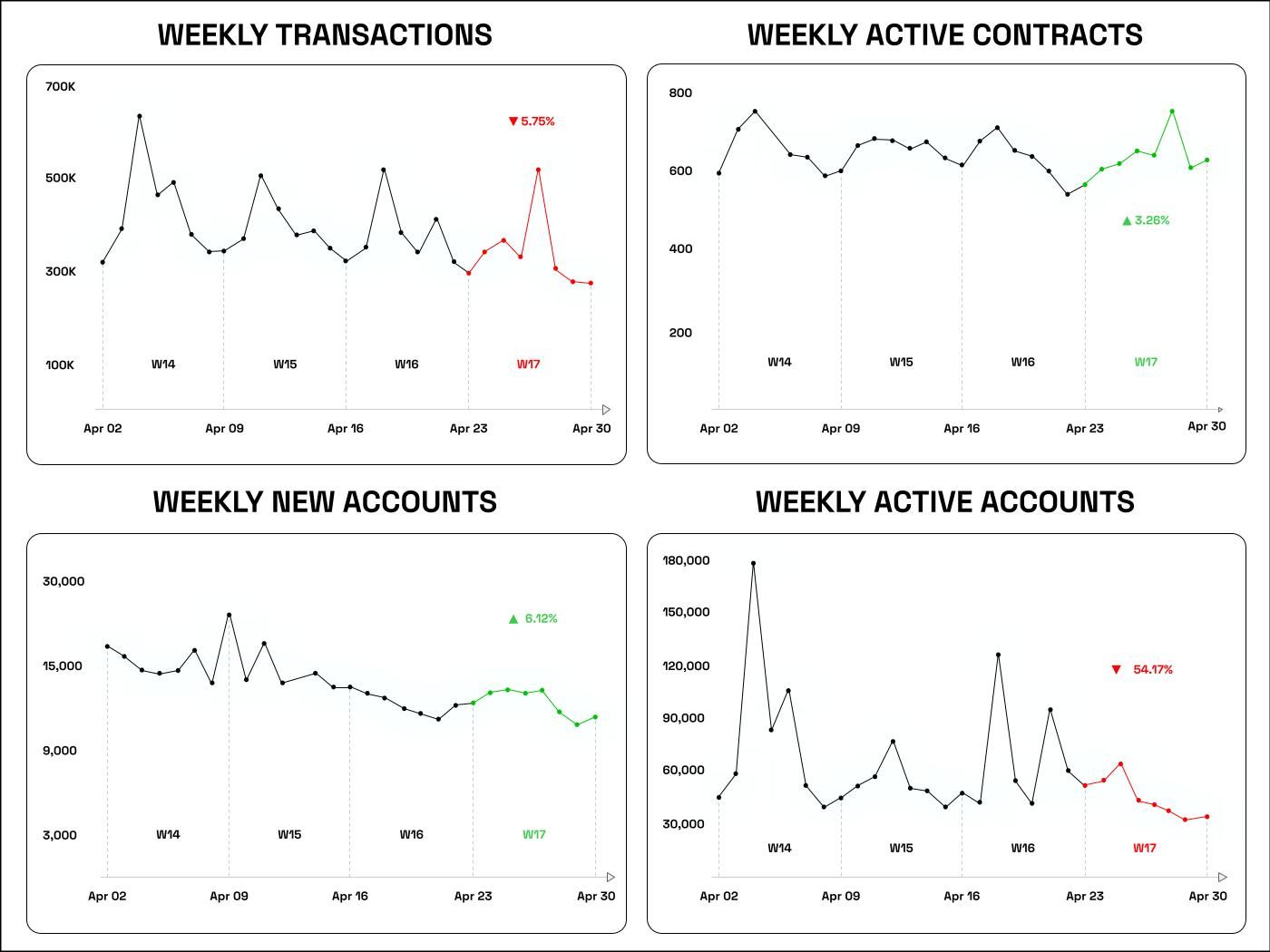 NEERWEEK #108 (5/2 – 5/7)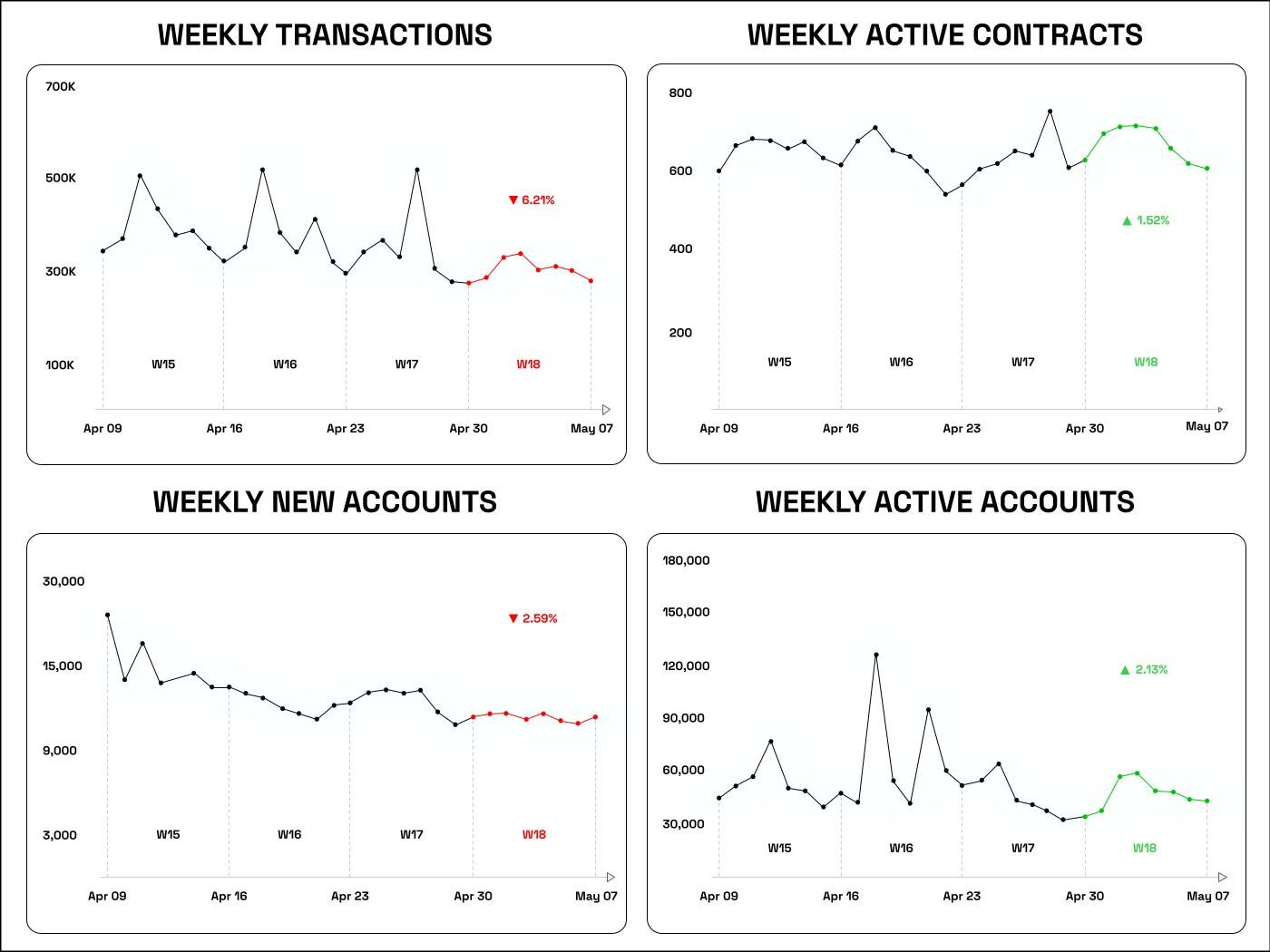 NEERWEEK #109 (5/8 – 5/14)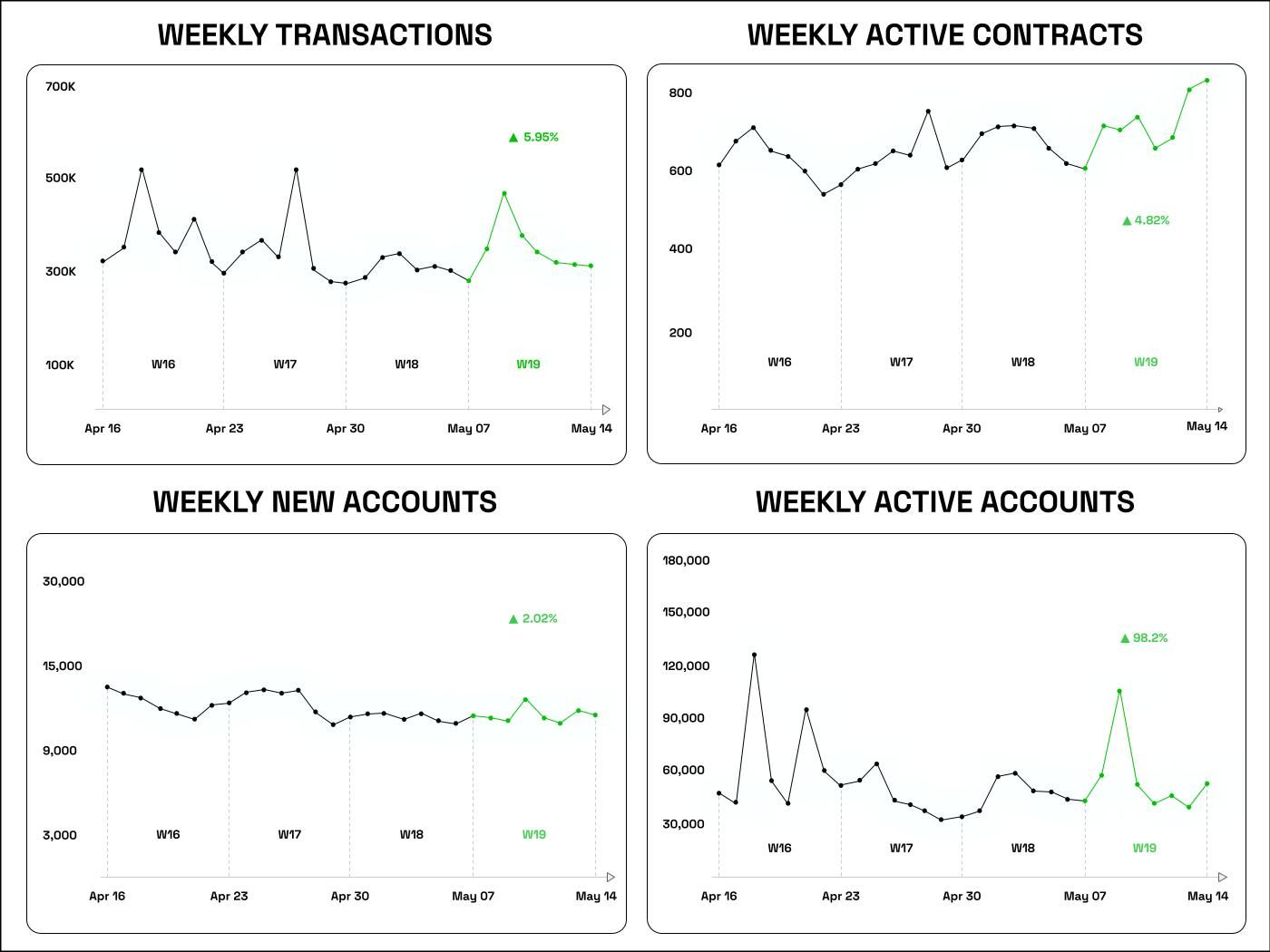 NEERWEEK #110 (5/14 – 5/21)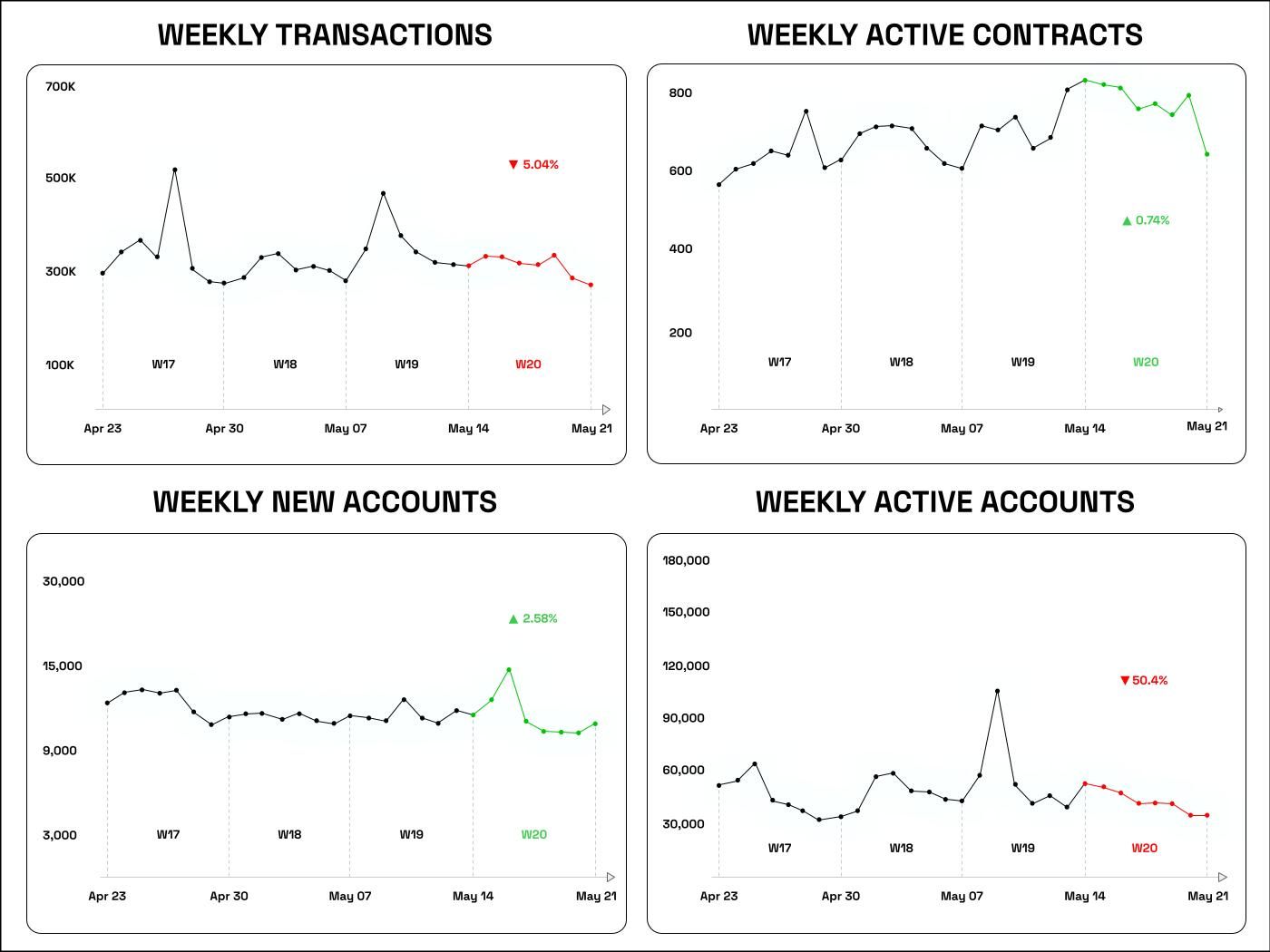 NEERWEEK #111 (5/22 – 5/28)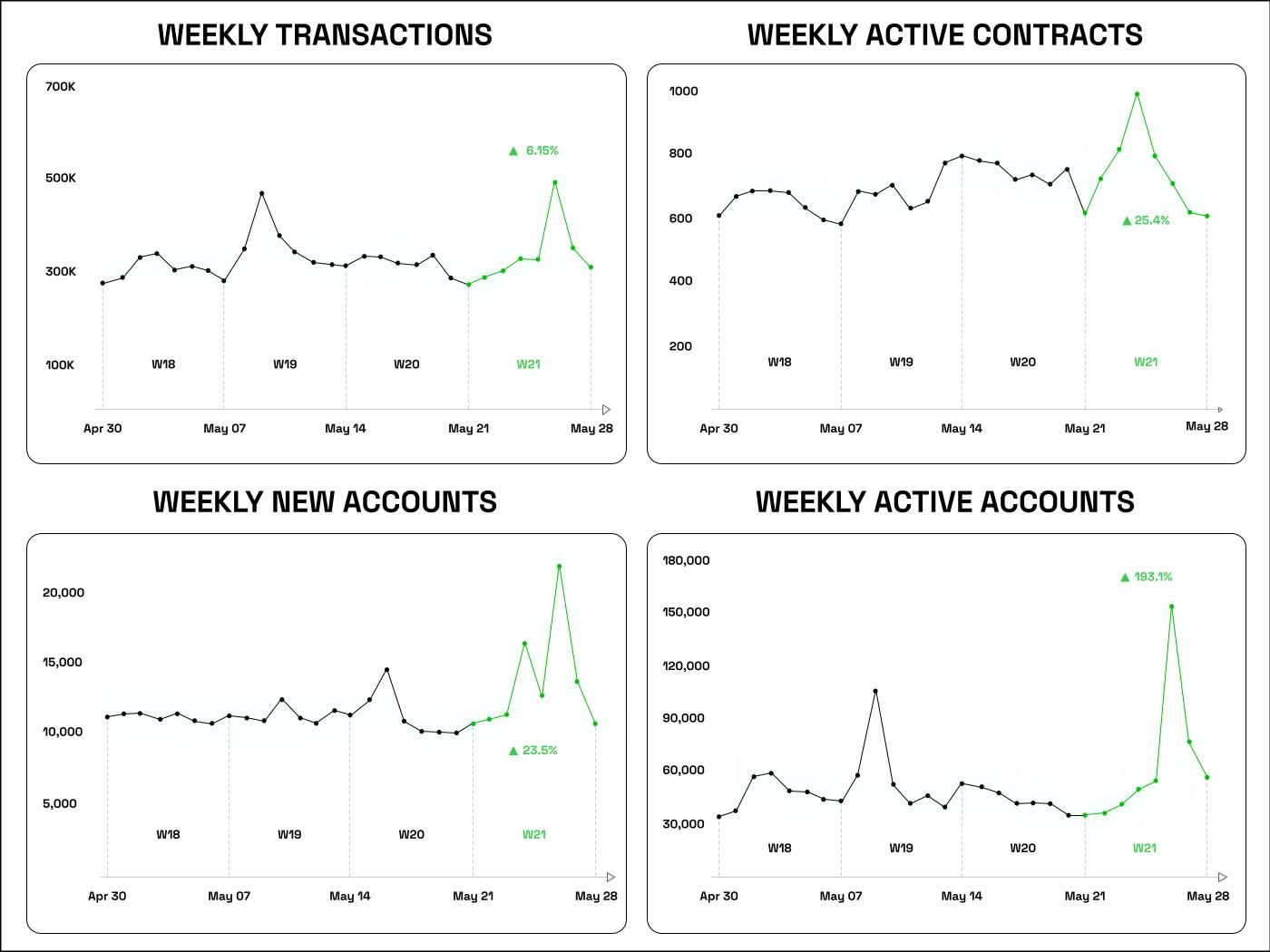 DEFI
ASSET STATUS
NEERWEEK #107 (4/25 – 5/1)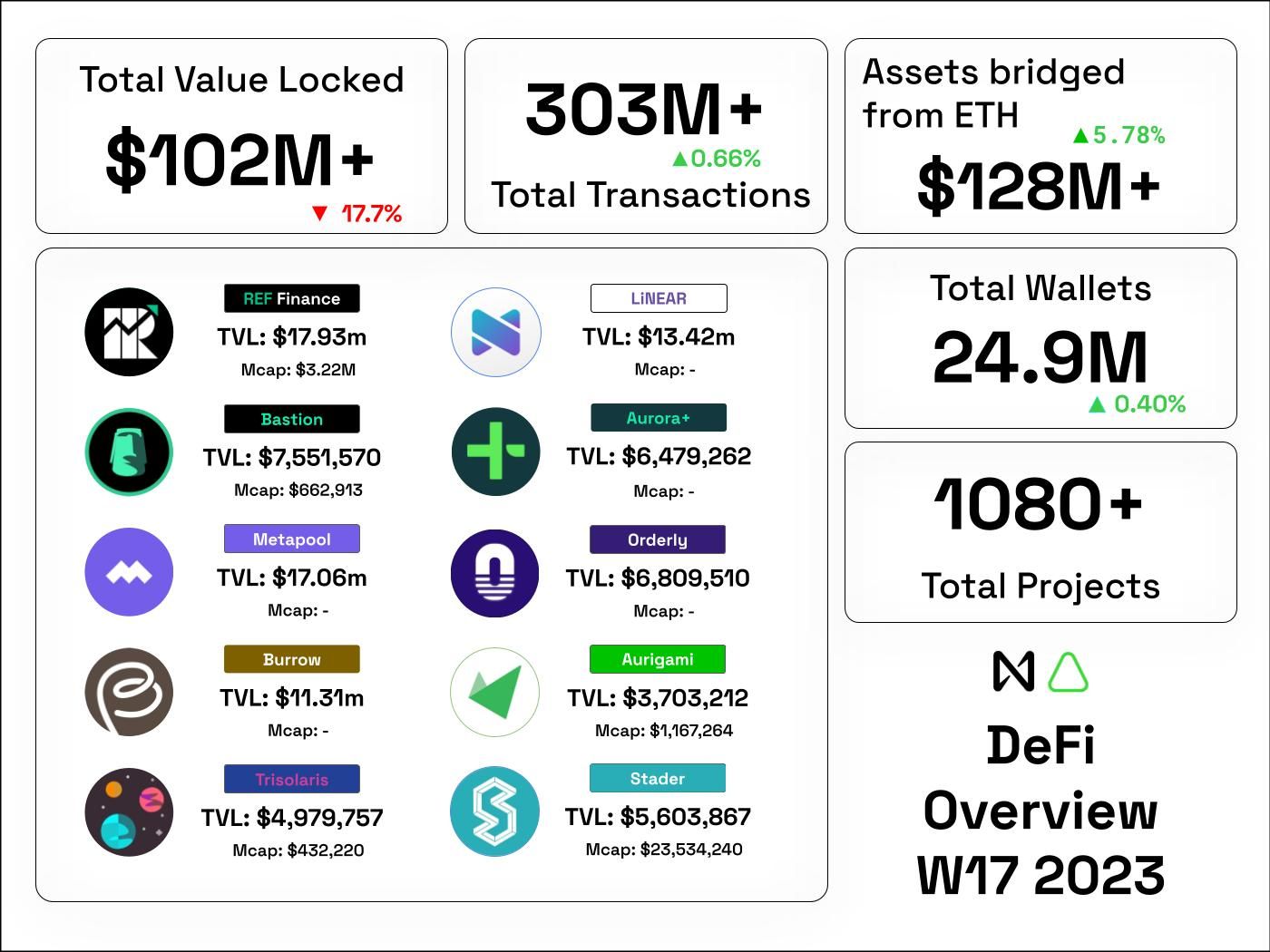 NEERWEEK #108 (5/2 – 5/7)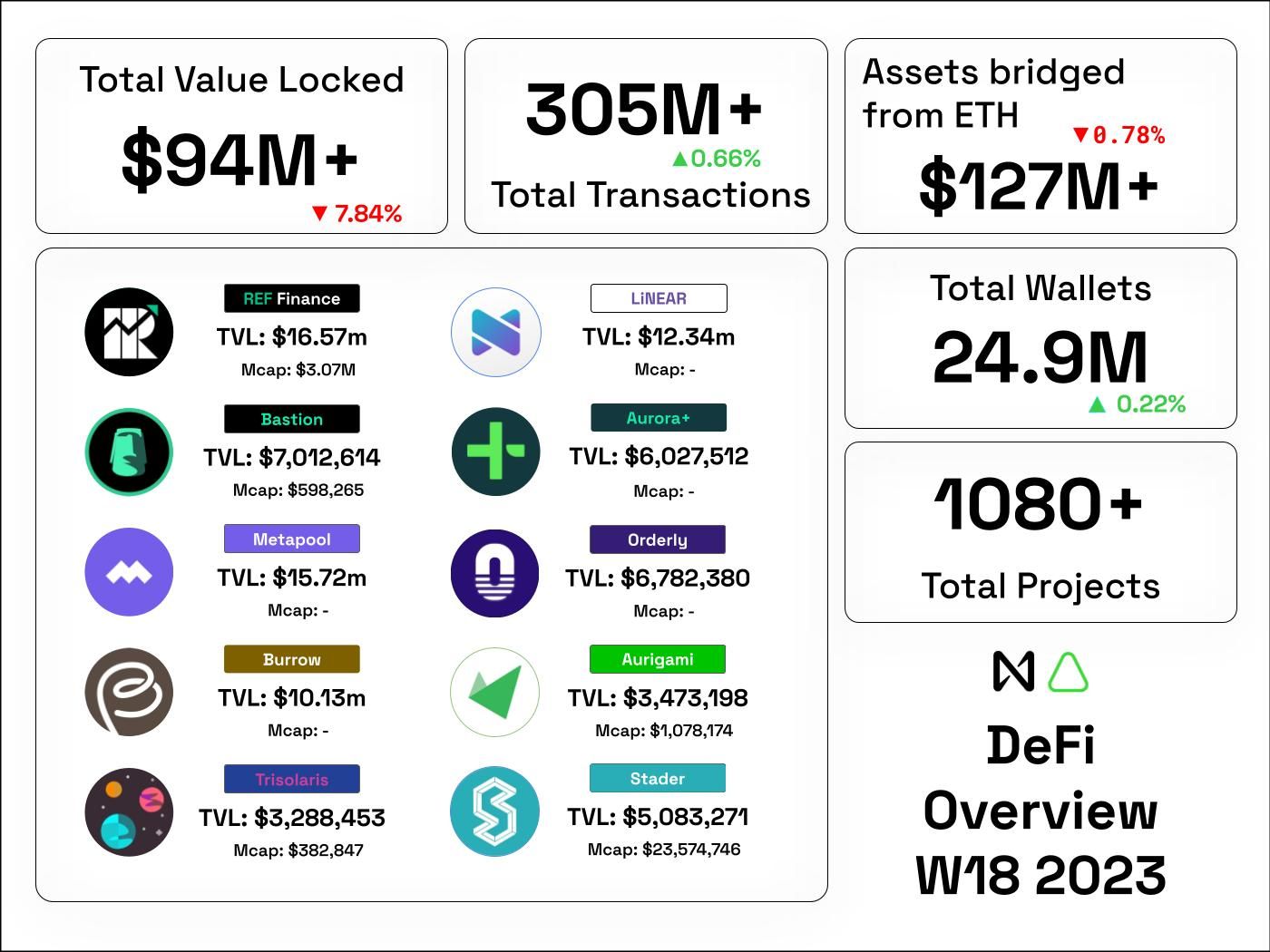 NEERWEEK #109 (5/8 – 5/14)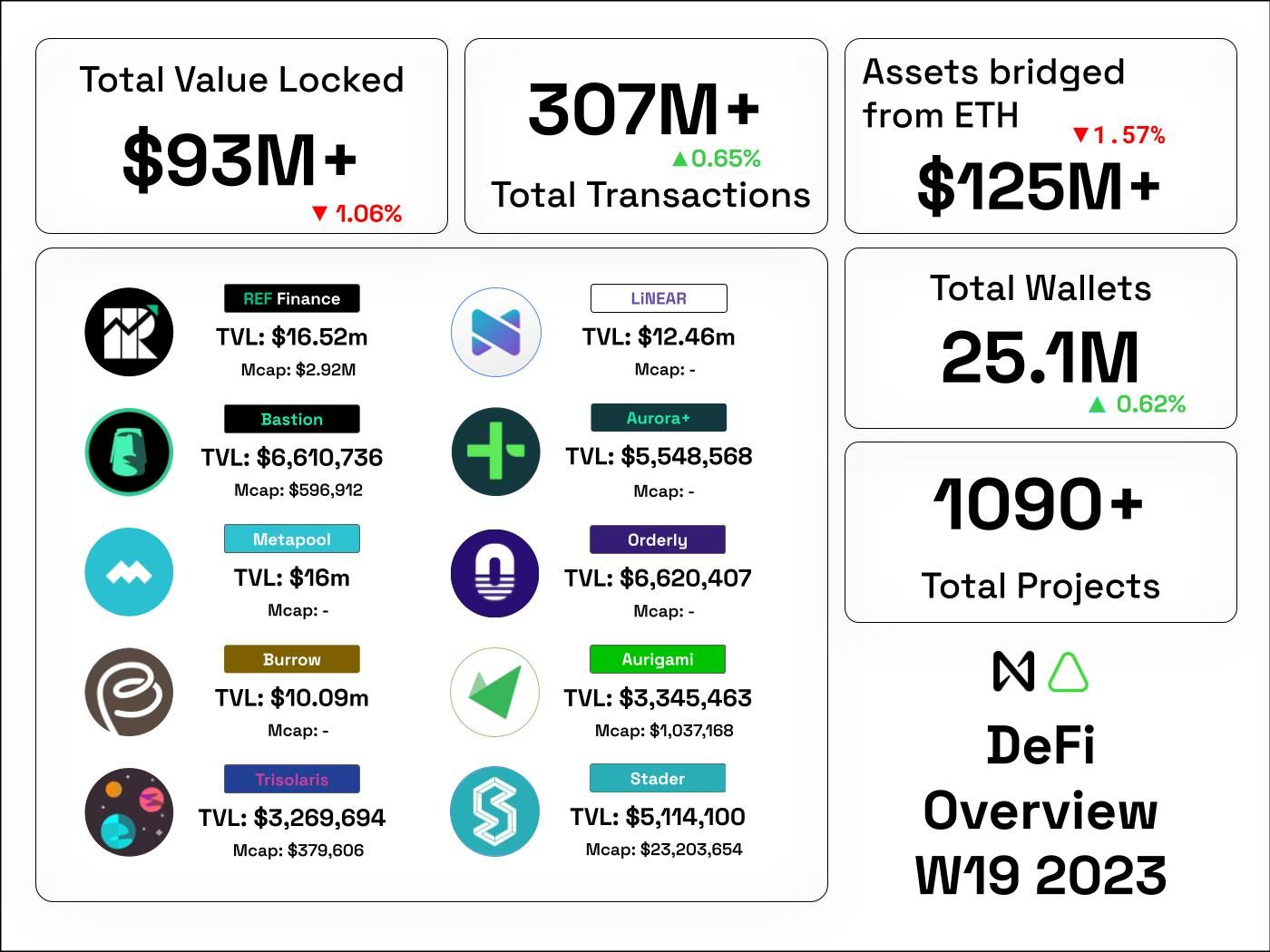 NEERWEEK #110 (5/14 – 5/21)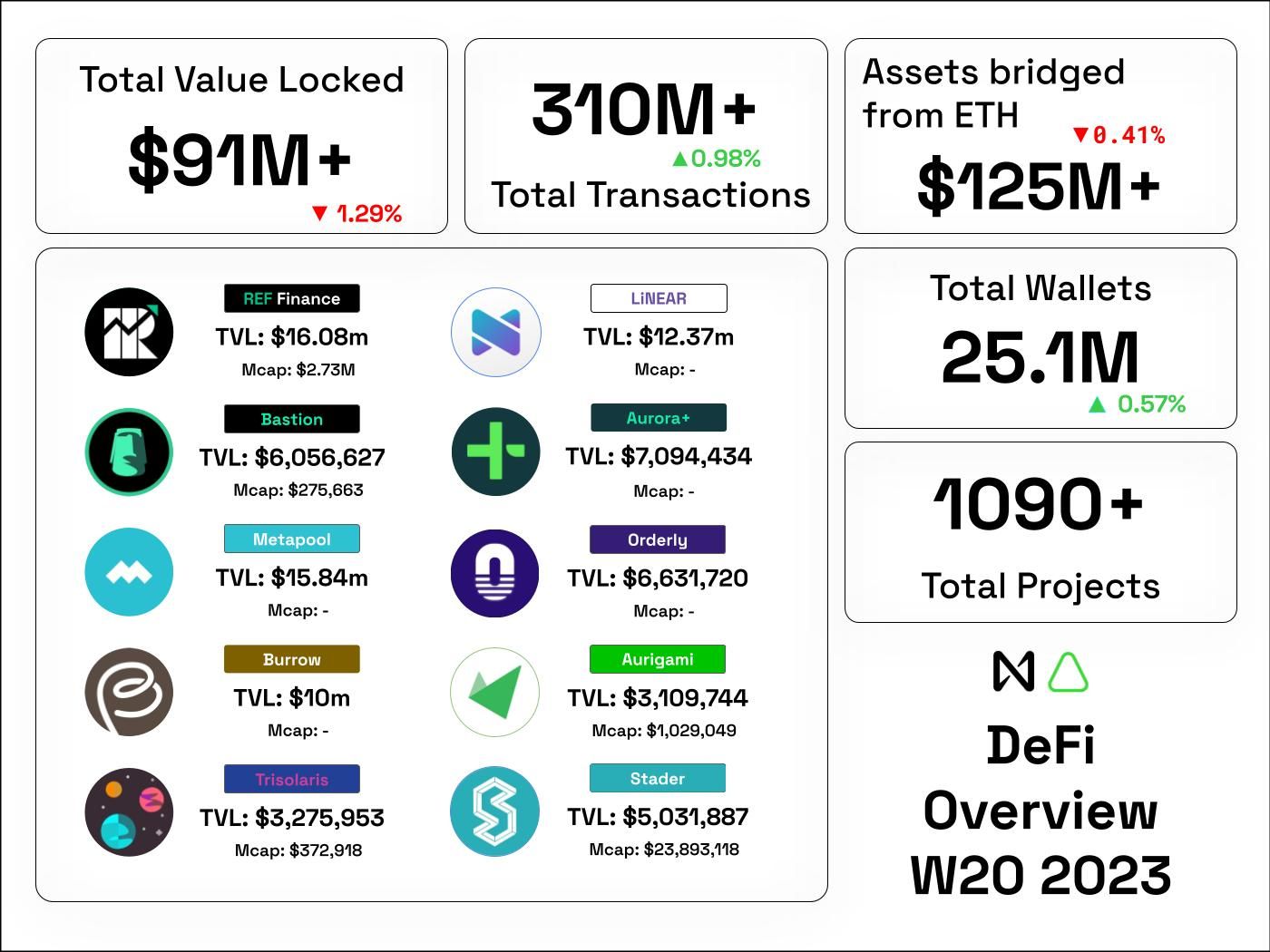 NEERWEEK #111 (5/22 – 5/28)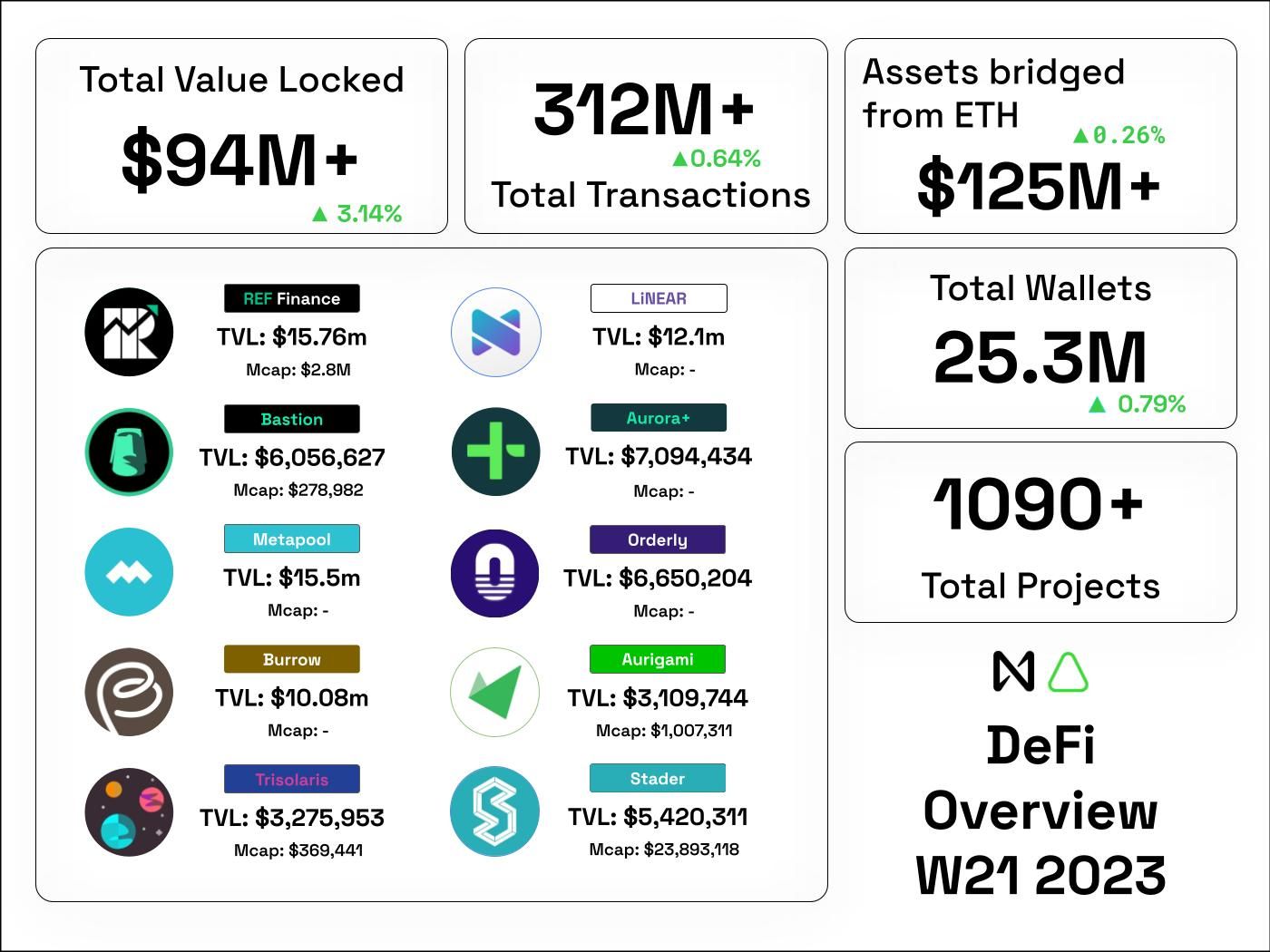 MUST-READ
VEAX Mainnet recap [Link]
Veax has officially launched its mainnet, offering an advanced single-sided liquidity DEX built on the NEAR. The team plans to continuously enhance the platform's features and functionalities with a focus on providing the best-in-class experience.
ANNOUNCEMENTS
After Alex Shevchenko's proposal went live last month, the Aurora DAO has approved several changes that affect the layer's native token, $AURORA.
Pangolin DEX enables cross-chain swaps [Link]
Pangolin DEX has announced that it has enabled cross-chain swaps for Aurora on its platform through BridgeSwap. Users can now easily make swaps from Ethereum to Aurora and back, using the available bridges and exchanges on Aurora.
BURROW completes integration of native USDT [Link]
Users can now supply $USDT to Burrow pools after the team completes the integration of native USDT. Existing $USDT.e pools will not be affected.
SENDER WALLET now supports zkSYNC Era mainnet [Link]
Sender wallet unlocks new possibilities with zkSync Era mainnet support. The team also announces an exciting new update for the mobile app.
TRISOLARIS DEX launches bOS swap component [Link]
Trisolaris, the largest DEX on Aurora Network, has unveiled its brand-new Blockchain Operating System (BOS) swap component. Users can now explore this feature on near.org.
SWEAT ECONOMY launches learn-to-earn campaign with USDT rewards [Link]
The Sweat team has announced a new Learn-to-Earn campaign for Sweat Wallet users. Learn all about stablecoins and earn $USDT for doing so.
OPINIONS
REFI (White paper): Blockchain for scaling climate action [Link]
This paper is intended as a primer for those unfamiliar with regenerative finance (ReFi) and as a guide to those incorporating blockchain technologies into decarbonization or net-zero commitments.
PARTNERSHIP
METEOR WALLET X JUMP DEX: Try Jump swap on NEAR [Link]
AURORA Demoday in partnership with Pitchtalk [Link]
Aurora is excited to announce that its DemoDay, in partnership with Pitchtalk, will take place on May 25th. This event is a great platform for fostering new ideas, forming partnerships, increasing exposure, and building unity within the community.
ZOKSHPAY x AURORA: No-code payments infrastructure [Link]
ZokshPay, the no-code and non-custodial payments infrastructure layer, is now live on Aurora. Users can accept major cryptocurrencies built on the network, enjoy lightning-fast transactions, and benefit from low fees.
REF FINANCE x BURROW: present a new unified and streamlined interface [Link]
After successful integration, users can now access Burrow's powerful lending features via the REF Finance UI.
HOLDRFI X BASTION: Introducing boosted pools [Link]
Boosted Pools maximize passive LP token productivity by storing most liquidity as yield-bearing tokens on Bastion, allowing users to earn yield while contributing to liquidity.
COMMUNITY AND GUILDS
NEARWEEK: Audio & podcast library [Link]
A selection of project and community audio recordings that cover the NEAR, Aurora, and Octopus Network ecosystem and their respective developments.
NEARWEEK: Community calendar [Link]
NEARWEEK launches its custom community calendar to be used by the entire NEAR ecosystem! Please populate the calendar with project launch dates, NFT drops, and Twitter Spaces. This way users in the space are aware of everything that's scheduled to happen.
NEARWEEK: Merch Store [Link]
Our NEAR ecosystem merch store is live – stack up your NEAR drip!! If you're a project and want your design featured in the store, please e-mail: [email protected].
The NEARWEEK Twitter newsbot offers the easiest way to ensure that any breaking NEAR Protocol-related news on your timeline is picked up by NEARWEEK. To send us a submission, simply comment or tweet:
< !submit @nearweekbot > — it's that simple!
DEVELOPERS
NEAR developer DAO's open call for paid contributors still ongoing [Link]
NEAR Dev Gov referral program [Link]
Are you a NEAR ecosystem outlet, an influencer, or someone organizing NEAR Protocol events? You can be paid for referring people with ideas to DevGov DAO. 
VALIDATORS STATISTICS
NEERWEEK #107 (4/25 – 5/1)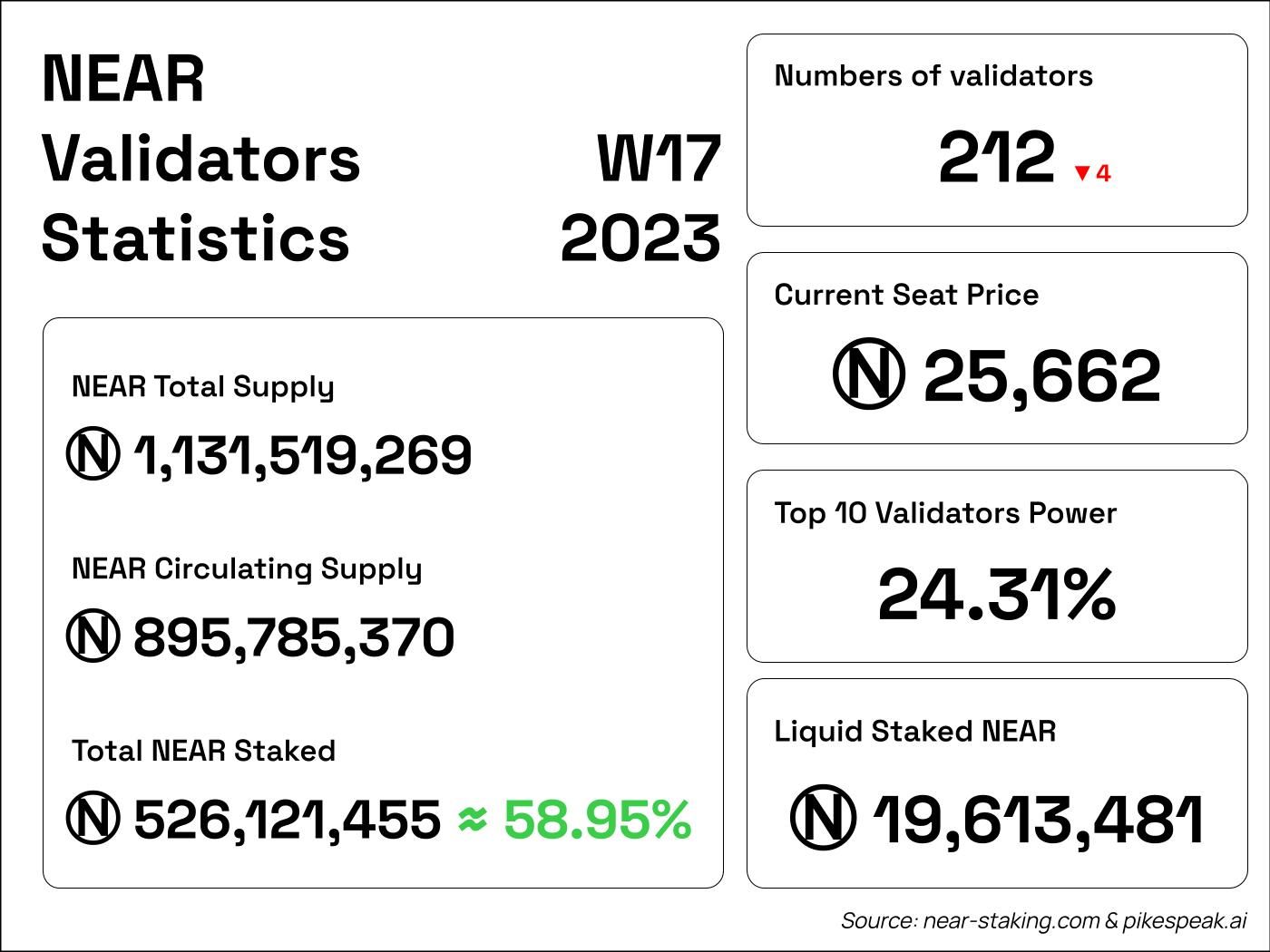 NEERWEEK #108 (5/2 – 5/7)
NEERWEEK #109 (5/8 – 5/14)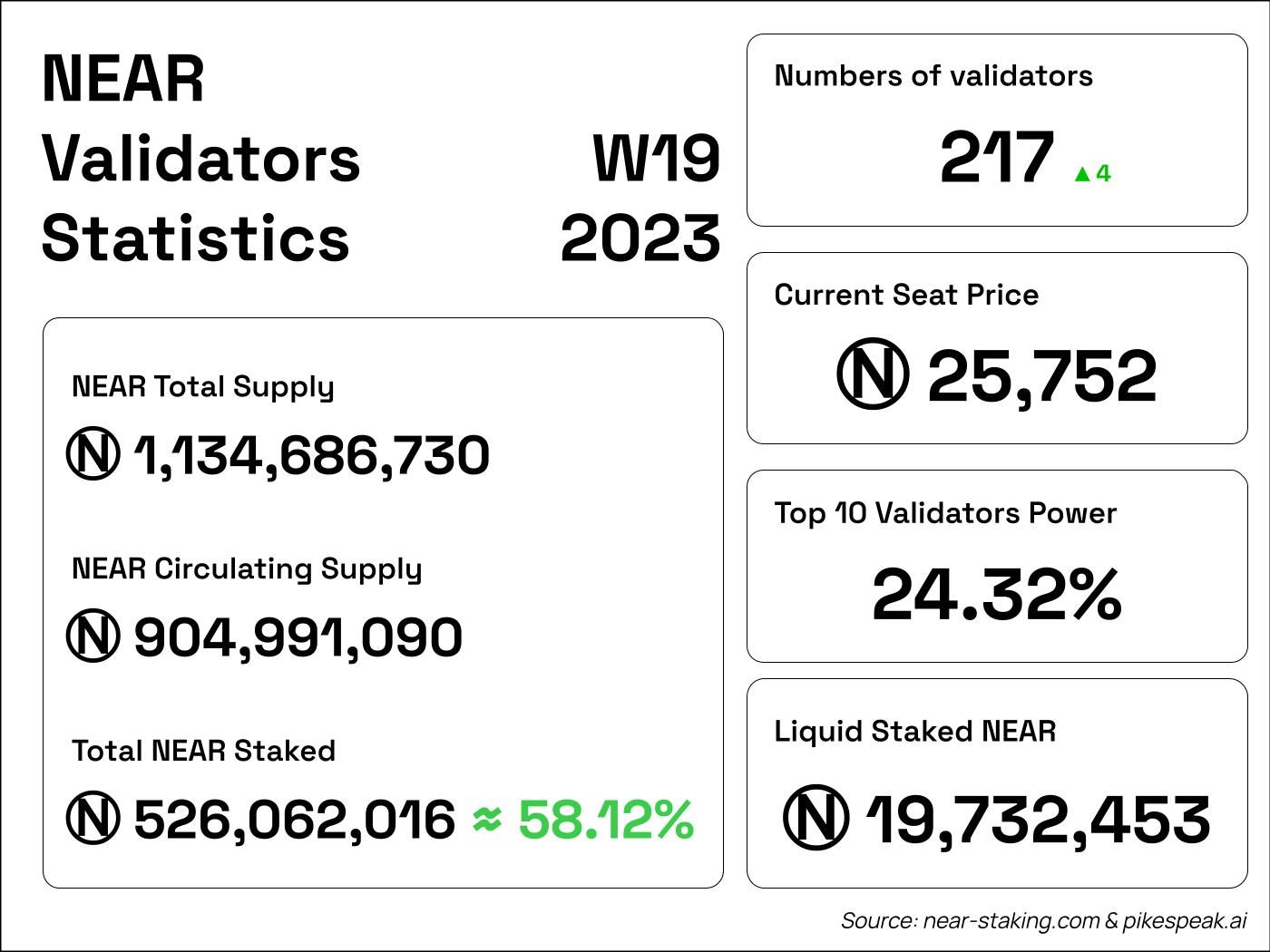 NEERWEEK #110 (5/14 – 5/21)
NEERWEEK #111 (5/22 – 5/28)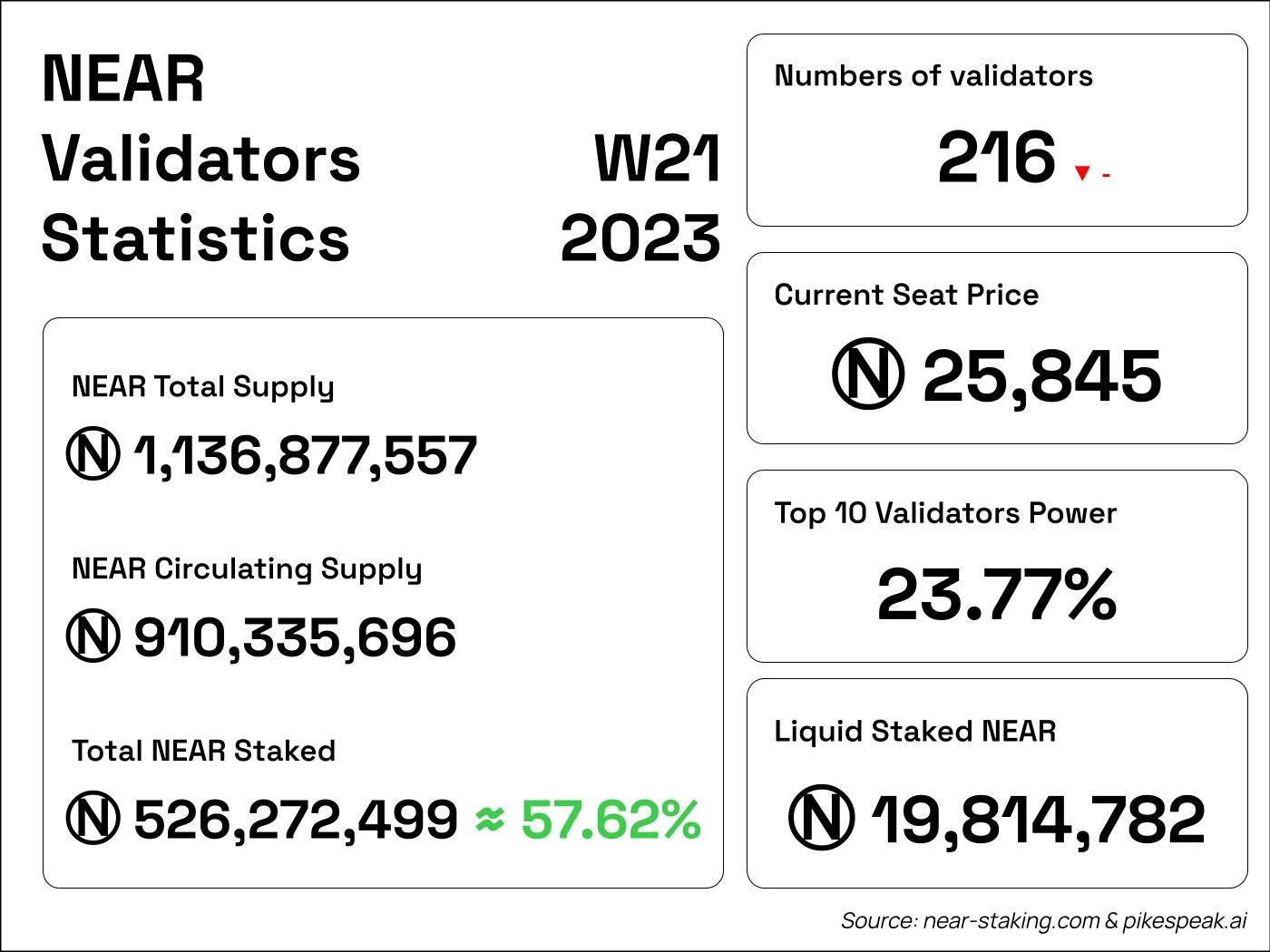 ANNOUNCEMENT
Zeeve adds validator node support for Aurora [Link]
MINTBASE: Updated developer docs [Link]
NEAR DEVHUB spotlight: Asian developer community [Link]
The NEAR DevHub team highlights the Vietnam Blockchain Initiative (VBI), a vibrant Web3 developer community of over 40k developers brewing in Vietnam.
NEAR developer DAO publishes Q2-Q3 OKRs [Link]
NEAR Developer DAO, the self-sufficient community for developers on NEAR, has published its quarterly OKRs. The report highlights a productive Q2, including segments for community quality, engagement, strategic initiatives, and operations. Q2 has been spearheaded by a successful hackathon track at the ZKP/WEB3 Hackathon organized by UC Berkeley's Center for Responsible, Decentralized Intelligence (RDI)
NEAR Wallet on testnet to be deprecated: What you need to know? [Link]
NEAR Wallet on Testnet will be gradually deprecated, and users are advised to take action. If you use the Wallet Selector, you can easily remove 1 variable to adapt.
NEARCORE Version 1.33.0 released: Update your nodes [Link]
Validators, NEARCORE version 1.33.0 has been released and it is important to update your nodes promptly to make efficient development and testing easier. Additionally, a timely update on your part ensures that protocol fixes are quickly applied.
Call to action (feedback): No-code widget generation for bOS integration [Link]
TeleportHQ proposes expanding its open-source code generator library to support Social React JSX and enable widget deployment directly to bOS. This enhancement aims to lower entry barriers and foster a wider community of developers, designers, and users within the NEAR ecosystem. Please provide feedback to help this proposal reach its final decision stages.
MINTBASE integrates mendable AI chat-powered search tool for developer docs [Link]
Mintbase recently integrated Mendable AI's chat-powered search tool for its developer documents. This new tool enhances the ability for users to create with Mintbase's platform.
DEVHUB announces Hackbox, a one-stop solution for hackathons [Link]
NEAR DevHub is rolling out Hackbox, an all-in-one solution for organizing hackathons, from budgeting to marketing and more.
HACKATHONS
NEAR Hacks Team launches bOS bootcamp [Link]
DEV DAO launches fellowship program for experienced NEAR developers [Link]
The DevDAO Fellowship Program will provide guidance and financial rewards to experienced and new developers for their contributions to the NEAR ecosystem.
ENCODE X AURORA HACKATHON: A four-week online event [Link]
Encode Club teams up with Aurora to launch a hackathon focused on building. The hackathon also partnered with Axelar, Meta Pool, and NEAR Protocol to offer participants a chance to take on various challenges and win prizes ranging from $500 to $3000 USD. The event kicks off on May 30th.
OPINIONS
AURORA Developers: Cross-ecosystem communication [Link]
Banyan Collective: NEAR Ecosystem audit database [Link]
Minority Programmers: Streamlining onboarding with Account Abstraction on NEAR Protocol [Link]
Keypom is revolutionizing Web3 application onboarding with its account abstraction protocol on NEAR. By simplifying complex blockchain operations, Keypom offers a seamless onboarding experience for users.
ZAVODIL.NEAR: Composable widget for seamless multi-chain integration [Link]
Introducing a versatile bOS widget that seamlessly integrates with Ethereum, NEAR, and ZkSync blockchains. With one blockchain-agnostic front-end code, it easily loads components for displaying tokens and balances, connects to different networks, and leverages ready-made code for efficient development.
OCTOPUS 2.0: Taking blockchain security to the next level [Link]
The developer team is thrilled to work on Octopus 2.0, drawing inspiration from EigenLayer to revolutionize blockchain security. Discover how EigenLayer connects with Octopus and NEAR Protocol to enhance shared security and bring new advancements to the ecosystem.
NEAR: Revamp to state sync mechanism [Link]
The core developer team of the NEAR Protocol is overhauling the State Sync mechanism of the protocol. The goal is to make it faster, scalable, and more reliable for node operators and validators.
JOIN THE ECOSYSTEM
The open-source, collaborative wiki connects you to information about everything relating to the protocol, usage, infrastructure, opportunities, and guilds.
LEARN NEAR club: How to use & build on NEAR [Link]
An all-inclusive hands-on onboarding platform to NEAR Protocol, connecting NEAR ecosystem projects to pro-active community members via (L)Earn method. Supported by NEAR Foundation.
NEAR: Rust smart contract development [Link]
The following guide explores the general principles of smart contract development, focusing on ways to merge NEAR Protocol development with normal web applications.
PROJECT GROWTH
AURORA weekly update [2023-05-05]
Read it here: Link; or, give it a watch here: Link
AURORA weekly update [2023-05-12]
Read it here: Link; or, give it a watch here: Link
AURORA weekly update [2023-05-19] 
Read it here: Link
AURORA weekly update [2023-05-26] 
Read it here: Link
Satori: Introducing NEAR Tasks – the decentralized gig-economy platform [Link]
Messari NEAR Protocol Q1 Report 2023: Growth & adoption [Link]
NEARWEEK rounded up Messari's detailed Q1 report on the NEAR Protocol into a digestive summary. The report highlights NEAR's strong performance financially and as a community which was headlined by the launching of the Blockchain Operating System (bOS), despite challenging industry conditions.
FEW AND FAR: Announcing brand new web3 onboarding experience [Link]
Few and Far has launched a new onboarding experience that streamlines login, signup, and account creation for non-crypto users. Users can create an account with just their email address and do not need a NEAR wallet to begin their experience.
NEAR x PIPEFLARE: Reshaping Web3 gaming [Link]
As Web3 gaming on NEAR accelerates, PipeFlare will enable gamers to play, earn crypto, and engage socially in a decentralized environment. This partnership will help create more intricate, engaging Web3 games in a secure fashion.
PARAS x ASTAR JAPAN: Experiment and explore the world of NFTS [Link]
After last week's introduction to Astar Network by NEARWEEK, Paras has taken the initiative to offer a commemorative NFT that users can mint for free. Simply connect your wallet and follow the instructions to receive your mystic Japanese collectible shrouded in neon lights.
Web3Mon FreePlay event [Link]
The Web3Mon FreePlay event has started on NEAR! Participate in the game, and if you lose, you can claim USDC from the team. Show off your strongest collection in the world of Web3Mon.
Playible's play-to-earn fantasy cricket game is live [Link]
Palyible, an NFT Fantasy sports platform on NEAR has launched its fantasy cricket game for NEAR users. Users will claim a free starter pack of 12 athlete NFTs to build their teams and compete for a 150k IR prize pool.
NEAR and Airchain to power Sankalptaru Foundation's ReFi goals in new partnership [Link]
The SankalpTaru Foundation, one of India's most prominent climate-conscious organizations has partnered with NEAR and AIRCHAIN to transform its planting practices. The Foundation will leverage NEAR to ensure more transparent and accountable tree planting, anchored by Airchain's cutting-edge Web3 SaaS solution.
NEAR x KNAQ: A new era of fan engagement [Link]
Knaq is a fan loyalty platform that allows fans to interact with their favorite creators on social media platforms in Web2 and Web3. Knaq plans to offer a seamless user experience and provide more value to fans and creators by leveraging NEAR's fast and scalable blockchain.
NameSky Marketplace launches on mainnet [Link]
NameSky, a marketplace where you can mint, buy and sell NEAR account names, is now live on mainnet.
NEAR x ROWND: Brightening the future of Web3 onboarding [Link]
MotoDex is live on Aurora mainnnet [Link]
MotoDEX, a play-to-earn NFT game for racing aficionados, is now live on Aurora mainnet.
NEAR Foundation x NEAR Vietnam Hub: A can't-miss AMA [Link]
In anticipation of the upcoming NEAR APAC event in Vietnam, the NEAR Foundation will host the Vietnam Hub in an exclusive ecosystem showcase AMA.
Recur's digital collectibles now tradable on Few & Far [Link]
Following a partnership with the NEAR Foundation, Recur has now listed its NFT collections on the Few and Far marketplace.
Seatlab NFT shines at the 2023 Midlands Startup Awards [Link]
An event ticketing marketplace, Seatlab NFT beat other cohorts in the category to win the Mobile & Emerging Technologies StartUp of the Year.
Duel Soccer launches on NEAR [Link]
NEAR users can now buy a Duel NFT on Few and Far marketplace and play the 1v1 soccer game
OPEN JOBS IN THE NEARVERSE
NEAR ECOSYSTEM COMMUNITY IN VIETNAM