NEAR ecosystem monthly report – April 2023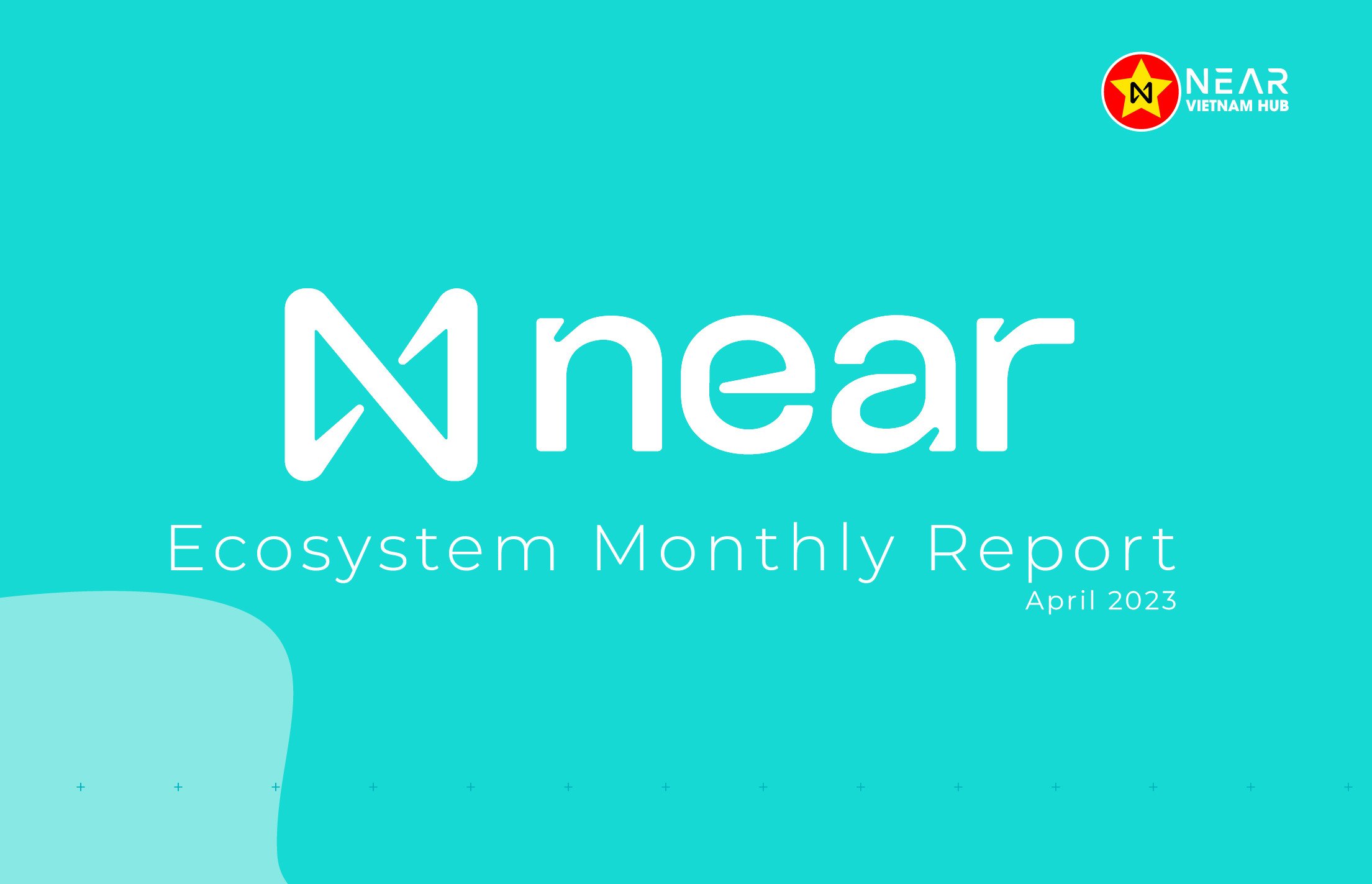 Hi community, do you want to know:
What happened in NEAR ecosystem in April?
Who are NEAR's new partners?
How has NEAR DeFi changed?
New updates from Dapps?
What are developers doing?
How to join NEAR ecosystem?
What are opening jobs?
And NEAR Apac information, the biggest event of NEAR in APAC region, which will be hosted in Vietnam!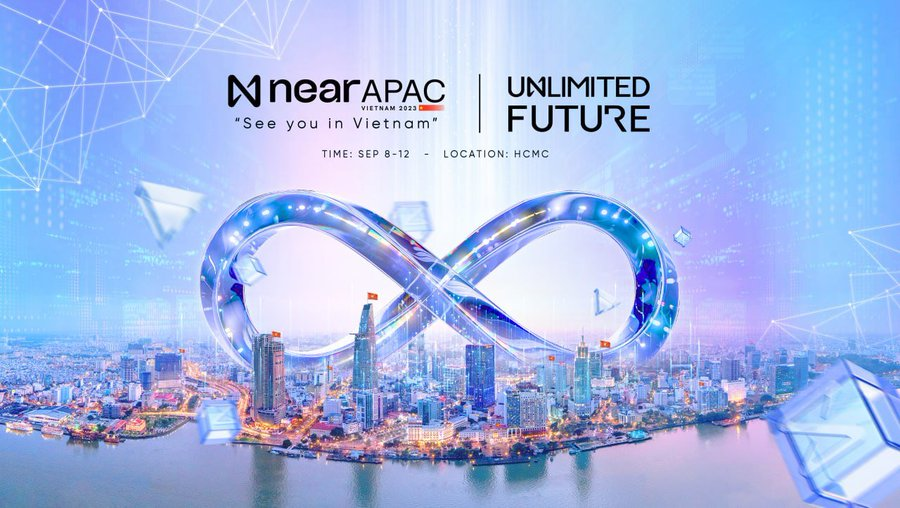 You will find all the essential news about them in NEARMONTH April Report. April Fool, but there are only facts.
NEARMONTH collects and organizes information from the NEAR weekly newsletter. This edition summarizes highlights from newsletter issue #103 to newsletter issue #106 (week 13 to week 16), which compiled a total of 961 contributions by the community to NEWS DAO.
HIGHLIGHTS
MUST – READ
Awesomenear: Near Ecosystem Leaders [Link]
Collections of Near ecosystem leaders' thoughts about Near Protocol and projects built on it.
Near Foundation transparency report: Q1 2023 [Link]
Published quarterly, NEAR Foundation's Transparency Report explores the NEAR Foundation's progress towards its OKRs, as well as the latest technology news and updates from the NEAR ecosystem.
ANNOUNCEMENTS
NEARCON 2023 will be hosted in Lisbon! [Link]
NEAR Apac 2023 will be hosted in Vietnam! [Link]
NEAR Blockchain: Twitter amplification initiative [Link]
To all of the Project Founders and builders that are a part of the NEAR Ecosystem: Do you want your project to be highlighted on our Twitter feed? Please fill out this form.
NDC launches community Hub (March 28) [Link]
The NEAR Digital Collective (NDC) has announced the launch of the NDC Community Hub and invites the NEAR community to join. The hub will be the go-to place to learn everything about the NDC, participate in upcoming elections, and contribute to its success.
NEAR launches $11m grassroots community trust (March 29) [Link]
NEAR has launched a NEAR Community Purpose Trust to accelerate the allocation of funds to grassroots projects and utilize an innovative legal framework based on the Guernsey Special Purpose Trust, a type of trust that separates the legal title to assets from the beneficial interest in those assets.
Proximity Labs explains sudden TVL drop (April 3) [Link]
The recent sudden drop in Total Value Locked (TVL) across DeFi protocols on NEAR was caused by Alameda withdrawing a substantial amount of liquidity from several NEAR and Aurora protocols. However, NEAR is well-positioned to move forward and recover.
Orderly Network: native Tether ($USDT) listing (April 18) [Link]
$USDT, is now listed on Orderly Network, joining its growing list of supported assets, including $USDC, $WBTC, $ETH, $NEAR, $WOO, $AURORA, and $REF.
Alex Shevchenko: Aurora token economy 2.0 (April 20) [Link]
A proposal has been made to update the token economy within AURORA, including the implementation of a consumption use case and a reward system based on staking. The proposal also examines the Aurora DAO Council treasury and the removal of the booster coefficient from staking.
OPINIONS
Coindesk : Building NEAR & embedding AI (March 28) [Link]
"Google has a lot of benefits, and it's a great place to learn, but it moves really slowly," says Polosukhin. "I wanted to move faster."
NEAR Protocol's BOS – Making AI more open (April 6) [Link]
Illia Polosukhin has taken to Twitter to share his thoughts on how artificial intelligence (AI) and blockchain will intersect in the near future. Polosukhin suggests that open-source systems will win over the long-term, and NEAR Protocol's BOS can play a crucial role in this development.
PARTNERSHIP
Near Foundation backs Hydra Ventures to create web3 investment DAO (March 29) [Link]
Hydra Ventures is intended to aid the launch of other investment DAOs. Through its partnership with NEAR Foundation, Hydra Ventures will facilitate the eventual introduction of the first investment DAO in the NEAR ecosystem.
NEAR x SOLAIRE: Revolutionizing the fashion industry (March 30) [Link]
By leveraging web3 and the Near blockchain, Solaire is constructing critical protocol infrastructure and APIs that will expand decentralized retail and create new opportunities for both consumers and fashion brands.
NEAR x MAILCHAIN: A new chapter for communication (April 4) [Link]
The newly introduced integration intends to make Web3 communication more accessible and UX-friendly. Mailchain enables NEAR developers to add a communication layer to their own decentralized applications (dApps), widgets, and projects, substantially strengthening NEAR's blockchain operating system (BOS)'s interoperability mission.
NEAR x TEKUNO x MASTERCARD partnership (April 7) [Link]
NEAR Balkans is proud to announce a major strategic partnership for the NEAR ecosystem. The regional hub has joined forces with Mastercard, a leader in global payment systems, to bring Web3 solutions closer to the wide audience of FinTech professionals.
ROVE x NEAR: Simplifying ticketing for brands (April 12) [Link]
Rove World v2 aims to be a one-stop mobile-based ticketing solution and loyalty rewards program for brands. The platform will feature an in-app store that will include major brands, sports leagues, and musical artists—removing many of the key friction points that occur when brands and creators try to engage their audience with Web3.
NANSEN x NEAR: Enhancing on-chain insights (April 18) [Link]
Nansen has announced a partnership with NEAR to offer advanced analytics into the NEAR ecosystem. The partnership will provide real-time data and unlock insights into transaction patterns, wallet activity, and network growth, empowering developers to create even more robust dApps and expedite the next chapter of Web3.
NEAR x ABSOLUTE LABS: Accelerating web3 adoption (April 20) [Link]
NEAR Foundation is excited to announce a new partnership with Absolute Labs, a company revolutionizing Web3's marketing stack. Its Wallet Relationship Management platform can be used by Web2 brands and Web3 startups alike to acquire, convert and retain customers on the Open Web.
DEFI
ASSET STATUS
NEERWEEK #103 (3/27 – 4/2)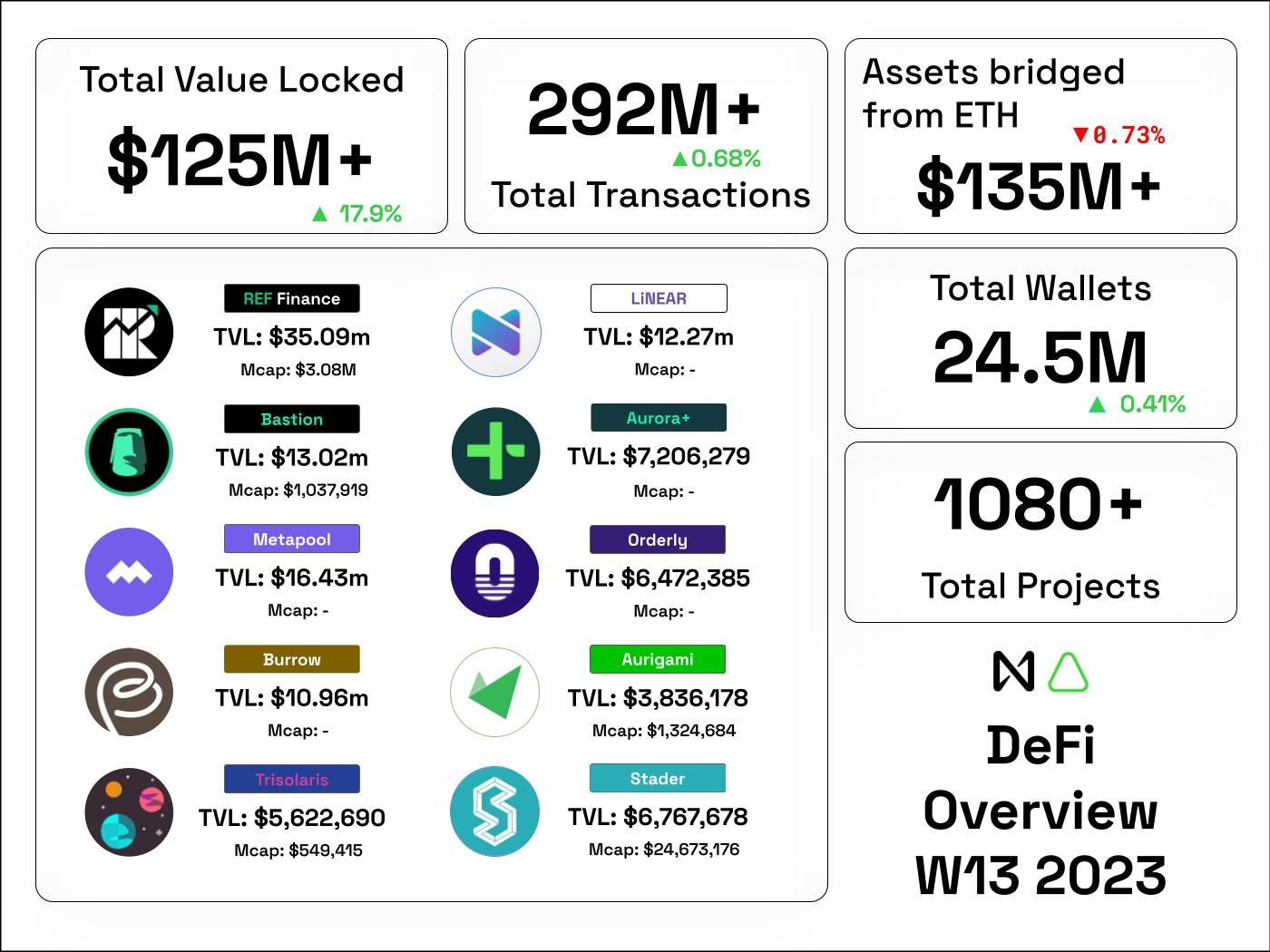 NEERWEEK #104 (4/3 – 4/9)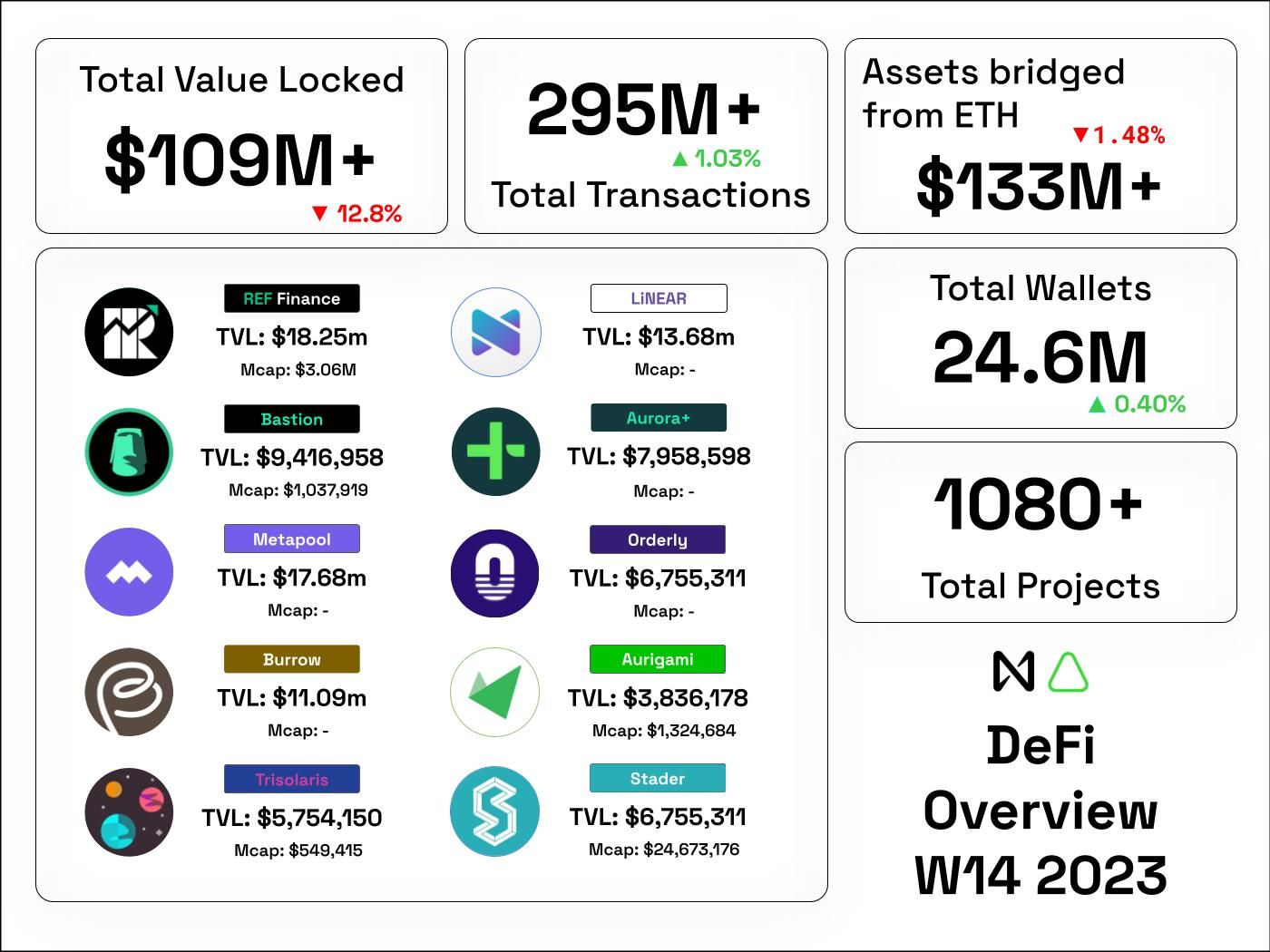 NEERWEEK #105 (4/10 – 4/16)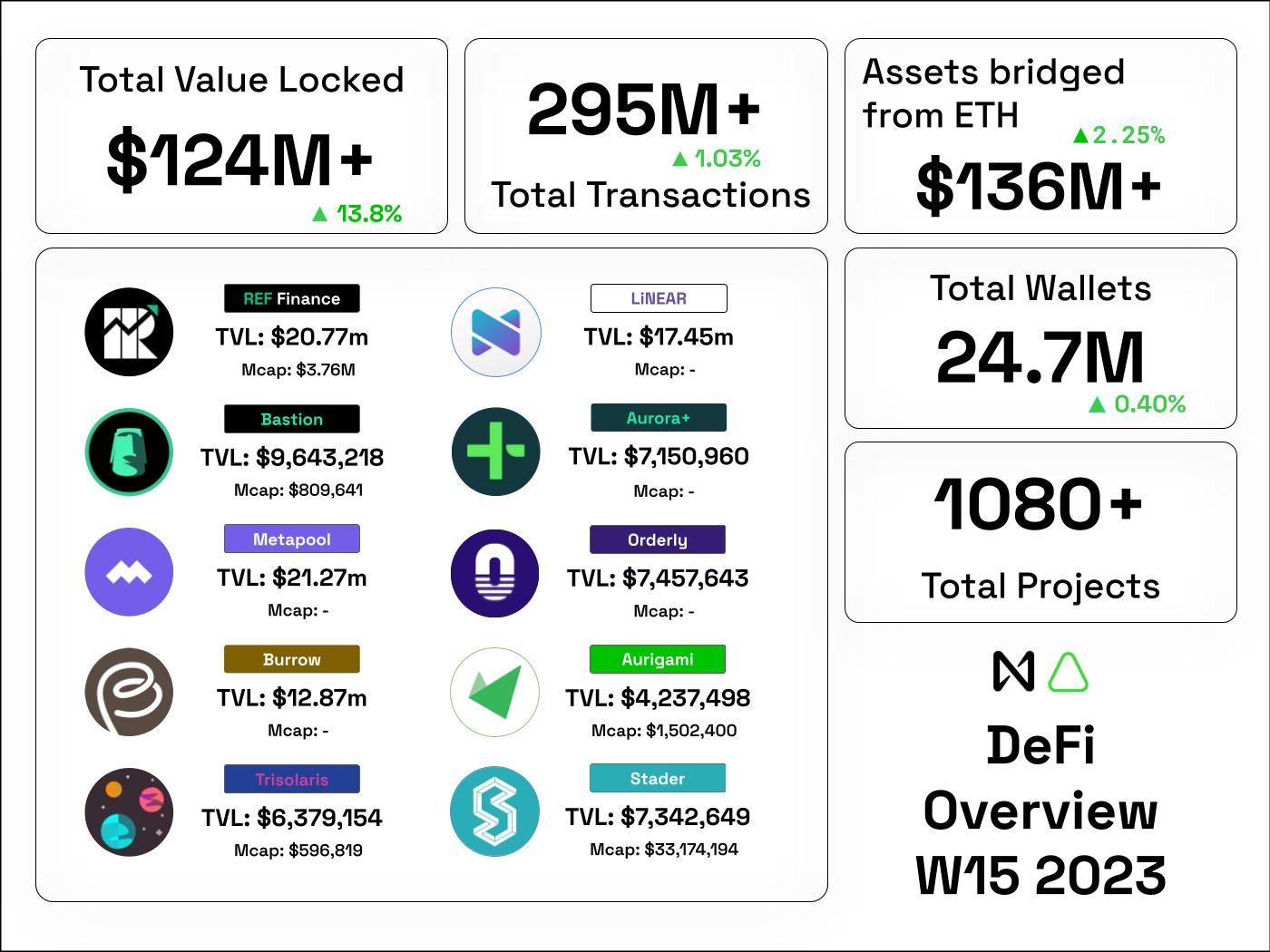 NEERWEEK #106 (4/17 – 4/23)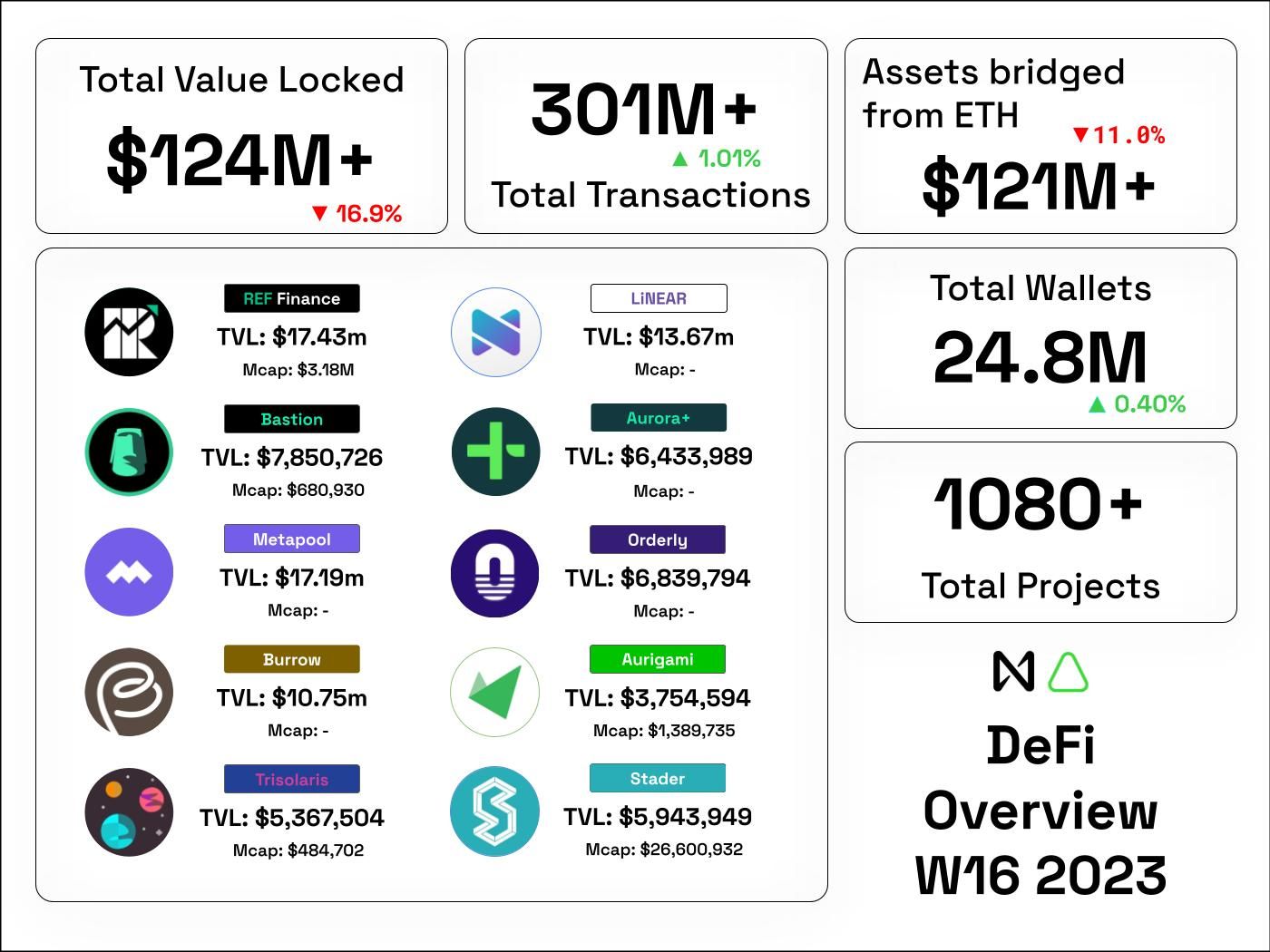 MUST-READ
Woo Network has released its Q1 2023 report, with insights into the performance of the industry. The report also highlights that WOOFi has seen explosive growth in Q1, breaking a record with a 7-day trading volume of $196M, and WOO Token experienced a significant update, with almost 25% of the initial max supply burned. 

ANNOUNCEMENTS
Ref Finance V2 farms launch (March 27) [Link]
REF Finance has launched its V2 Farms with Linear Protocol, featuring Concentrated Liquidity. Users can now farm their $pNEAR <> $NEAR for weekly rewards.
OFP: Validation feedback update (April 4) [Link]
Open Forest Protocol (OFP) has received positive feedback on its validation efforts. The focus for now is onboarding industry experts and remote sensing companies, with phase two of validation set for Q3 to involve universities, AI-tools, and open-source remote sensing data.
Veax testnet update: New features and fixes (April 18) [Link]
The latest Veax Testnet update introduces several new features to improve user experience, including updated price impact calculations, improved storage cost estimations, and batched actions to perform faster transactions. Additionally, the swap interface now integrates wrapping and unwrapping of NEAR, while analytics now provide updated pool details.
Introducing the Open Forest Protocol ecosystem explorer (April 18) [Link]
OFP introduces its new Ecosystem Explorer: the world's first forest ecosystem interface built on blockchain. This interface allows users to easily access and explore data on the world's forests, with a focus on sustainability and conservation efforts.
Fiona expands supported nep-141 tokens on NEAR (April 18) [Link]
Here's an overview of the 7 NEP-141 tokens that you can use on Finoa: $META, $SWEAT, $STNEAR, $REF, $BRRR, $PEM.
Cross-chain swaps enabled on Aurora by Pangolin Dex (April 14) [Link]
Pangolin DEX has enabled cross-chain swaps from Ethereum to Aurora, and vice versa, through BridgeSwap. This new feature aggregates available bridges and exchanges, providing users with more options for trading on Aurora.
OPINIONS
Meta Pool: How DeFi is defining the future of finance (April 5) [Link]
The idea of decentralized finance may seem confounding to many. That's normal—it's a paradigm shift in the entire financial sector as we know it. Nevertheless, it is the future of finance and it's here to stay.
OFP: Revolutionizing Forest data validation (April 7) [Link]
Open Forest Protocol (OFP) has initiated live forest validation on their protocol. This new validation system creates a new global standard, making it easier for communities, governments, policymakers, businesses, and investors to incentivize reforestation worldwide.
PARTNERSHIP
Flux Exchange partners with Manoswap (March 28) [Link]
Flux Exchange has announced a new partnership with Manoswap. This partnership will enable users to trade and stake assets on the Manoswap platform.
Nearstarter partnership with Meta Pool & Meta Yield (April 12) [Link]
You will soon be able to farm $NEARIA on Meta Yield! Meta Yield is a product of Meta Pool, the leading liquid staking derivative (LSD) project on NEAR.
COMMUNITY AND GUILDS
NEARWEEK: Audio & podcast library [Link]
A selection of project and community audio recordings that cover the NEAR, Aurora, and Octopus Network ecosystem and their respective developments.
NEARWEEK: Community calendar (New) [Link]
NEARWEEK launches its custom community calendar to be used by the entire NEAR ecosystem! Please populate the calendar with project launch dates, NFT drops, and Twitter Spaces. This way users in the space are aware of everything that's scheduled to happen.
NEARWEEK: Merch Store [Link]
Our NEAR ecosystem merch store is live – stack up your NEAR drip!! If you're a project and want your design featured in the store, please e-mail: [email protected].
The NEARWEEK Twitter newsbot offers the easiest way to ensure that any breaking NEAR Protocol-related news on your timeline is picked up by NEARWEEK. To send us a submission, simply comment or tweet:
< !submit @nearweekbot > — it's that simple!
DEVELOPERS
NEAR DevGov referral program [Link]
Are you a NEAR ecosystem outlet, an influencer, or someone organizing NEAR Protocol events? You can be paid for referring people with ideas to DevGov DAO. 
VALIDATORS STATISTICS
NEERWEEK #103 (3/27 – 4/2)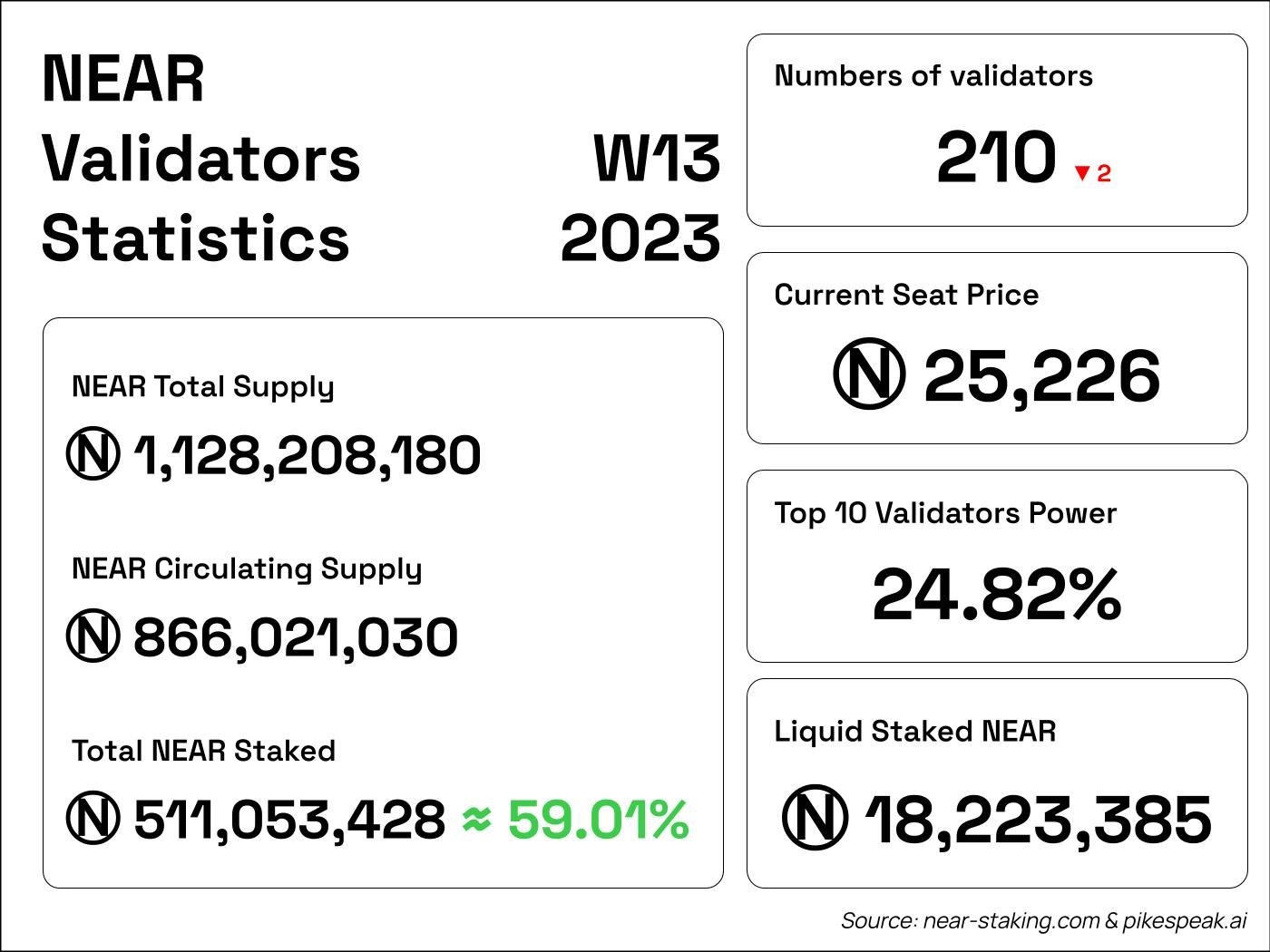 NEERWEEK #104 (4/3 – 4/9)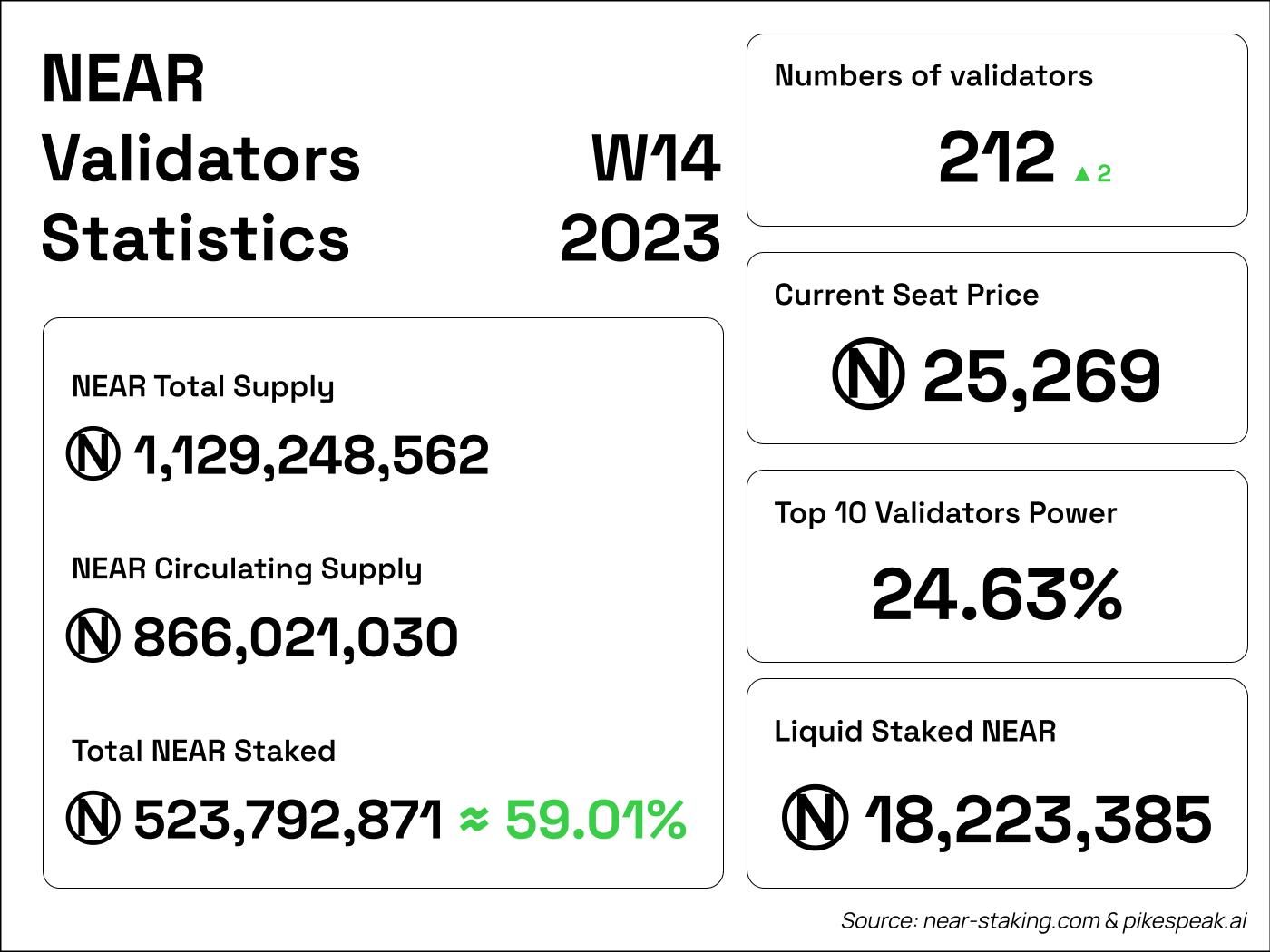 NEERWEEK #105 (4/10 – 4/16)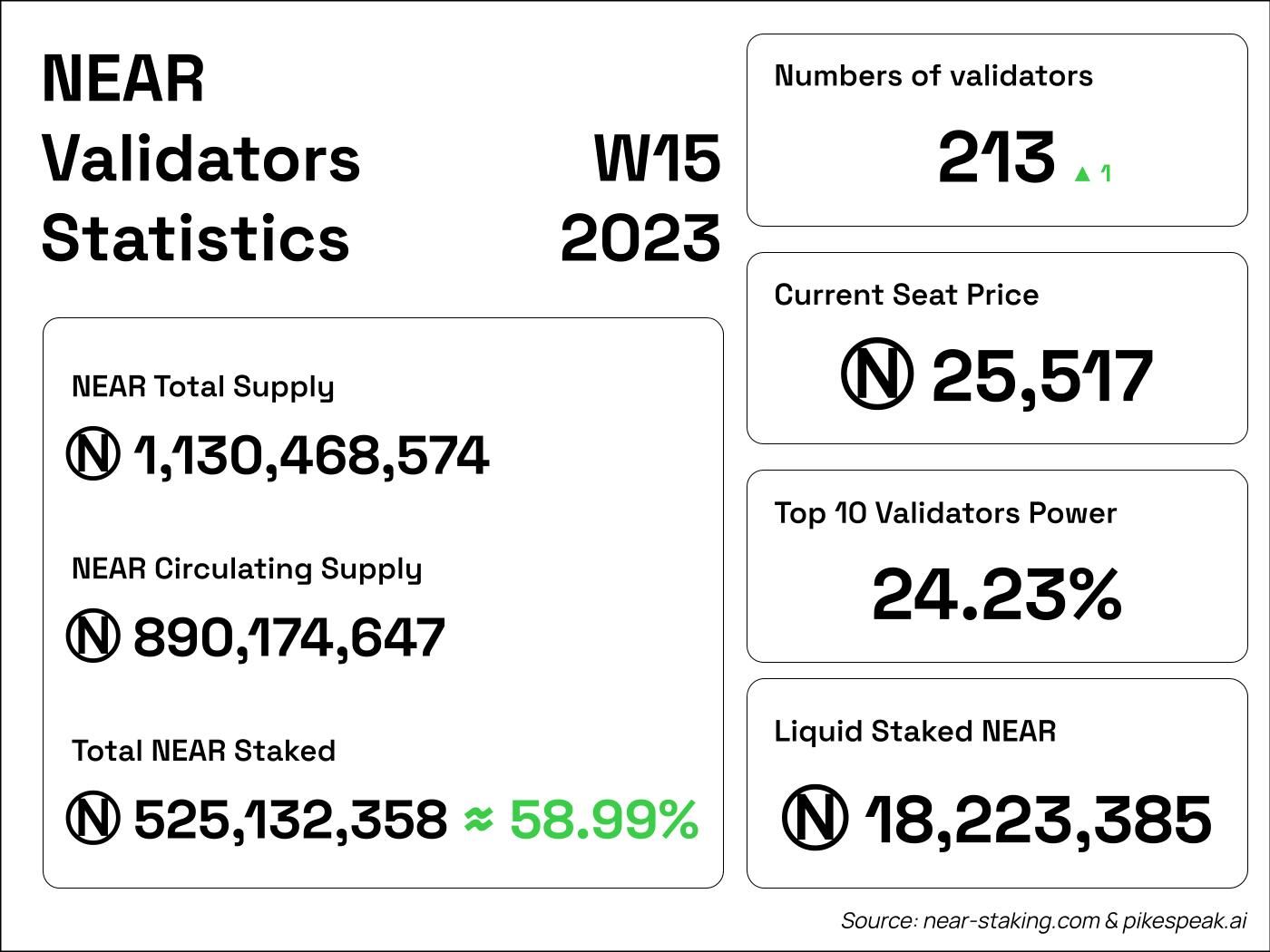 NEERWEEK #106 (4/17 – 4/23)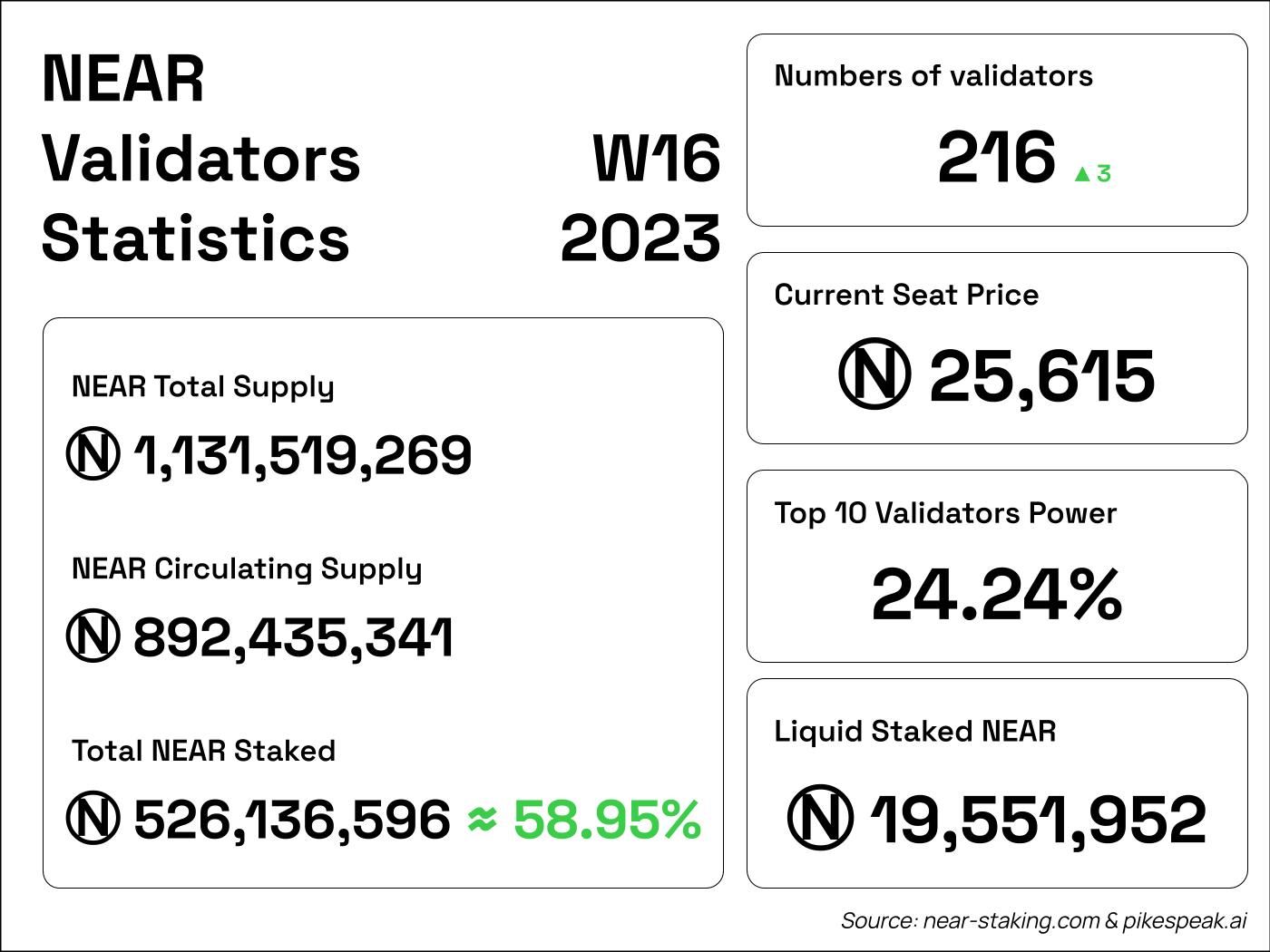 ANNOUNCEMENT
Coinpanda integrates NEAR Protocol API for crypto taxes (March 27) [Link]
Coinpanda has announced a new API integration with NEAR Protocol for this year's tax season. The integration will provide support for tokens, NFTs, and much more to help NEAR users with their crypto tax reporting.
Town Halls returning to NEAR: Mark your calendars (March 31) [Link]
NEAR is reintroducing Town Halls to bring the community together every two weeks on Wednesdays. The next meeting will take place on April 5th at 8am PT / 11am EST / 3pm UK.
Orderly Network: New SDK release (April 6) [Link]
Keypom Trial Accounts (Docs) [Link]
Keypom Trial Accounts make onboarding new users to Web3 apps a breeze, with no wallet setup or connection required. With just a click, users can sign up for a trial account and begin making on-chain transactions. Check out the documentation to learn more.
Multi-Token standard proposal (NEP-245) (April 7) [Link]
A proposal has been passed by the TENAMINT team to develop a Multi-Token Standard (MTS) on the NEAR Protocol. The MTS will provide a standard interface for the ownership, transfer, and batch transfer of various types of tokens, reducing gas consumption and increasing network throughput. NEP-245 would also offer bridging benefits for seamless interoperability across multiple blockchain networks.
Aurora releases its engine 2.9.0 version (April 21) [Link]
HACKATHONS
NEAR SOCIAL x PIKESPEAK Hackathon(March 30) [Link]
AURORA launches new bug bounty program (April 3) [Link]
Aurora Labs has launched a bug bounty program with rewards up to $1,000,000 for critical vulnerabilities.
$6 million in bug bounties available in the NEAR ecosystem (April 4) [Link]
Right now there is over $6 million in bug bounties on ImmuneFi and Hackenproof for the NEAR Ecosystem (NEAR, Aurora, Sweat Economy, Ref, and Stader) live right now for Ethical Hackers to find.
ENCODE X AURORA Hackathon — Register now! (April 19) [Link]
This highly anticipated hack will bring together developers, designers, and entrepreneurs from around the world to build groundbreaking projects using Aurora's technology. The hackathon will run for four weeks, kicking off on 30th May and culminating with a grand finale on 12th July.
Developer DAO sponsors Snarkyjs track in ZKP/Web3 Hackathon for up to $19,000(April 21) [Link]
OPINIONS
Cypherpunk Guild: Privacy on Aurora (March 28) [Link]
The emergence of privacy-enhancing projects on the Aurora ecosystem is significant for the adoption of Web3. These projects help to address the concerns over data privacy, security, and user sovereignty, which are critical for the growth of decentralized applications.
Calimero Network: Why real-time bridging is important for good UI (March 31) [Link]
Real-time bridging has changed the game by facilitating seamless asset transfers, information exchange, and communication across different blockchains. Here is why real-time bridging is so crucial for the blockchain industry, and how platforms like Calimero are paving the way for the next generation of blockchain applications.
DEVGOV Idea: BOS Gateways development Sprint #1 (April 4) [Link]
A proposed development sprint to coordinate between parties and proliferate BOS Gateways for decentralized front-end infrastructure, better product stack, app/vertical specific gateways, and multichain support.
Free storage for and improved onboarding through NEP-366(April 12) [Link]
JOIN THE ECOSYSTEM
The open-source, collaborative wiki connects you to information about everything relating to the protocol, usage, infrastructure, opportunities, and guilds.
Raen Guide: NEAR + Rust, the friendly way [Link]
A complete guide to help developers launch NEAR apps faster than they thought possible.
Learn NEAR Club: How to use & build on NEAR [Link]
An all-inclusive hands-on onboarding platform to NEAR Protocol, connecting NEAR ecosystem projects to pro-active community members via the (L)Earn method. Supported by NEAR Foundation.
FREECODECAMP: NEAR Curriculum [Link]
The curriculum will contain at least ten interactive practice projects that will guide you through learning the NEAR protocol and its tools. You'll learn how to build and deploy your own smart contracts, and Dapps, work with NEAR command line tools, and much more!
NEAR: Rust smart contract development [Link]
The following guide explores the general principles of smart contract development, focusing on ways to merge NEAR Protocol development with normal web applications.
NEAR: Rust smart contract security course [Link]
This YouTube series aims to teach NEAR Rust Smart contract security based on Timur Guvenkaya's previous experiences as a developer and discovered vulnerabilities.
PROJECT GROWTH
AURORA weekly updates [2023-04-07]
Read it here: Link; or give it a watch here: Link
AURORA weekly updates [2023-04-14]
Read it here: Link; or give it a watch here: Link
AURORA weekly updates [2023-04-21]
Read it here: Link; or give it a watch here: Link
Miss the NEAR Protocol Town Hall? NEAR intern has you covered. [Link]
NDG funding guidelines: What factors to consider? [Link]
Take a closer look at who determines the funding in the NEAR Developer Governance (NDG), what factors to consider when proposing the funding amount, and how to submit a funding request.
Requesting feedback for transition from forum to discovery [Link]
The NEAR community is invited to provide feedback on the functionality they want to see in Discovery to make it the best place for community, governance, and discussion.
Legal nodes: DAO constitution guide [Link]
Legal Nodes, a legal service provider, has launched a comprehensive guide and free DAO Constitution template to help structure fundraising for a DAO. The guide includes information on how DAOs structure their fundraising rounds, how token holder voting works in DAO Constitutions, and more.
What is Octopus Network? [Link]
The Octopus Network is a multichain network that emulates the Octopus. Like the arms of an octopus, each connected application-specific blockchain (appchain) is empowered with its own intelligence and decision-making mechanisms to adapt to ever-changing environments. When connected as a whole, all members benefit from significant network effects and economies of scale.
Introducing the NEAR NFT revival charter [Link]
As outlined in the new WG charter, NEAR is committed to reviving and growing its NFT ecosystem. Objectives include attracting new builders, holders, and investors, funding innovative NFT projects, maintaining high-quality infrastructure, fostering a collaborative environment, and promoting education, research, and awareness of NFTs.
Tekuno: Blockchain as a service [Link]
Tekuno is a blockchain as a service (BaaS) platform designed for b2b2c audiences. The project goes beyond providing easy-to-use technology by helping businesses overcome the abstractions of onboarding. In essence, Tekuno enables businesses to execute on the potential of blockchain technology while creating an entry point for protocols to further push adoption onto the masses.
Mintbase launches on-chain affiliate direct program for NFT Marketplaces [Link]
Mintbase introduces Affiliate Direct, an on-chain affiliate marketing program for NFT marketplaces that helps creators tap into new audiences and boost sales.
Introducing: a borderless community [Link]
Paras launches wallet-to-wallet instant chat, powered by Ghosty [Link]
Paras has launched a new feature that allows instant wallet-to-wallet chat for all its users. This Web3 chatting experience promises to be user-friendly, secure, and fun.
OPEN JOBS IN THE NEARVERSE
NEAR ECOSYSTEM COMMUNITY IN VIETNAM